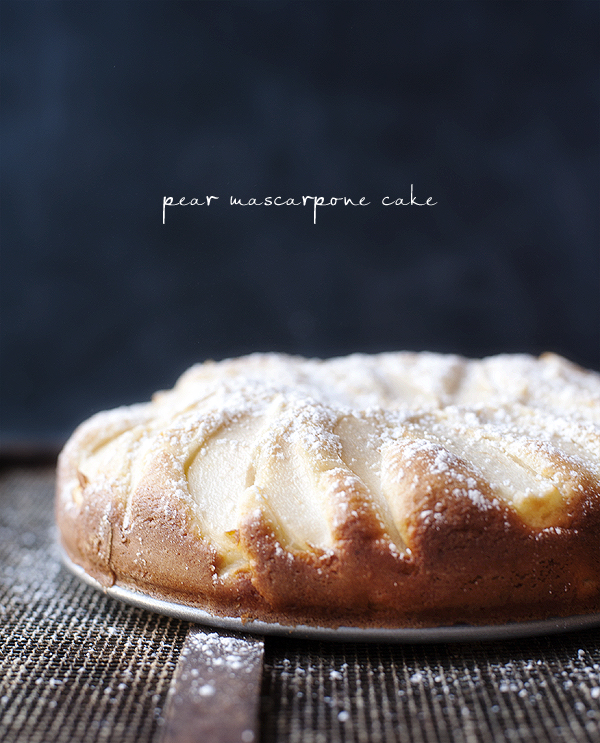 Ever take your spring form pan bottom to someone's house, cake on top of course, and forget to take it home with you? Then for nearly a year you search your cupboards high and low wondering what on earth you did with it. "I've got the sides, where the heck is the bottom?"
Finally I gave up and asked for a new pan for Christmas. Glad I did because this cake baked brilliantly in it and can I just say Hello!!!! Gorgeous!
(Bing clearly knows a good thing when he sees it.)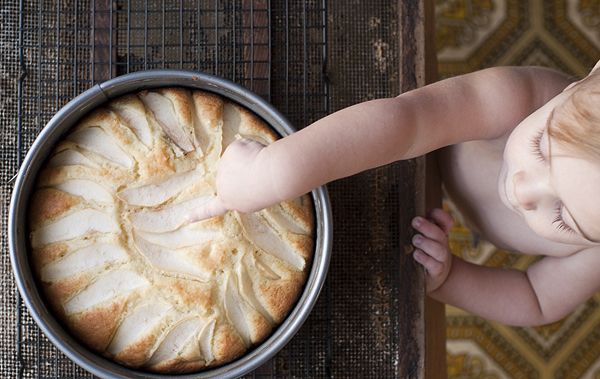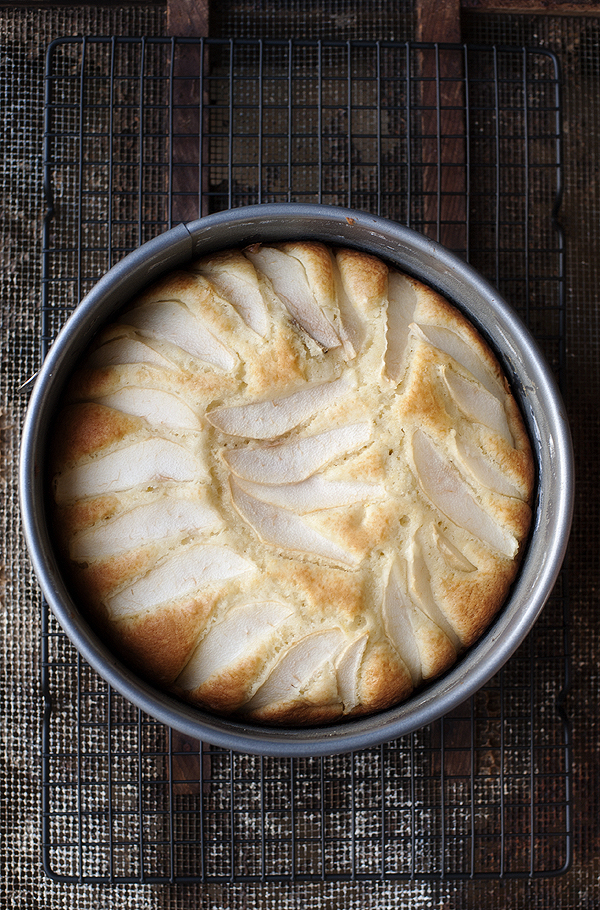 If you ever need someone to dust powdered sugar on your confections I've got one heck of a referral for you. She doubles as a master sifter and finicky taste tester as well. (She is going to smile so big when she sees this image. My proud little assistant.)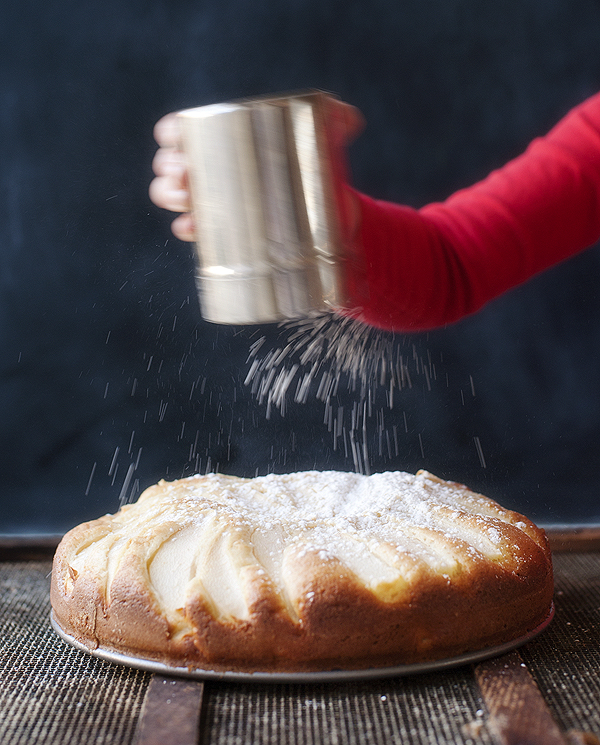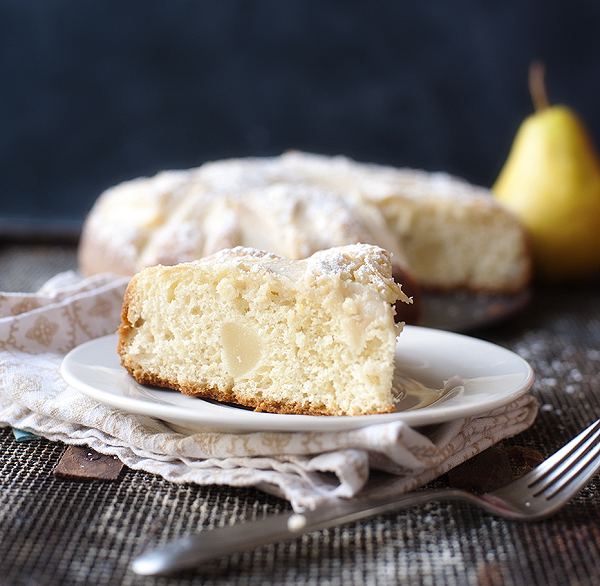 Let's talk about this cake. First off it is not uber sweet. If you are hoping for a sugar rush this more than likely wouldn't be for you.
If you are hoping for something light and different and satisfying this would be your cake. The intertwining of the pear and mascarpone is simply a match made in heaven. This is the perfect sidekick to an afternoon cup of tea or a companion for your morning joe.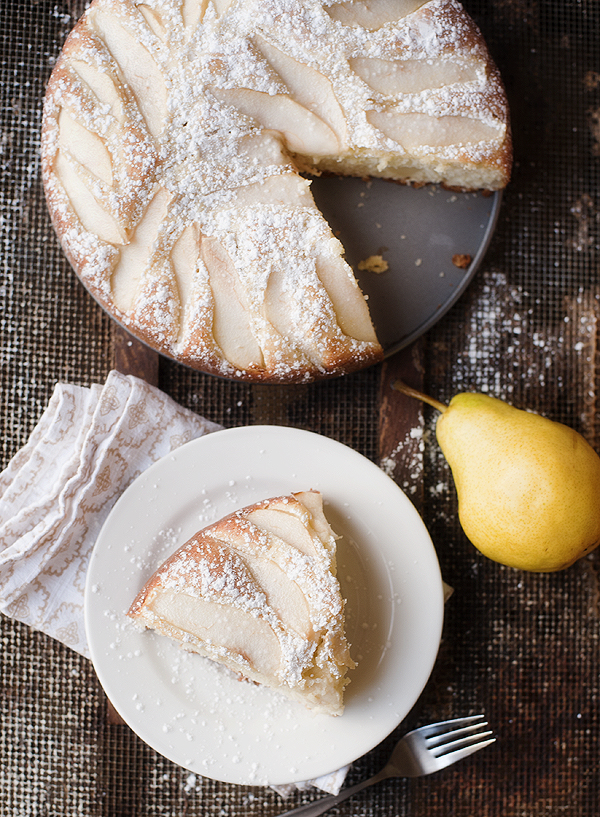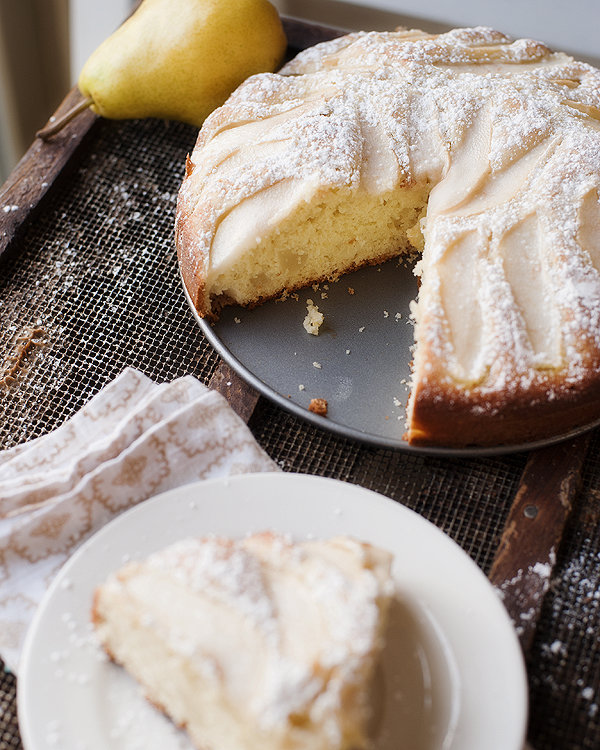 Gosh she's a pretty cake! You can always tell when I really enjoy shooting something because you get a double dose of images. Cocktails and cakes are my favorite. Yep, that sounds like me in a nutshell.
Enjoy!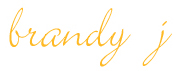 pear mascarpone cake
Ingredients
¾cup granulated sugar
3 large eggs
½cup mascarpone
¼tsp almond or vanilla extract
1½cups all purpose flour
5tbsp cornstarch
1tbsp plus 1tsp baking powder
3tbsp vegetable oil
pinch of kosher salt
2 ripe yet firm pears, both peeled and cored. One cubed, one slice into ¼" slices
Powdered sugar for dusting (optional)
Instructions
Preheat oven 340ºF. Grease and flour a 9" cake pan. (I used a spring form one.)
Cream sugar and eggs in a stand mixer on medium high speed until creamy. Add mascarpone and blend until smooth. Add extract and combine.
In a medium bowl sift together flour, cornstarch and baking powder. Add to the wet mixture and gently fold with a wooden spoon until just combined (it's fine if you can still see a little flour).
Add vegetable oil, salt and diced pears. Fold until just combined. Pour into prepared pan and top with sliced pears.
Bake on the middle rack at 340ºF for 35 to 40 minutes or until top begins to turn golden and toothpick comes out clean. Be sure not to over bake.
Cool cake completely in pan. Dust powdered sugar over the top if desired. Enjoy!