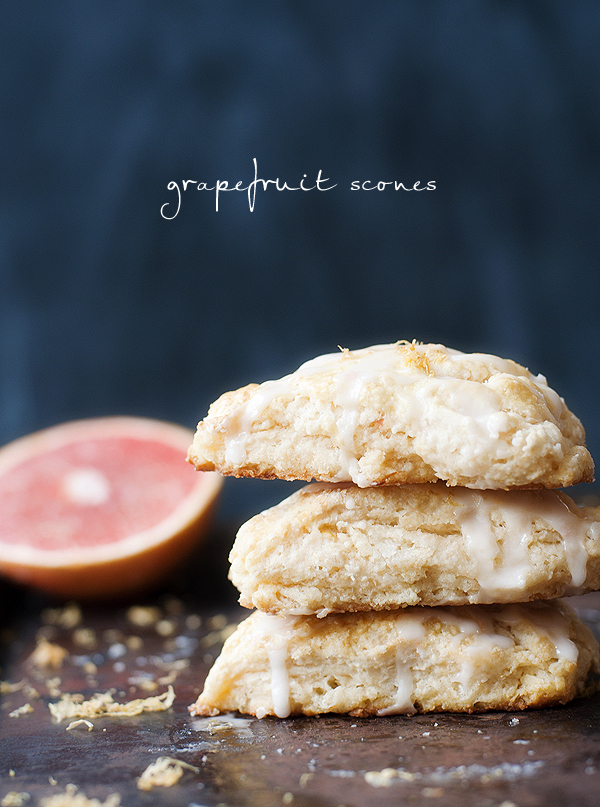 Clearly I am obsessed with grapefruit. Last week cake, this week scones…I truly can't help myself guys. Citrus+sugar+flour+butter = my happy land. (Plus we bought a giant box of grapefruit from my nephew so there's the whole convenience of it all…)
These scones though. You need to make them. Or don't…but you'll totally be missing out on something amazing.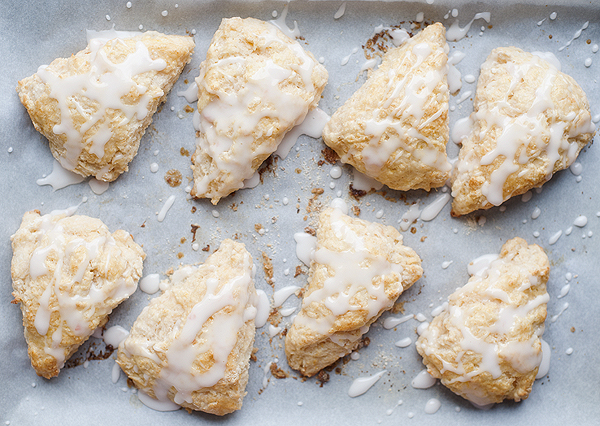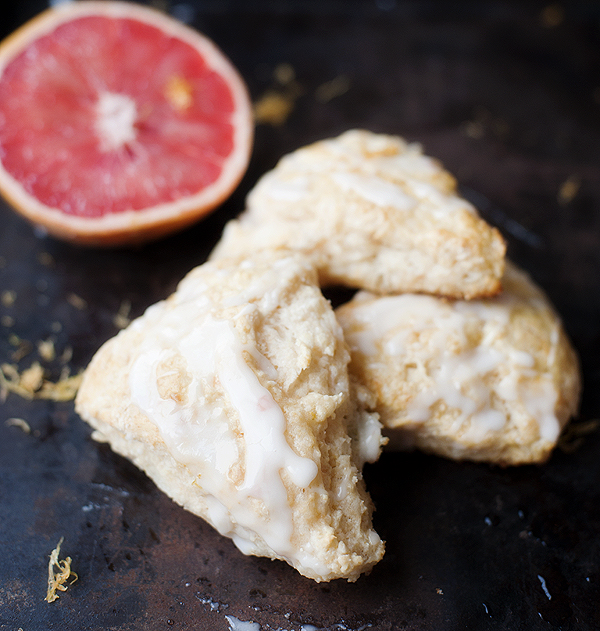 I know I keep saying it but it is worth repeating again and again until I have convinced the universe.
Scones are flipping easy to make.
I wouldn't lie to you guys about this. Do know though there are 2 simple tricks to scone making: 1Don't overmix. Ever. In your life. 2Get over the weird, crumbly, wet dough. And it is weird dough but it is exactly the kind of dough that makes perfect, light, fluffy as a cloud scones.
Master these 2 very simple tricks and you are well on your way to scone euphoria.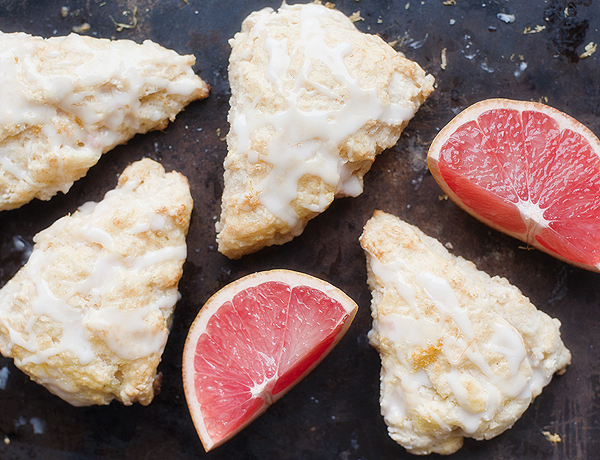 I can't decide if I like the cake last week or these bad boys better. I'd give the cake an edge because of the booze but it really is a tough call.
What I do know is that there is a delicately sweet, slightly floral, amazingly yum scone waiting for me and my coffee right now. That's a win every single time.
Enjoy!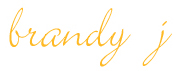 grapefruit scones
Ingredients
For the scones:
1¾cup all purpose flour
¼cup granulated sugar
4tsp baking powder
¼tsp kosher salt
zest from one grapefruit
5tbsp cold butter cut into small cubes
½cup fresh grapefruit juice
¼cup plain yogurt
1 egg
1tbsp milk
For the glaze:
1 to 2tbsp fresh grapefruit juice
½cup powdered sugar
Instructions
Preheat the oven 400ºF. Line a baking sheet with parchment paper.
Place flour, sugar, baking powder, salt and zest in a food processor and pulse a few times. Add the butter and pulse until the butter is in pea size crumbles (about 8 quick pulses). Dump the contents into a large bowl and add juice and yogurt. Mix with a spatula until just combined. Absolutely no overmixing here otherwise you will have tough scones.
Dump dough onto the prepared baking sheet. Form into an disc, about 1" in thick (it will be anywhere from 6" to 8" in diameter). If dough is really sticky flour your hands a little for better handling. Cut into 8 wedges and separate evenly on the baking sheet.
Whisk egg and milk vigorously together. Brush the top of each scone with egg mixture. Place in oven for 10 to 12 minutes or until bottoms begin to brown and tops are just starting to turn golden. Allow to cool on sheet.
While the scones are baking make glaze but combining the powdered sugar and juice...1 tbsp at a time. If glaze seems too thick add more juice. Too thin add more sugar.
When scones are completely cooled drizzle glaze over the top one. Enjoy!