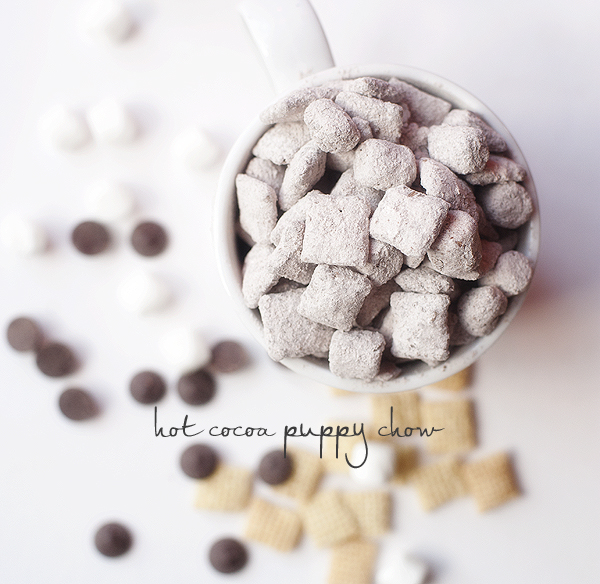 Whether you call it muddy buddies or puppy chow there is no question that the combination of peanut butter, powdered sugar, chocolate and Chex cereal is basically legal crack. Can you not devour 2 servings just by simply being the one in charge of making and bringing the crack? If you answer yes you are a far better person than me (with the willpower of 1000 men apparently).
While I am a big, BIG original puppy chow mix fan I do love the 100s of alternative combinations one can try…including this hot cocoa version. It's sweet and crunchy just as you would want this treat to be but instead of peanut butter as the accent flavor you get to experience hot cocoa….and where there is hot cocoa there are marshmallows…and where there are marshmallows there is happiness. Lots and lots of happiness.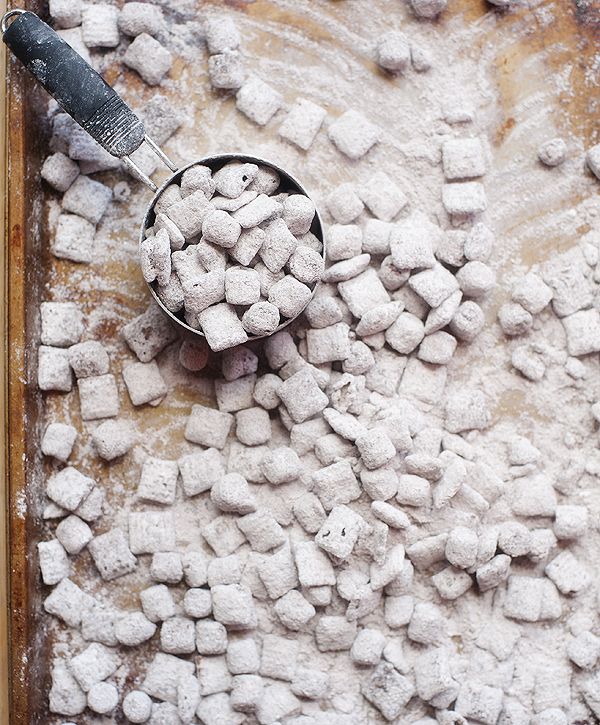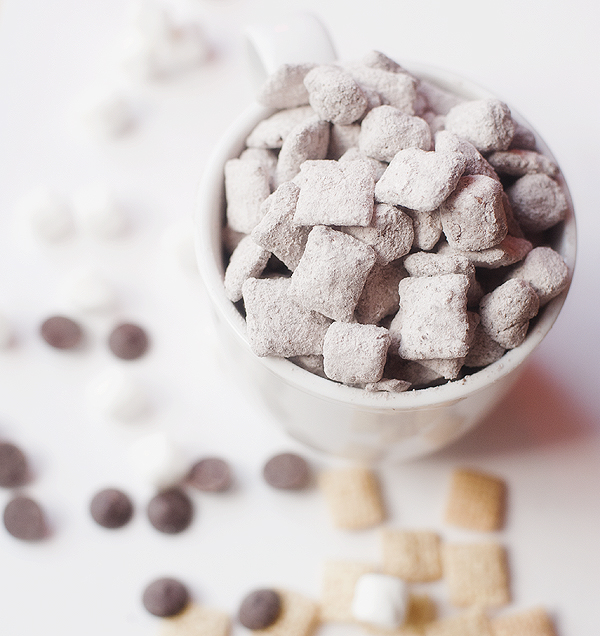 Do you have a favorite way to prepare puppy chow? I'm not sure I could chose a fave but I do know they are all equally crack-like in my world.
Enjoy!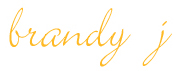 hot cocoa puppy chow
Ingredients
8cups rice Chex cereal
10oz bag mini marshmallows
½cup butter
2cups semi sweet chocolate chips
¼cup hot cocoa mix
¼cup cocoa powder
½tsp cinnamon
3cups powdered sugar
Instructions
Mix the Chex cereal and marshmallows in a large bowl. Place cocoa mix, cocoa powder, cinnamon and powdereed sugar in a brown paper bag (whisk together in that bag just a little).
In a microwave safe bowl, combine the butter and chocolate chips. Microwave on high for 1 minute. Stir and continuing microwaving in 15 second intervals, stirring between each until ingredients are completely melted and smooth.
Pour the melted mixture over Chex and marshmallows, combine until cereal and mallows are coated well.
Dump the mixture in your brown paper bag of powdered ingredients. Fold the top over a couple of times and shake, shake, shake until the ingredients are well coated. Dump out onto a baking sheet to cool and set. Enjoy!