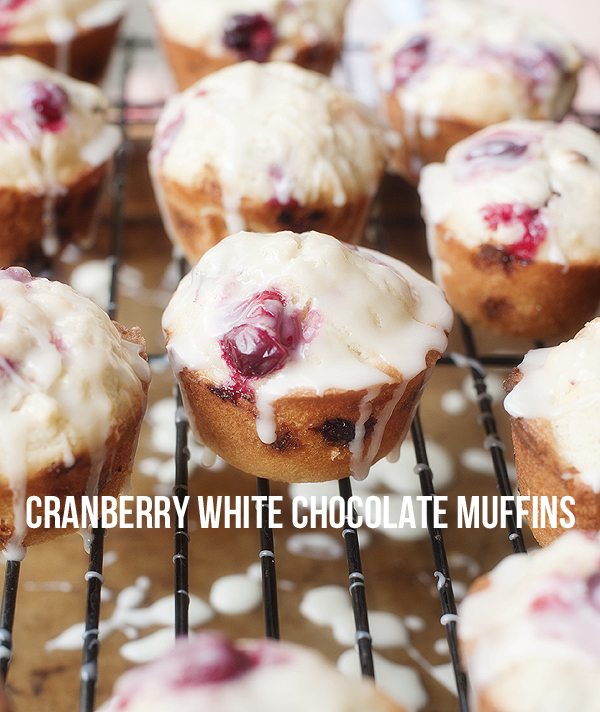 White chocolate oozing down the side of a cranberry muffin makes me want to do one thing…. drool.
There are about 5 zillion recipes for cranberry white chocolate muffins out there (give or take) yet this is the one I went with because it claimed to be the easiest, most fluffy, most delicious, most knock your socks off one out there… and good gracious none of that was a lie.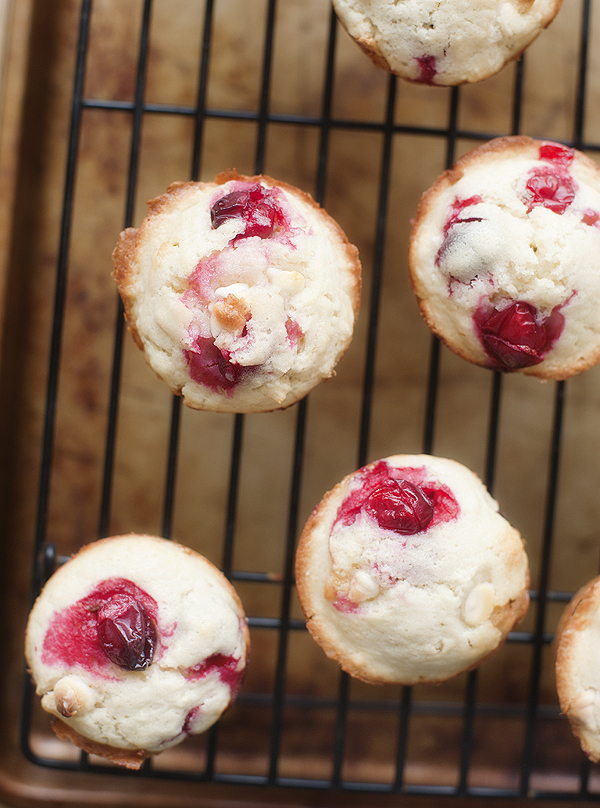 You guys know I love my cranberry. (I only post a recipe with them in it about once a week of late… sorry, but I like what I like!) I also happen to be on a mission to improve my muffin game…posting only the best that has came out of my oven. Do not be deterred by the fact that this is only muffin recipe #2. Again, only muffins that taste out of this world will grace this site and these my friends are holly, jolly, darn delicious!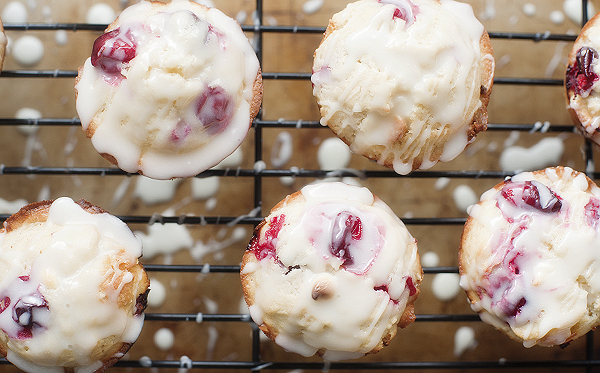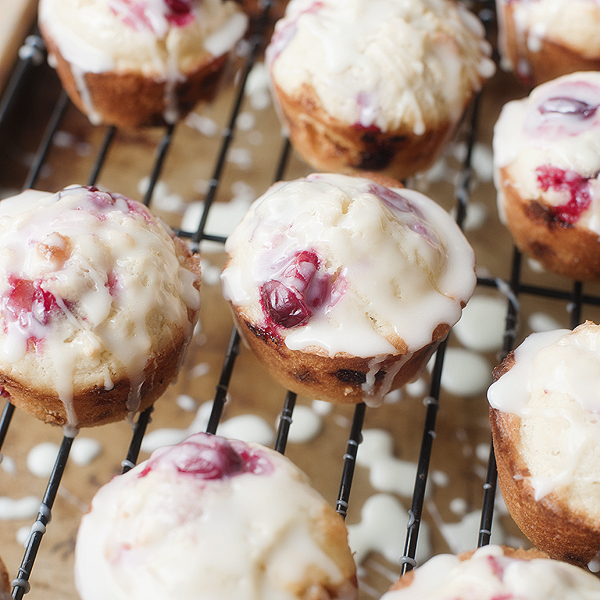 I can't think of a better muffin to treat your guests to. They are as beautiful as they are tasty and unlike many holiday treats, will not leave anyone feeling weighed down after eating one. Now if you eat more than one that is out of my control. (Although I wouldn't blame you.)
Enjoy!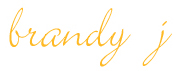 white chocolate cranberry muffins
Ingredients
4tbsp unsalted butter, melted
¼cup coconut oil (or canola/vegetable oil)
1cup sugar
1egg lightly beaten plus 1 egg white
1tsp vanilla extract
¼tsp almond extract (optional)
¾cup buttermilk
1cup fronzen cranberries (heaping)
½cup white chocolate chips
2¼cups all purpose flour
2tsp baking powder
½tsp kosher salt
glaze:
½cup white chocolate chips
2tbsp heavy cream
⅓cup powdered sugar
Instructions
Preheat oven 400ºF and grease a 12 count muffin tin (or line with cupcake liners)
Combine melted butter, oil and sugar in a large bowl. Stir well then add egg (plus egg white), vanilla and almond extracts. Mix well. Add buttermilk and stir untiled combined. Gently fold in cranberries and white chocolate.
In a separate bowl sift together flour, baking powder and salt. Add dry mixture to wet. Stirring gently until just combined. Absolutely do not overmix.
Divide evenly in muffin tin. (I use a large ice cream scoop to help with this). Bake for 20-25 minutes or until tops feel firm and toothpick inserted in the center comes out clean with a few crumbs. Allow to cool about 5 to 7 minutes in pan before popping out.
For the glaze combine white chocolate, heavy cream and powdered sugar in a microwave safe bowl. Microwave in 10 second intervals, stirring between each one, until mixture is melted and smooth.
Spoon, drizzle or straight dunk muffins with the glaze. So Yum!