Skirts are definitely an all year, everyday if you please, sort of garment. But if there was a season that they shine the most it is this one (literally).
Sequin, sateen, velvet, tulle…they all make for fabulously festive skirts. Topped with denim, gingham or plaid and you have yourself an easy yet very chic look for holiday gatherings. Every girl needs a party skirt that they love in their closet. I have collected a few over the years. One sequin that I am not 100% certain I still fit in (as we speak I am munching on Jettie's Halloween candy so I'm thinking it's a no…) and 2 of those H&M textured skirts (one green, one metallic but I want that red!) because I'm obsessed. All 3 are staples in my closet – perfect pieces to pull out when I need something extra special for the season.
Now I have my eye on that sateen number…and thinking I need a party maxi skirt: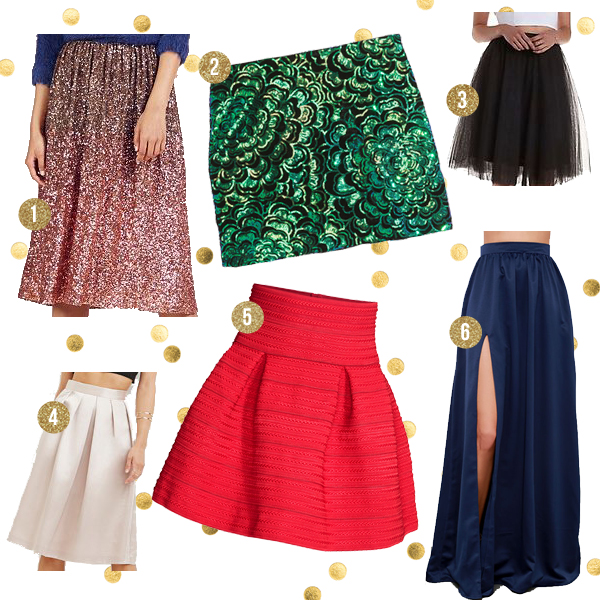 1LC Lauren Conrad Runway Collection sequin ombre skirt/2H&M green sequin skirt/3Charlotte Russe tulle full midi skirt/4Forever 21 sateen pleated midi skirt/5H&M red textured skirt/6Lulu's 'twas a dream navy blue maxi skirt
Which is your favorite?
xo,