When it comes to my lips and keeping them from becoming chapped I have two big strikes against me: Lip Biter and Lip Licker. Yep, I know they are not good for me but yet I can't help but do both. I even bite my lips in my sleep. (Sorry lips.)
In the last couple of years I have put an honest effort forth in controlling my bad habits and making sure I am always armed with balm of some sort (which I have talked about before, but I believe it is worth reiterating with winter approaching). A few things that have helped eliminate the occurrence of chapped lips:
drinking tons of water (It cures everything, just like coconut oil.. right?!)
humidfier running during the dryer months
cover mouth with scarf or something similar in the winter months when outdoors
avoid allergy triggers (I am now allergic to peanut shells since giving birth to Bingham. Me and Five Guys are no longer friendly.)
avoid matte lipsticks, no matter how fab they are. They can dry out your lips in an instant. Cream based ones are much more hydrating.
As for which balms I prefer here are my top 4 drugstore finds: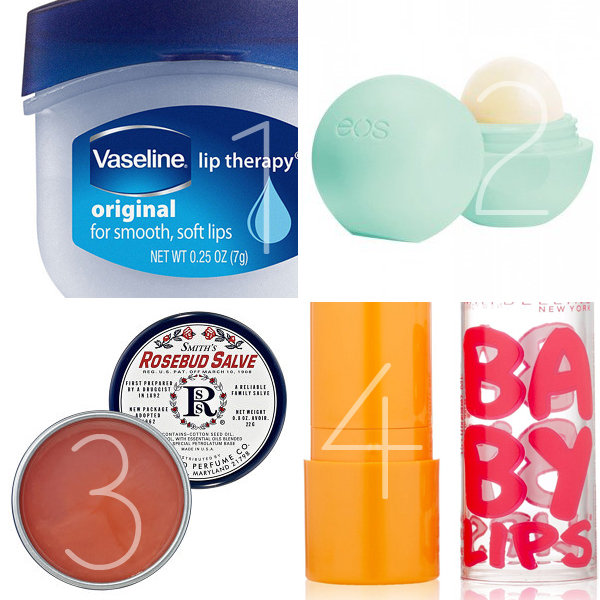 1Vaseline Lip Therapy/2EOS Sweet Mint/3Smith's Rosebud Salve/4Maybelline Baby Lips
I love to put the Vaseline one on at night. In fact I used to use coconut oil but I have found it not to be as good at fighting the chapped lips than V's lip therapy. (Take that magical coconut oil.) As for the other 3 they can be found in my purse, diaper bag, kitchen counter, on top of the piano, beside the bed, coat pocket, in the hand of my thieving husband… you get the gist.
If you have any pointers to avoiding the dreaded chapped lips please share! Would also love to know which balm is your fave!
xo,