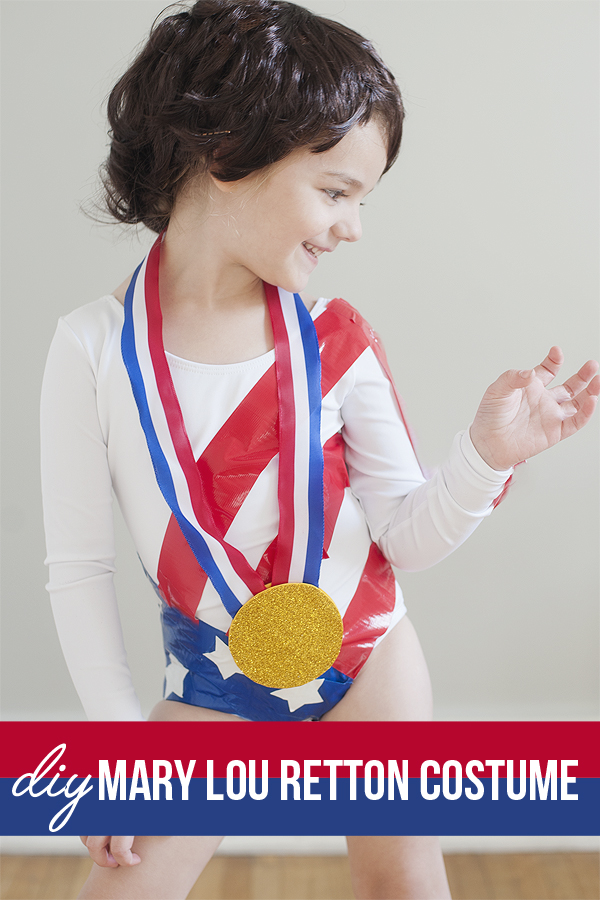 Okay, I am well aware that there are many of you out there going "Mary Lou Who??!!" But…if your kid goes trick or treating in this ensemble I can promise you that many of the other, ahem, "older".. parents will know exactly who this is. And who she is a famous gymnast that every girl wanted to be in the 80s.
1984 was the year, Los Angeles was the setting. Mary Lou stole America's heart when she wore her iconic flag leotard and nabbed the gold medal in the individual all-around gymnastics. She later became the first female athlete to adorn a Wheaties box. Basically, she was 4'9″ of awesomeness.
And that leotard was darn fun to recreate: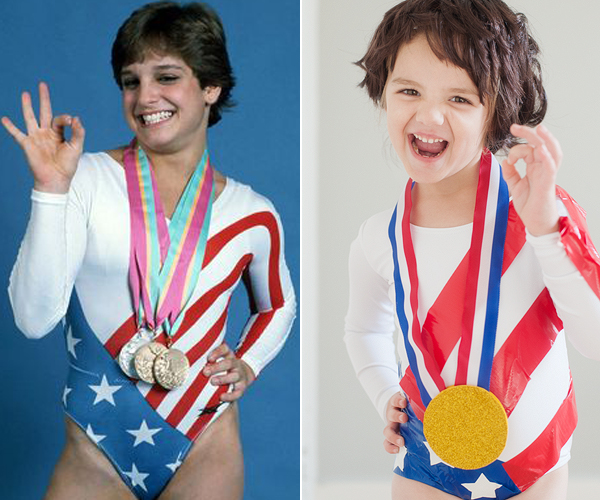 If you have an avid gymnastics fan or are interested in throwing it back 80's sports star style this is the costume for you. And just because my version is on a 4 year doesn't mean you can't rock this as an adult!
What you will need:
blue painters tape (wide width)
red tape (desireed width – mine was close to 2″
white duct tape (2″)
red, white, blue ribbon
sparkly gold foam paper
short brown wig (optional)
tools: exacto knife, hot glue and glue gun, scissors
This is a super simple costume. Basically, take your tape and replicate Mary's leotard pattern. Making the stars out of the white tape. Construct the medal by cutting 2 circles out of foam paper and attaching to ribbon with hot glue. Finish with wig and tights/sneakers (if cold and for walking). Your lil' Mary Lou is ready to compete!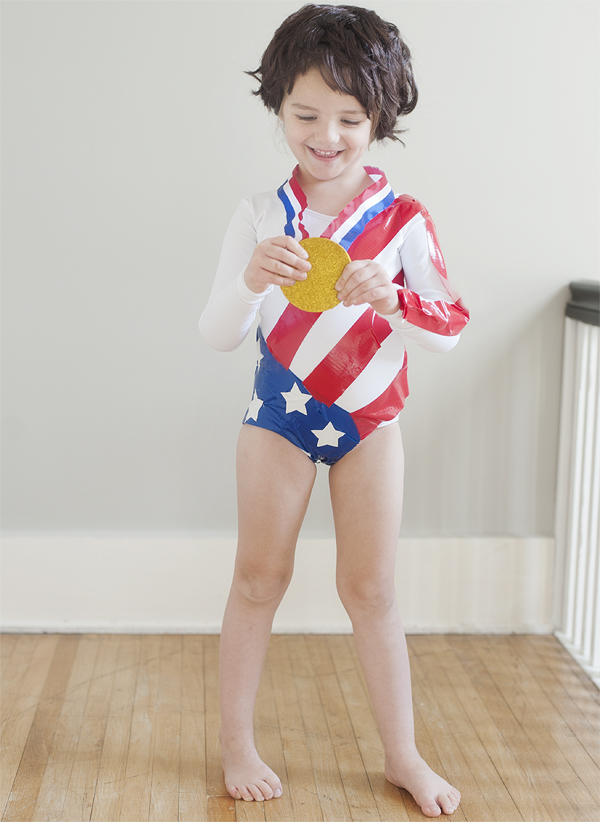 If you can find painters tape over duct tape for red I highly suggest. The red duct didn't stay on the leotard fabric extremely well, especially her arm. It could be reinforced with clear tape if you cannot find red painters tape.
Can we talk about the wig? Sorry Mary, it was as close as I could come. Shocked Jettie was willing to wear it. Makes a momma happy that she loves costumes so much!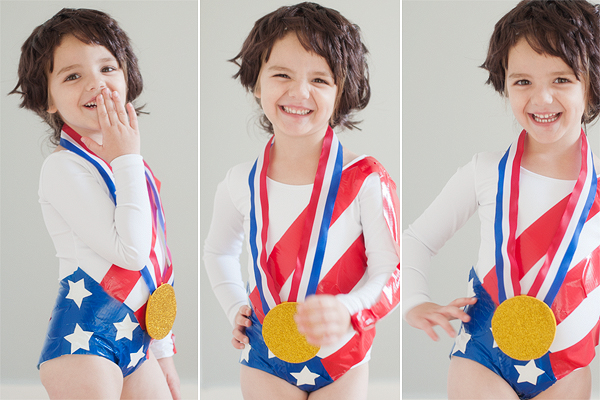 Stay tuned for Bing as an 80s sports icon…you're not gonna want to miss it!
Don't forget to tag #PPJHalloween when you post you or your loved ones in their fabulous costumes! I'm extremely excited to see them all!
xo,