Halloween 2011 was the year of "Jettie Spaghetti." A costume I'm not sure we will ever top…(but of course we will try):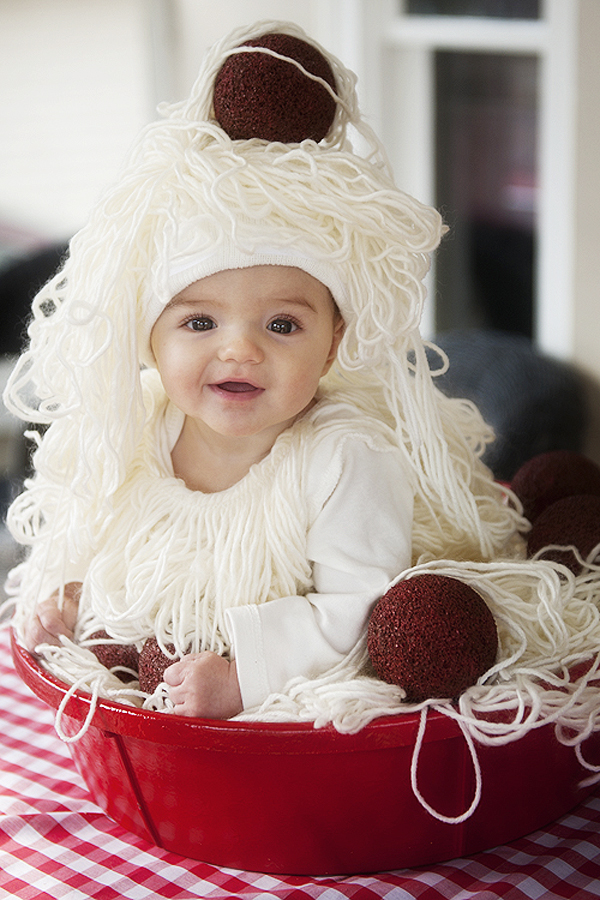 The above image randomly shows up on my pinterest feed and various other "viral-esque" type link sites. I love that people adore her costume…and as a biased mother I'm not sure how anyone couldn't.
What people may not realize is how ridiculously easy this costume is to make. You may be thinking "yeah right" but honest to goodness this is a simple one. It's also low cost with high impact results. We still have people say to us "Hey, you're the guys who dressed your baby up as a bowl of spaghetti!" (Yeah, that is us!)
Here is what you will need for your very own bowl of baby spaghetti and meatballs:
Main Costume:
cream colored hat
cream colored onesie (does not need to be plain – you can always turn inside-out like we did if there is type on the front.)
cream yarn – one of the big rolls.
velcro – only need the "rough, teeth" side
sewing machine with cream thread or hot glue gun
Meatballs and Dish:
4 to 5 styrofoam balls (about 3″ or 4″ in diameter)
red and dark brown paint
glossy red spray paint
cream baby blanket
1.Take one end of your yarn and start looping. We did this by simply securing the yarn in one hand and wrapping from hand to right behind elbow (arm will be bent at a 90° angle). Keep looping until you have about 1/4 of the yarn left (this will be used at the end).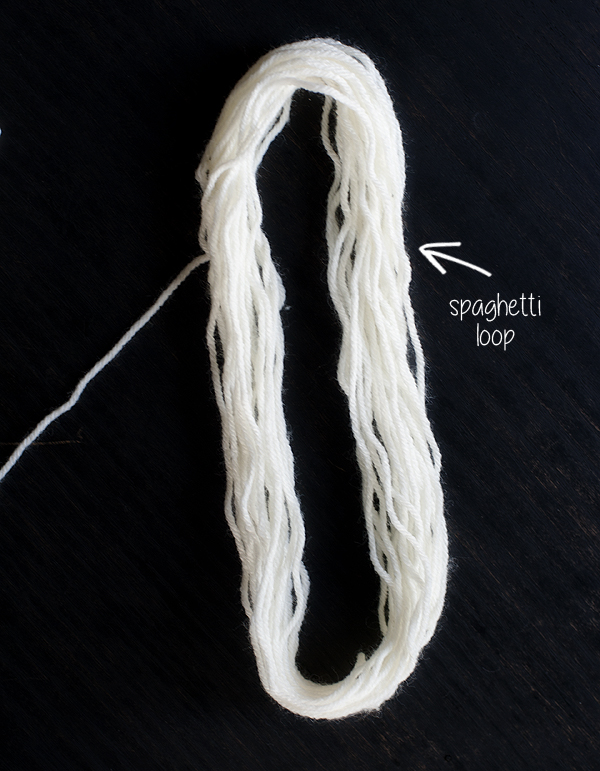 2.Make the hat by attaching the "teeth" side only of velcro around the edge by sewing or hot gluing. Take some of your "spaghetti loops" and attach to top of hat by sewing or hot gluing. Use the velcro to arrange spaghetti around the hat. (When hat is placed on baby you can arrange more of the spaghetti so that it is not in front of baby's face.)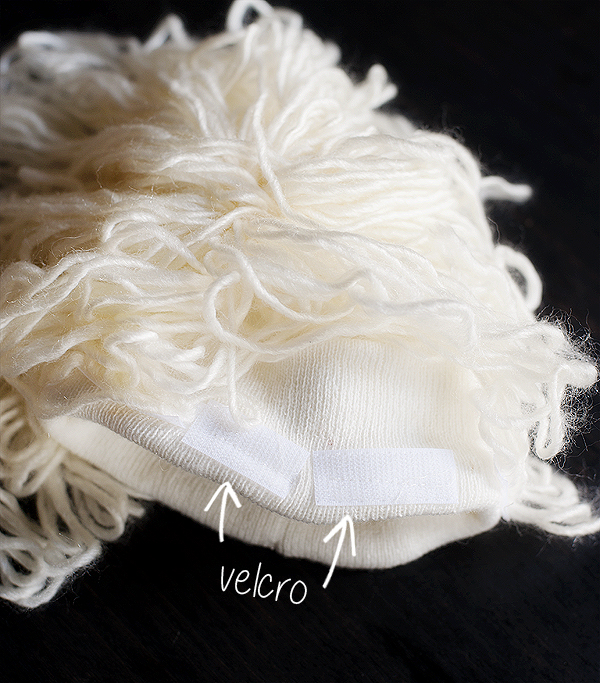 3.Time to place your "spaghetti rows" on the onesie! Take spaghetti loop and sew or hot glue a row onto the waist section of the front of onesie. When you reach the end of onesie cut from main spaghetti loop and continue onto next step.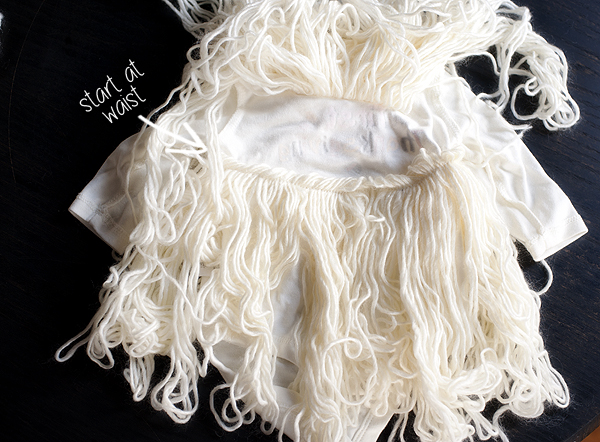 4.Repeat step 3 with smaller section in the middle of the onesie at the chest.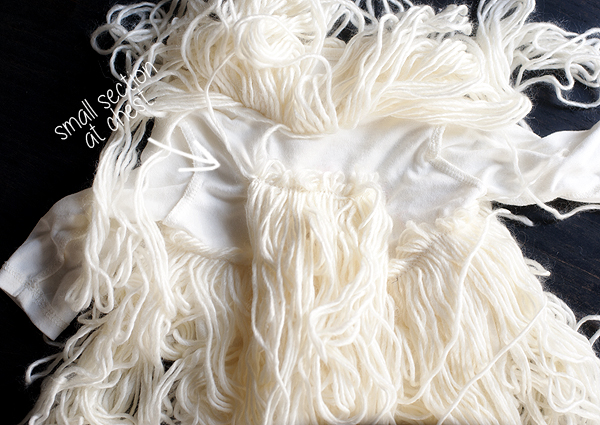 5.Repeat again except this time at the neckline.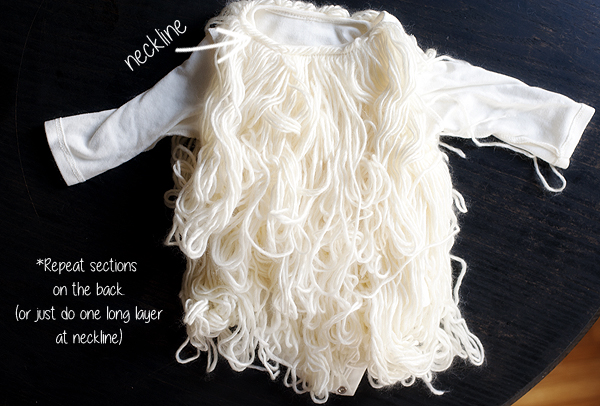 6. When the front is finished do the same process on the back. (Or you could just do one row at the neckline if you wish – it is a Halloween costume after all.)
A closer look at a sewn version…my mom is a master seamstress. No exaggeration – she made this thing in less than 7 minutes. If you sew yours and it doesn't look like this do not be discouraged. She is a freak of sewing nature that not even I understand. (But I do very much appreciate.)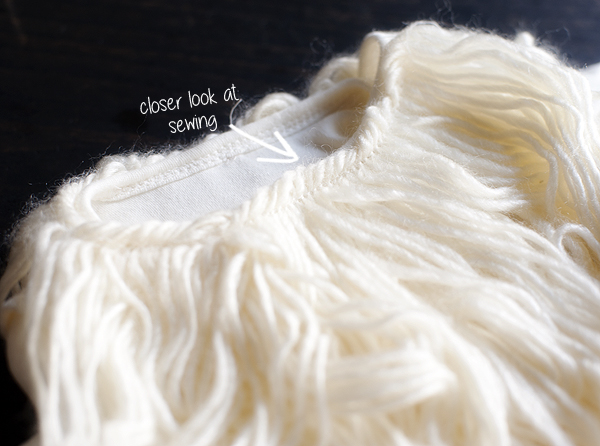 My make-it-work onesie I scored that year: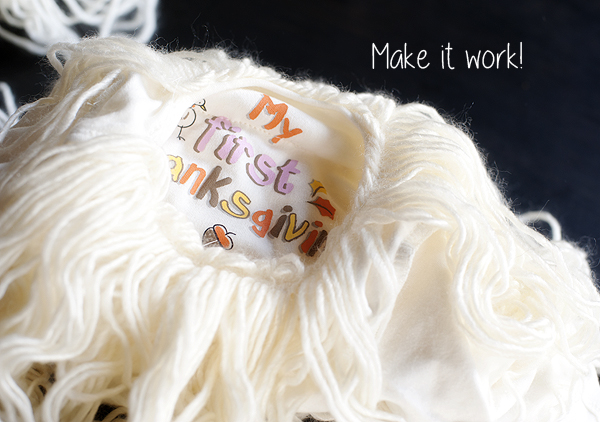 Once your onesie is complete you can begin on the "accessories":
Paint balls completely red first (sponge brush works best). Allow to dry and then dab brown paint all over each ball. Allow to dry.
Spray feeding tub with red spray paint. Allow to dry.
Once everything is dry assemble the costume by placing blanket in the tub, dressing baby in spaghetti onesie and hat. Take extra "spaghetti" and place on top of blanket. Set baby in center of tub and randomly place "meatballs". (They will stick to yarn on their own.)
The #1 thing to remember when it comes to this sort of DIY is this:  "It's only a Halloween costume." In other words, nothing has to be perfect. The sooner you let go of that notion the sooner you will have fun DIY-ing your kids costumes. And having fun is what Halloween is all about isn't it?
A few more of Jettie Spaghetti's first Halloween. As you can see we decorated a bit with wine, olive oil and checkered fabric. Also made a quick banner out of the colors of the Italian flag. Such simple things that tied everything together for a "wow" baby costume: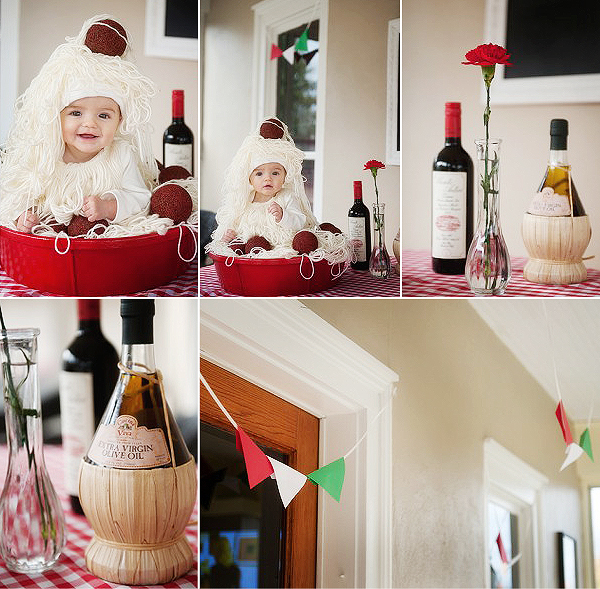 The only picture of the 3 of us from that year. I can't help but smile looking at this. Definitely one of those "if I could I would" relive days.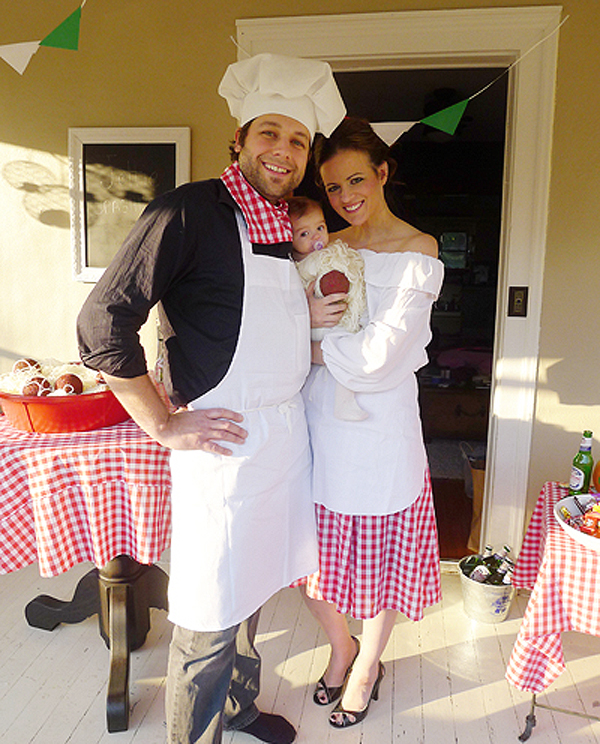 I love Halloween, specifically the costumes and I don't want to miss any of yours! Tag #PPJHalloween on IG to share (can be past costumes as well) – I'll be featuring some favorites along with a super fun giveaway (details to come)!
Happy Costuming!