I want to start today with a great big thank you. Last month's blog stats were awesome. I often ponder why anyone should care to spend their precious time on this site. While I may not have the answer, I do know that all this sharing has made my everyday a little bit brighter. I'd be lying if I said it was easy to keep up with the writing, shooting, social media, networking, tech side, and the many other things that come with blogging. But I wouldn't be up for all this work if it didn't fill my soul in some way. It does, and so do you.
Thank You.
Now let's talk hair. More specifically how we style our hair. What is it about August that makes all of us think fall, fall, FALL! It's still hot outside and we are all boots, apples, boots, pumpkins, boots! (BOOTS – it deserves another shout out because…BOOTS.)  One way to infuse fall into your still summer days is by taking a note from the upcoming on trend hairstyles. What I love about all of these are their ease. No intricate braiding or curling. Simply easy autumn hair, I like that.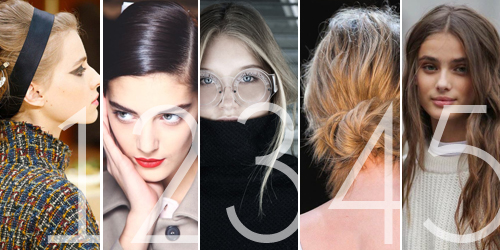 1headbands are always a fave, but this season they are going to be sleek and chic./2a slick, deep part with a bold lip is just the crispness a girl needs for that perfect fall day./3throw on the turtleneck and leave that hair tucked. Wait, haven't we always been doing that? At least now we will be on trend./4replace those braid days with a messy chignon. I need to learn how to perfect this style…/5my absolute favorite – bed head middle part. If my hair is down this is typically what it ends up like…thank you fashion world for making it cool to look a mess.
xo,