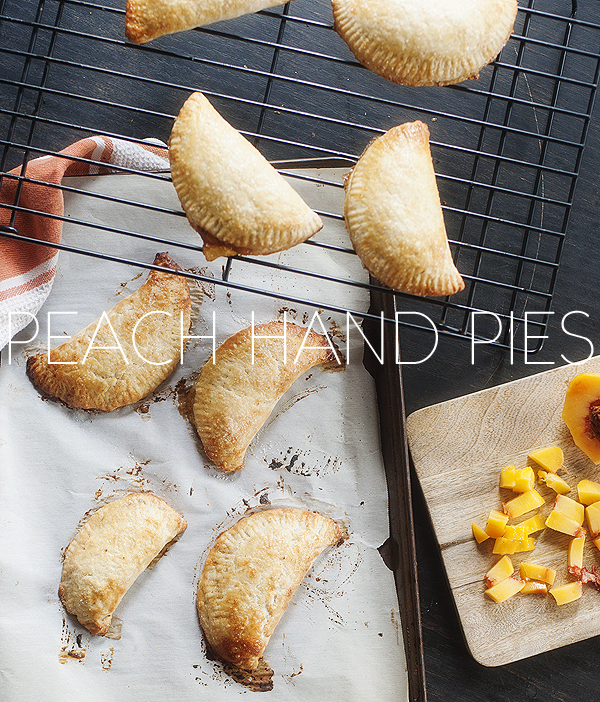 There is something so wonderful about portable pie. It's a dessert that a person normally needs a fork to eat transformed into a perfect pocket of on-the-go sweetness. Who doesn't love that? Only crazy people, that's who. Or at least crazy to me because I could eat these bad boys morning, noon and night.
Let's talk about our favorite pie filling. For me it will always involve fruit. Sure the creamy fillings are great and all…but a flaky, buttery crust filled to the brim with bright, perfectly sweet fruit will always have my heart. Especially peaches. Their flavor is as bold as their color. And when they are in season…Oh.My.Gah.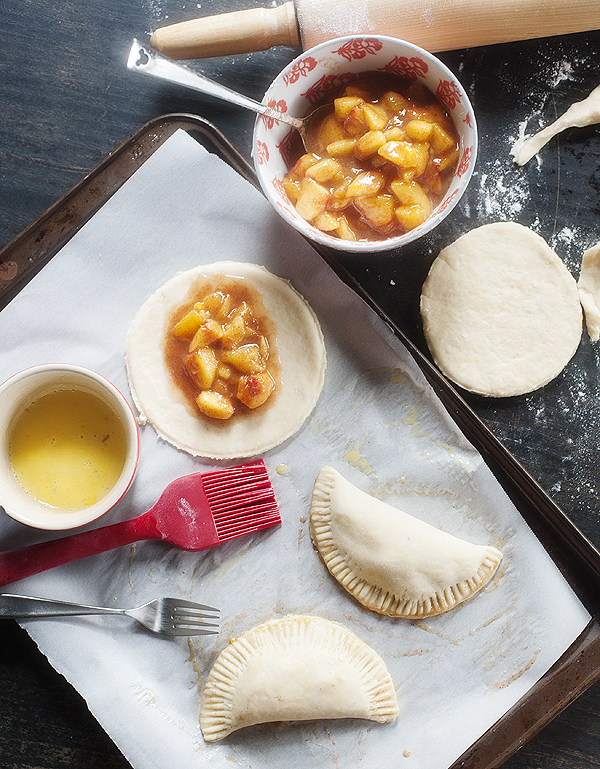 This is not going to be a dessert that can be thrown together in 30 minutes (unfortunately). It is however fairly simple to make, you just have to have some time to let all the chilling that needs to happen, happen.
Crimping the edges is the part that gets me the most nervous. You go through all the effort of making crust, rolling it out, assembling each pie and then you stick those things in the oven only to open it back up to one hot mess. Suffice it to say I was expecting the mess. Only one little bit of peach escaped, and wouldn't you know that hand pie was still gorgeous and delicious.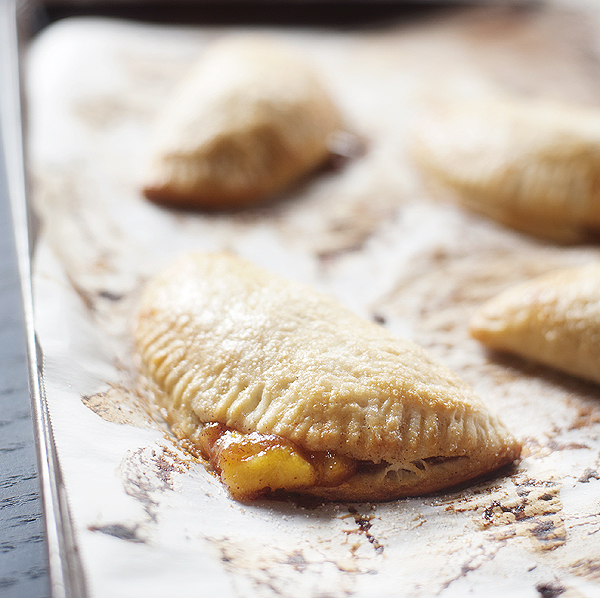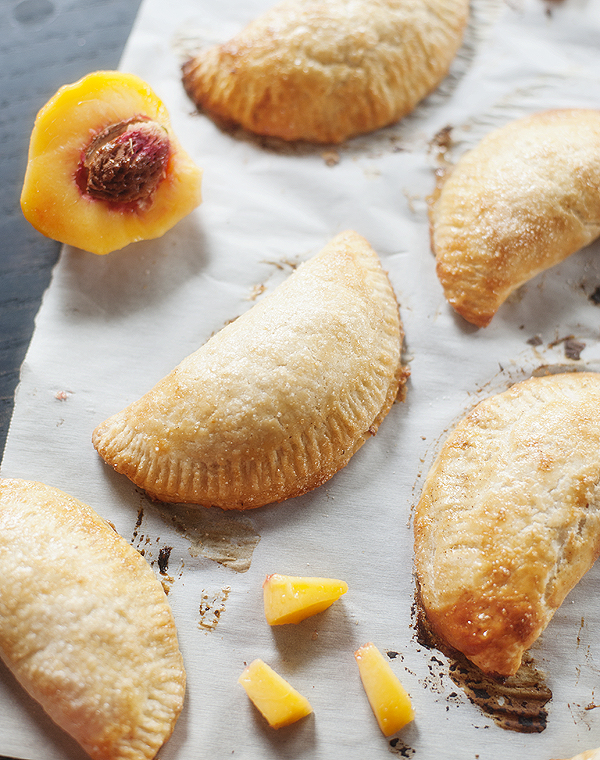 This crust was a new one for me. It contains cream cheese which definitely gives it a bite that pairs will with the sweetness of the fruit. It baked beautifully – definitely one I would use again. The only thing I may do differently is try to roll the dough slightly more thin. (If you suck at rolling out dough say "I" – I, I, I!)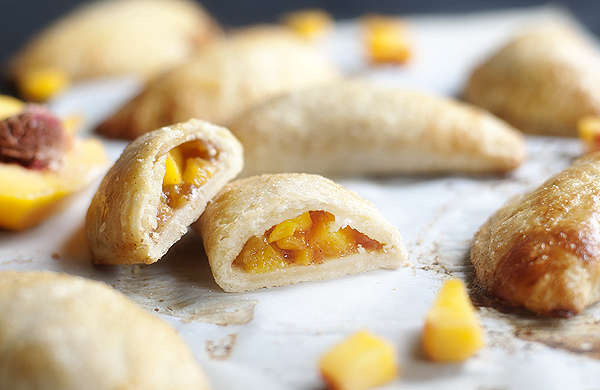 You guys, this whole hand pie making thing was pretty darn fun. I am not going to go as far as to say you will see these as much as scones or cocktails (duh) but you will be seeing them again.
Enjoy!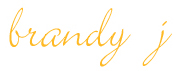 peach hand pies
Ingredients
for the crust
4tbsp unsalted butter
4oz cream cheese
2cups all-purpose flour (plus more for dusting)
1tbsp sugar
1tsp kosher salt
¼cup milk (plus a couple extra tsps just in case)
for the filling
3cups peeled, diced peaches
¼cup sugar
¼cup brown sugar
2tbsp corn starch
1tsp fresh lemon juice
¼tsp kosher salt
1tbsp cinnamon
for the sealing dough and wash before baking
1 beaten egg
sugar
Instructions
For the crust. Cube butter and cream cheese. Place in freezer for 20 minutes before adding to rest of ingredients.
Pulse the flour, sugar and salt in a food processor a few times. Add the cold butter and cream cheese cubes and pulse until small clumps form. Add the milk and pulse until a dough forms when you press together with your fingers. If dough won't form add more milk 1tsp at a time (be careful not to add too much).
Dump dough onto a lightly floured surface and knead into a dough that stays together. Cut in half and from 2 1" thick disks. Wrap each in plastic wrap and place in fridge for 2 hours or overnight.
Right before pulling dough out of fridge make the filling. Place peaches, sugar, brown sugar, corn starch, lemon juice, salt and cinnamon in a bowl and stir. Set aside.
Line a baking sheet with parchment paper. Take a dough disk and roll out into a depth of ⅛" thick. Use a circle cutter (or bowl) and cut out preferred circle size (mine were about 5" circles). Set pie circle on prepared baking sheet. Repeat with second disk.
Spoon a small amount of the filling into center of each circle. (Amount will depend on size of circle. I used about 2tbsp per circle.) Brush edges all the way around with beaten egg. Fold dough in half pressing the edges together and then crimping with a fork for extra security. If some juice sneaks out wipe away with paper towel. Place back in the fridge for 20 minutes. (Begin preheating the oven to 375degreesF at this point).
Once pies are chilled pull out of fridge and brush the top of each with egg. Sprinkle a good amount of sugar on each. Bake for 20 minutes or until golden brown. When finished place on wire rack to cool a bit. They are delicious warm with come ice cream. Cooled pies can be stored in airtight container for up to 3 days.