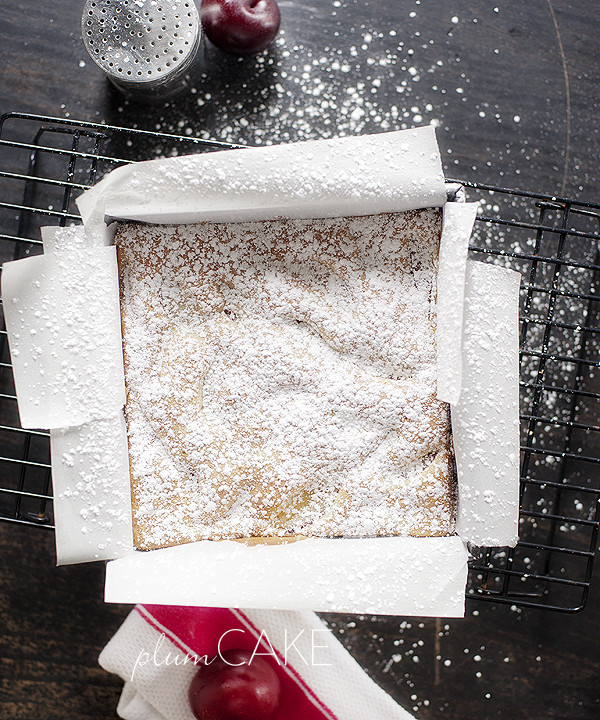 It's been a good 4 years since I first made Smitten Kitchen's strawberry summer cake and fell in easy, breezy cake recipe love. Back then it never dawned on me that turning on the oven and baking a cake could end up in such a refreshing treat. But it does…and for that my family is extremely grateful.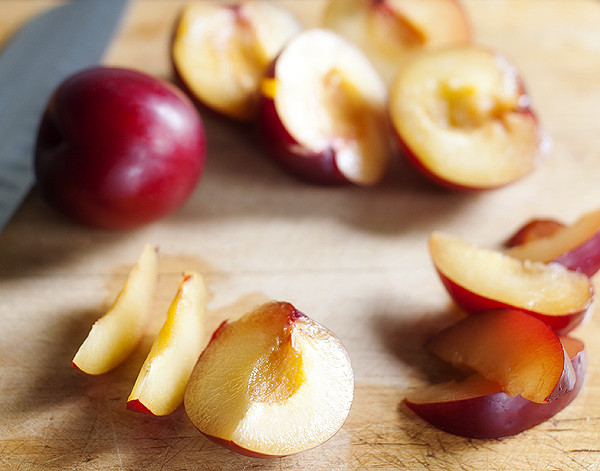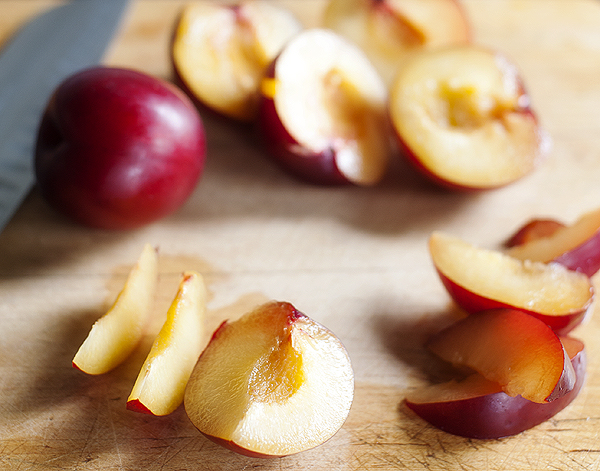 Plums are one of Jettie's favorite fruits. While shopping the other day she asked "Mommy, are the plums on sale?" She said it so sweetly with a mountain of hope in her big, beautiful eyes – I really didn't give a darn if they were on sale. Jeannie was getting her plums.
As we turned the corner she saw the big red sign and said "I think they are!!!" 3 seconds later I had a bag full of plums busting at the seams. She was happy, I was happy – it was a warm fuzzy moment for the memory bank.
Of course now we had an overload of plums. And cake sounded like a really good place for some of them to end up in. Typically she eats hers fresh, but she seemed more than okay with this way after one bite.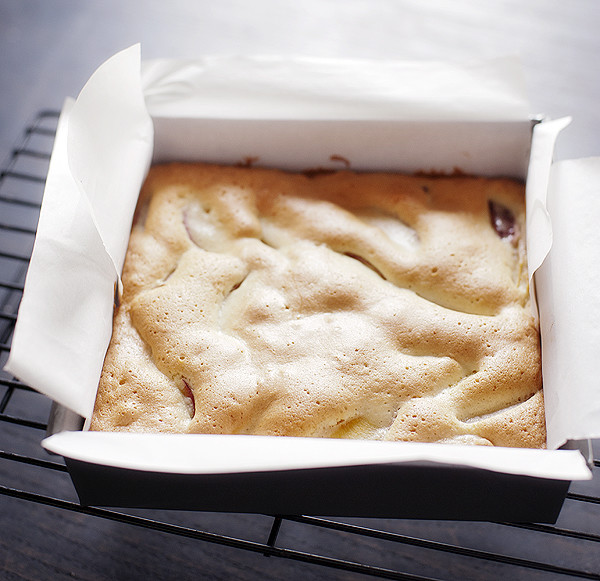 This cake is beautiful and delicious as is – out of the oven and cooled. The powdered sugar though, it does make everything a little sweeter, and prettier…and just more fun.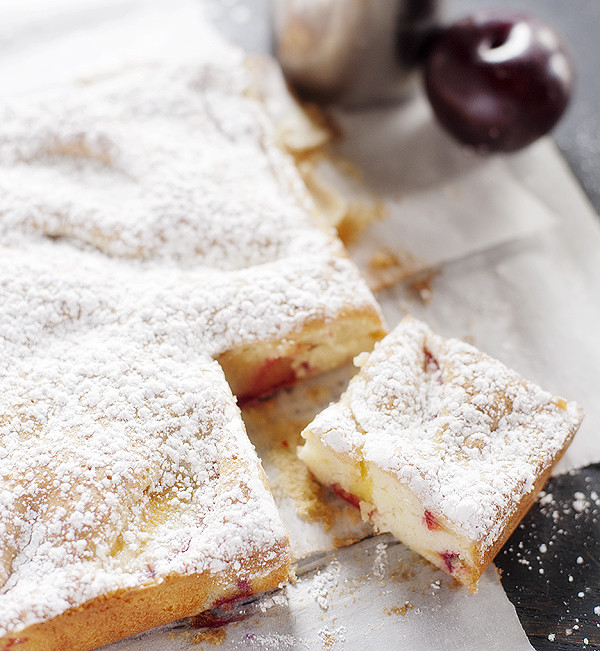 Light and fluffy cake surrounding slightly tart yet perfectly sweet plums. This. Is. Good.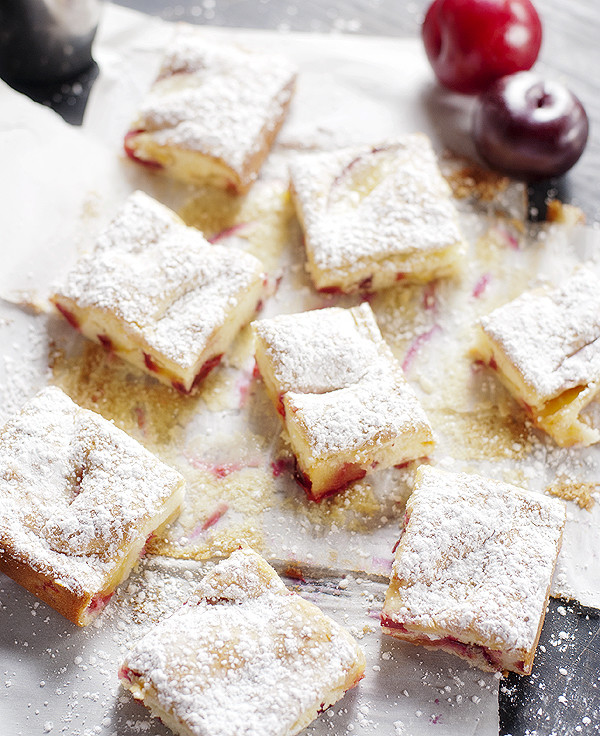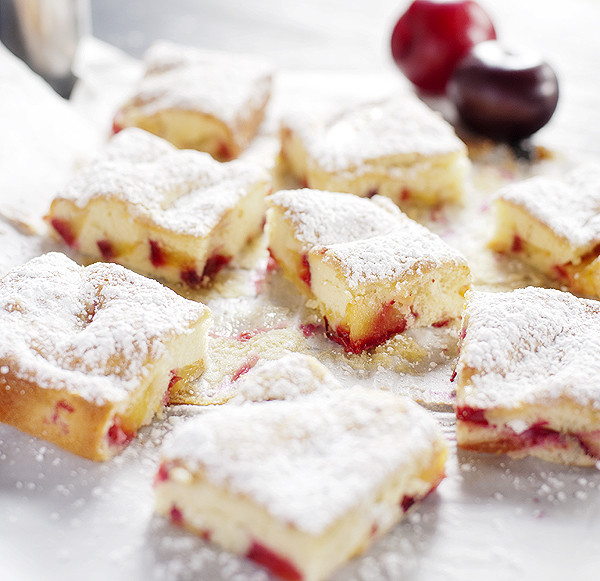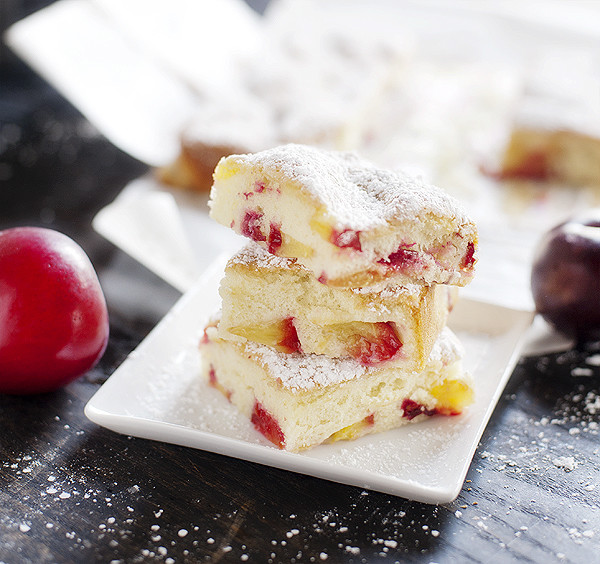 Here is the thing about me and summer cake – I love, love, love it cold. Any cake straight out of the fridge makes my heart happy – but fruit cake in particular really gets me going. I may also throw a little extra powdered sugar on top, but we don't need to talk about that.
Enjoy!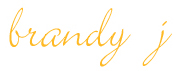 plum cake
Ingredients
2 large eggs, room temp
½cup sugar
¾cup flour
¼tsp baking powder
¼tsp salt
¼cup vegetable oil
1tsp vanilla
3 plums, sliced
powdered sugar (optional)
Instructions
Preheat oven 350degrees. Grease an 8X8 inch pan and line with parchment paper (leaving excess paper over the sides).
Place eggs and sugar in a mixer attached with a paddle and mix on high speed until light and fluffy, about 5 minutes. Meanwhile whisk together flour, baking powder and salt in a small bowl.
Once eggs and sugar have reached their pale, fluffy consistency, turn mixer down to medium and slowly add oil and vanilla. Turn mixer to low and add flour mixture. Mix until incorporated (being careful not to over mix).
Fold plum slices into batter and pour into prepared pan. Bake for 30 to 35 minutes or until golden and toothpick inserted in middle comes out clean. Allow to cool completely in pan before serving. Dust with powdered sugar for a little extra sweetness if desired. Enjoy!