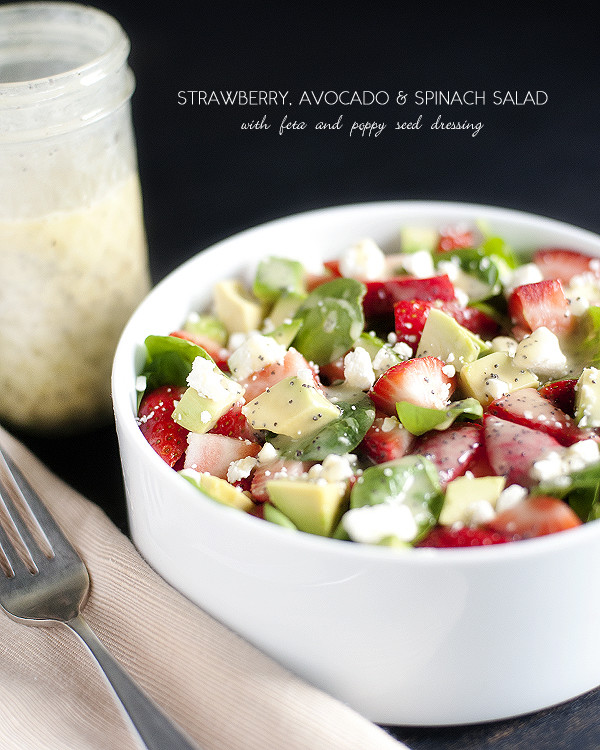 Our home is within a short walking distance to a fine foods store that has been around since forever. Jimmy's is what we call it (the official name being Collins Fine Food) and he's got everything we love. Wine. Got it. Beer. Got it. Dark chocolate filled with more dark chocolate. Yes!!!
Jimmy's also has a Jelly Belly bar that until we had a toddler living with us we had never even noticed. Now our home has a bag of colorful calories taunting me. It's just a few…what harm can that do? Well that "just a few" almost always becomes a gigantic handful and within minutes I have a tummy ache. Yet not even an hour later I am back again for my jelly bean fix. Clearly there is no self control when it comes to me and mini  beans of assorted flavors. (Please chose the strawberry daiquiri Jettie…and the watermelon…and the mango…but not the popcorn…)
Determined to kick the jelly bean habit I have my fridge stocked with strawberries at all times. They are colorful, quick to grab, easy to eat…but most importantly they are healthy. You know what else is healthy? Spinach. And avocado. Combine the three and you have something way better than a handful of Jelly Bellies. (Okay, maybe it's a tie as far as how good they taste. But the salad is much healthier, there's no contest there.)
The key to this salad is the dressing and salty cheese. You can keep it simple with a little oil and vinegar. Or you could make it extra delicious and whip up this creamy poppy seed dressing. It's sweet, it's tangy and a little goes a long way.
As far as the cheese I am and will always be a feta girl. Those briny, salty bits make my tastebuds smile. Gorgonzola or bleu cheese would be acceptable alternatives if feta is not your thing.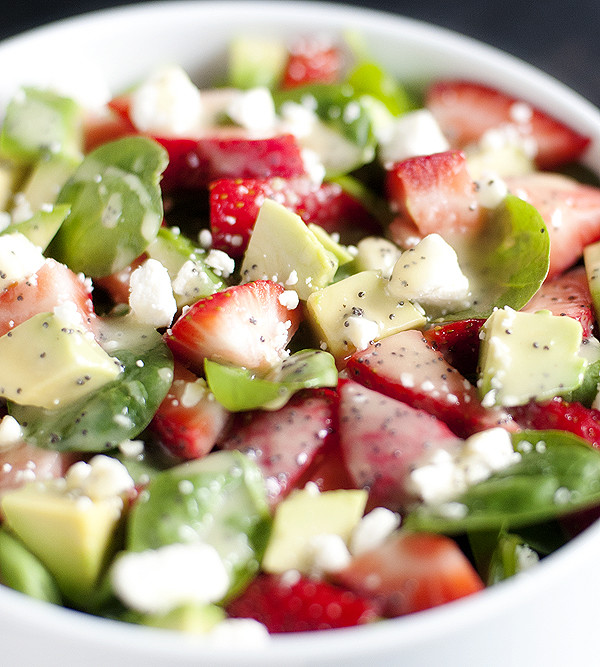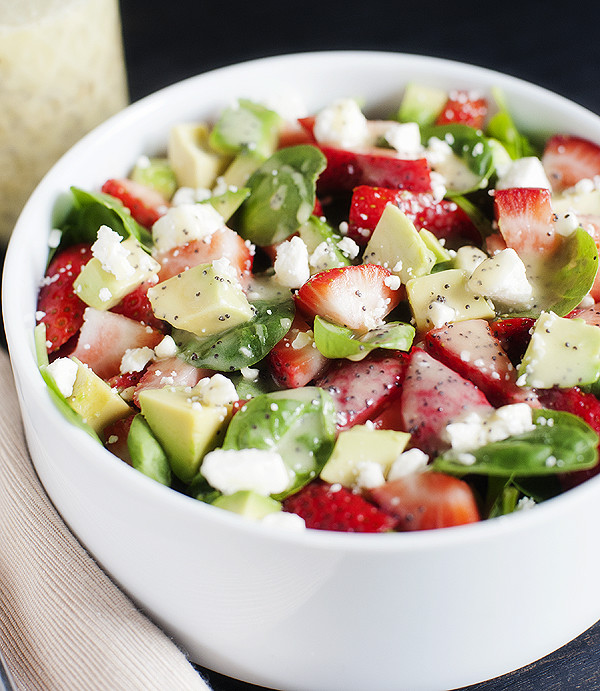 Everything about this salad makes me happy. The flavors are fresh and vibrant, the avocado adds creaminess and the feta keeps it from being boring. It's a perfect way to make yourself feel better after a bit of a junk food binge. (And yes, I finally hid those jelly beans. Out of sight, out of mind.)
Enjoy!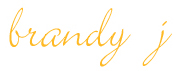 strawberry, avocado & spinach salad with feta and poppy seed dressing
Ingredients
Dressing
½cup olive oil
2tbsp plain yogurt
3tbsp honey
3tbsp apple cider vinegar
pinch of ground dry mustard
1tbsp poppy seeds
salt and pepper to taste
Salad
6cups baby spinach
Pint of fresh strawberries hulled and quartered
1 avocado peeled, pitted and cubed
¼cup crumbled feta cheese
Instructions
Put dressing ingredients in a jar with lid and shake until well combined. Add salt and pepper to taste. Store in fridge for a week - shake well before putting on salad.
Divide spinach between 2 bowls and top each with strawberries, avocado and feta. Drizzle dressing on top (I use maybe 2tbsp a salad) and enjoy!