It birthday weekend! Operation dance recital and 4th birthday party is in full force at our home. If you're thinking "wow, that sounds like a lot" you'd be correct. If you're also thinking "she probably loves the madness" you'd be spot on again.
The good news is her party will be small – just girl friends and girl cousins like last year. But of course there will still be lots of details and fun surprises. Who'd I be if there was not? (That's where all my fun is after all.)
One of my favorite things about planning a celebration for a little lady is finding the perfect party dress. Jettie has had some fabulous ones: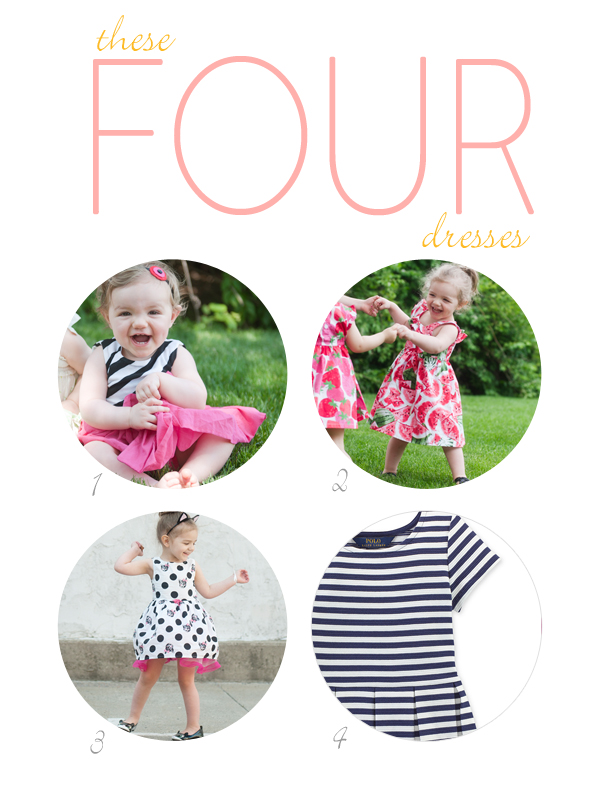 1st Birthday Poppy Party – graphic stripe with a full bright pink skirt. Took me forever to settle on a dress for this one. Something about birthday #1 that really sends a mom into perfection mode. I wasn't 100% sure it was the right one but then it arrived and yes…it was exactly what she needed to wear./2nd Birthday Fruit Stand Party – If she was having this party today I would have a plethora of amazing options to chose from. But 2 years ago little lady fruit dresses were hard to come by. So I turned to my mom who always comes through, especially when it's for one of her grandkids. That may be the cutest watermelon dress to ever exist./3rd Birthday Kitty Cat Party – $10 dollars. This dress was $10 dollars. Clearly her dad's favorite. Last year's party came together so easily it felt like a dream. It was also the first year she really understood what a birthday celebration was. Melted me to watch her have such a fabulous day in that sweet kitty cat dress. $10 well spent./4th Birthday "sneak peek" dress – she'll be in stripes again and will have a most fabulous accessory. Stay tuned…it's gonna be good (I hope).
Here's a to weekend of celebrating!