When I was pregnant with Bingham all I could envision was a bald round head, and ear to ear grin just like his old man's. Wouldn't you know that kid came out pretty darn close to what my mind had contrived. All except the hair, he had just a touch more than anticipated – not a ton, but definitely more than peach fuzz. It dawned on me later that Bingham needed that hair. His dad is a licensed barber and the first haircut was going to be something special. (Someday I will explain why he is licensed yet not working at a barber shop – better yet, someday I'll explain why his name is really/not really "Sticky".)
Bing has had "wings" over the top of his ears for weeks – driving Sticky slightly crazy (he's well educated in "manscaping"). The barber chair is in the garage though, and we needed a warm day for this inauguration. Last Saturday was the day. As soon as that cape went around Bing's neck the grinning began…and my heart exploded.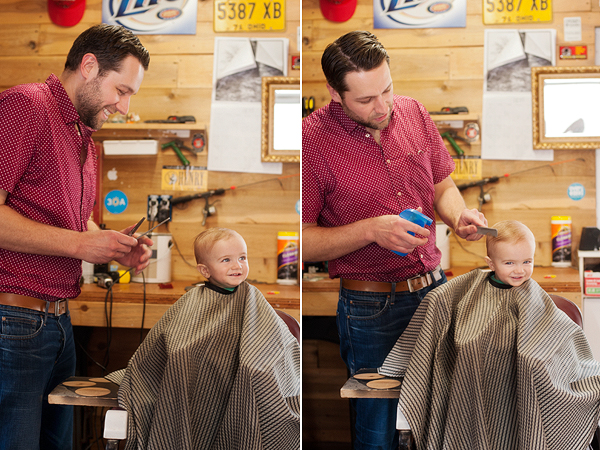 Firsts can stress a mom out a bit. You want to capture them just so but at the same time you want to be present, and not miss a second. This haircut lasted all of 5 minutes and I maybe got 10 shots out of it. The thing about moments like these is that you don't have to overdo it with the images. Sticky's beaming, Bing is his jolly self – it's right there to be captured and then enjoyed. I'm incredibly grateful for these few images, even more so for the experience of witnessing my man cutting his son's hair for the first time.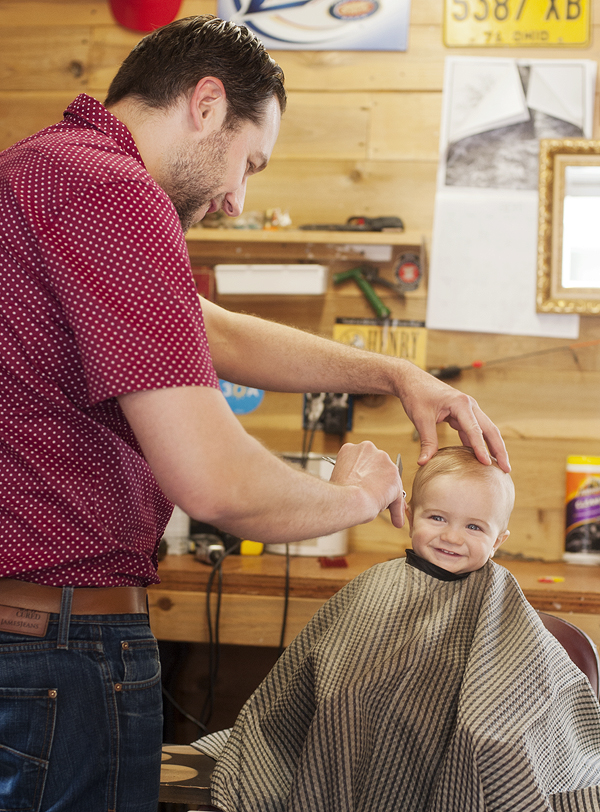 We all have images of our kids that pull extra hard on a heartstring. I think this will be one of Bingham's. I can't imagine looking at the above image and not getting an ear to ear smile of my own.
xo,