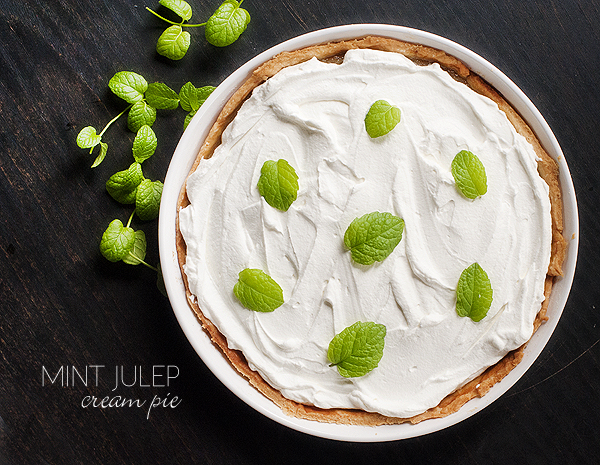 Mint Julep – is it just me or is that incredibly fun to say? We love it so much "Julep" was on our list of possible "J" names for Jettie. Which she could have totally rocked. Pretty and sweet (just like the cocktail) yet packs a punch (just like the cocktail).
You could certainly say the same thing about this pie. From appearances one may think "oh, cream pie." But one bite in and you'll know you're eating something reserved for adults only. It is named after a cocktail after all. One that is loaded with mint and bourbon. I happen to love me a good mint julep – I may even love this pie more.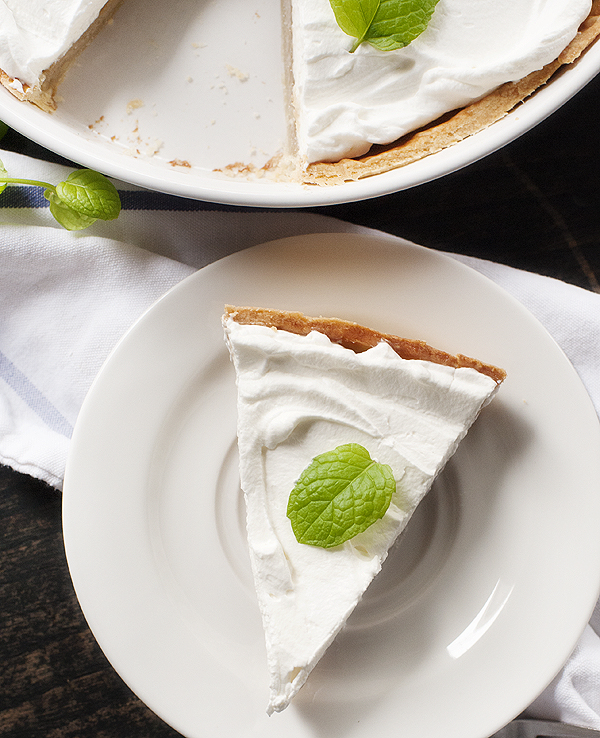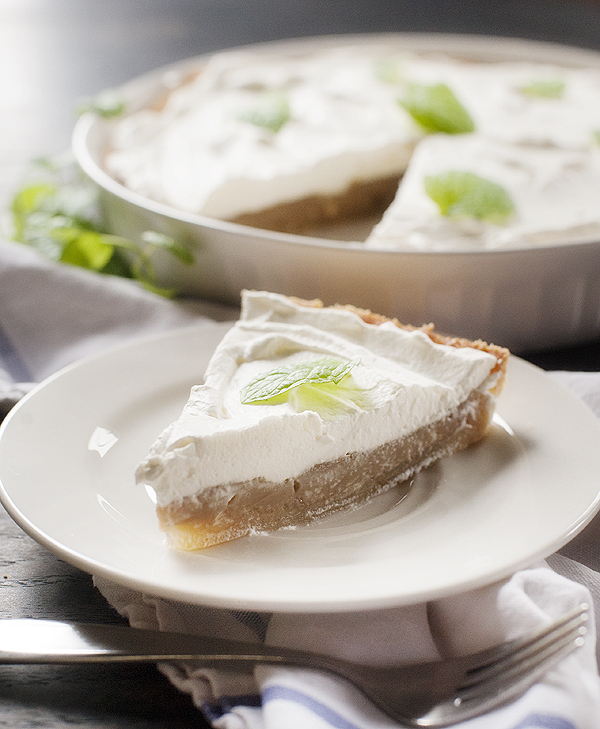 If you are a Kentucky Derby fan you know why I have mint julep on the brain. It is the official drink of the derby and quite frankly can be a little on the strong side. This pie doesn't disguise the taste of bourbon, but the sugar and cream provide a buffer that the cocktail lacks. Perfect for anyone who wants to partake in the fun but does not particularly like a stiff drink. Boozey pie on the other hand…who doesn't like that?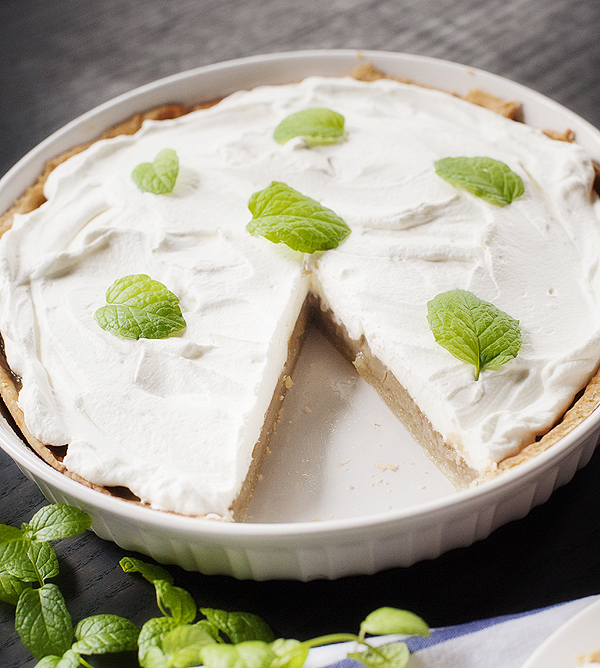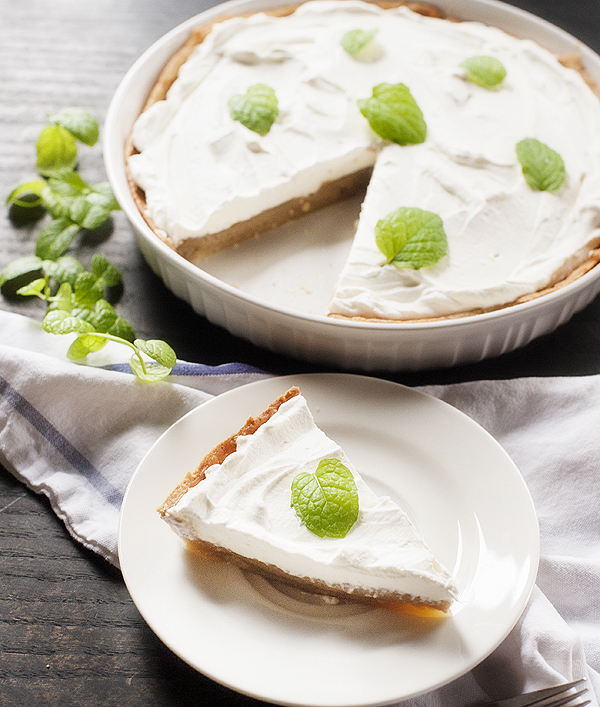 Traditionally my mom makes a Derby Pie on race day. It's very rich, very chocolatey and very good. I think this minty, creamy drunk pie would be the perfect partner next to it. And let's face it – you can never have too much pie!
Enjoy!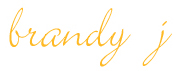 mint julep cream pie
Author:
Recipe slightly adapted from Food52
Ingredients
1 9" unbaked pie crust (I used this recipe)
Mint Syrup:
1½ cups water
1½ cups sugar
1 bunch mint leaves
Pie Filling:
3 large eggs
½ cup light brown sugar
¼ cup good quality bourbon
1 cup mint syrup
¼tsp salt
Topping:
1 cup heavy cream
3tbsp mint syrup
Instructions
Preheat oven 425degrees. Place unbaked pie crust in a pie dish - remove any extra crust hanging over. (You can leave "rustic" or crimp crust at this point.) Prick the bottom with a fork, evenly and several times.
Place parchment paper or foil in crust and fill with dry beans. Bake for 20 minutes rotating halfway through. Remove crust from oven. Take out beans/paper or foil. If bottom still looks "wet" throw in oven for a few more minutes until dry (without beans). Allow to cool completely.
Make syrup. Mix sugar and water in a sauce pan. Allow to come to a boil. Remove from heat and add mint. Let sit until cool. Strain mint and store in container with lid.
Turn the oven down to 350degrees. Place eggs and brown sugar in a large mixing bowl and whisk until combined and slightly frothy. Add bourbon, cooled mint syrup and salt. Mix until well combined.
Poor mixture in pie crust and bake for 20 to 30 minutes. Until pie is set yet middle is still a little wobbly. Cool completely on a wire rack before adding topping.
While pie is cooling, place cream in a large mixing bowl and whip until it becomes desired whip cream consistency. Add mint syrup towards the end. Store in fridge till pie is completely cool.
Top pie with whipped cream. Garnish with a few mint leaves if you so desire. Serve and enjoy! (Adults only.)
Notes
You will have leftover mint syrup. Use in mojitos or better yet - mint juleps!