A few weeks ago I received some lovely products from Beth of Hawks Homestead. We know each other through a mutual friend (thank you Lisa) and I have been admiring her line of essential oil based items for a couple of months now. While it seems like everyone and their neighbor uses essential oils, I have to admit I know very little about their effects and how exactly to apply them. This is why I love Beth's line. Everyday items, loaded with essential oils – but the best part of all is that they are ready to use.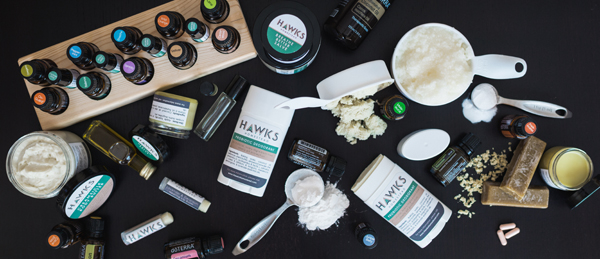 Beth graciously answered a few questions that a newbie like me wanted to know:
What initially drew you to using essential oils for your family?
I was introduced to essential oils while I was pregnant with my son. I was more than half way through my pregnancy, but having had "morning sickness" the entire time I started seeking more natural options for relief. I was very skeptical at first, but I became a total convert at 36 weeks pregnant. I was told by my doctor to give up the idea of a vaginal birth. My son hadn't flipped yet and he was "out of room." Hoping to avoid a C-section, if possible, I tried every old wives tale I had heard of – hanging off a couch for 10 minutes at time, doing headstands, etc. When one of my sorority sister's suggested a drop of Myrrh on the top of my belly, I really thought she'd taken a train into Crazy Town… but I figured it couldn't hurt. After 2 days of applying the Myrrh, Cole flipped on a shopping trip to Kohl's and arrived two weeks later. After the baby flip experience, I approached every health concern with the mindset, "There's an oil for that."
How long have you been using the oils and how quickly did you begin to see the benefits?
My family has been actively integrating essential oils into our daily routine for over 2 years now. We've been successful in replacing almost all of our OTC medications, as well as household cleaning products and personal care products.  Essential oils can provide immediate results, often going to work within 30 seconds of application. Even after 2 years of using oils, I'm still impressed with how fast they provide relief. I really nerd out sometimes when I talk about the power of Mother Nature and these amazing gifts she's given us.
Which oil (or hawks homestead product) do you use the most?
I'm a Keep Calm & Roll On addict. It's my anti-anxiety blend with essential oils chosen for their calming and grounding effects. I have a rollerball in my office, at the head of my bed, and I carry one around in my purse. I've also been known to bust it out at meetings and cover other people in it when things start to unravel. But on a more serious note, I use every single one of my products daily or on a routine basis which is a big reason why the Hawks Homestead brand exists.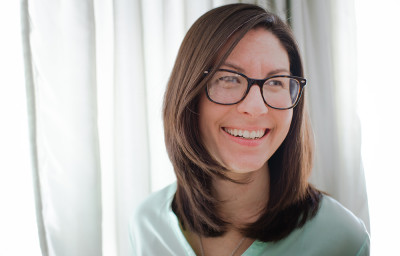 Your products are wonderful. What inspired you to make a business out of creating them?
The essential oil movement has been growing for a while, and I think we're just now starting to see it hit mainstream. Even if someone isn't an avid essential oil user, they've at least heard of them or dabbled with something like Lavender for sleep. As a dōTERRA Wellness Advocate, I had a lot of people buying essential oils from me and then quickly becoming overwhelmed. They wanted to know more and do more with them, but they didn't have the time or energy to sort it all out. I was sad to see them giving up before they really started, or avoiding it all together due to the cost of individual oils. I saw an opportunity for my products to act as a gateway for people… a way to slowly and affordably be introduced to the amazing benefits of essential oils without the extra work and cost of buying carrier oils and rollerballs, finding blend recipes, mixing up blends, etc. My core product line is a collection of all the items I cannot live without and I really believe everyone can use.
To someone new to oils do you have a suggestion for good "starters"?
Any of the rollerball blends available through Hawks Homestead are a great place to start. I have a blend for allergies, sleep, anxiety, and immune protection… and I think everyone could use at least one of those! No one wants to get sick, so if I had to pick, I'd recommend the Stay Healthy blend to have on hand when you start feeling under-the-weather. My customers also love the Probiotic Deodorant, and it seems "less crunchy" than some of my other products. Knowing how bad aluminum and other chemicals in traditional store bought deodorants can be for women, I think a natural deodorant is a must. The probiotic in mine is the secret ingredient!
When it comes essential oils on their own, I love the enrollment kits from dōTERRA. They've put a lot of time into developing them and the Family Physician Kit and Home Essentials Kit are tops in my book. They have everything you need to really take control of your personal health and well-being.
Summer is coming up. Any plans on offering a bug and tick spray? Sunscreen? Poison ivy relief?
I do have some ideas and products in the works for the summer season. You can definitely expect a sea salt hair spray and a soothing skin spray for sunburns. I'd love to offer a sunscreen option too! We'll have to see what makes it out of the "test kitchen"! I don't sell anything I don't 100% love and use for myself or my family.
Are there any concerns when using essential oils for my little ones?
Due to their potency, essential oils need to be diluted for use on children. While adults follow a ratio of 1 drop essential oil to 1 drop carrier oil, that dilution rate increases substantially for children. They are generally 1 drop of essential oil to 1 teaspoon carrier oil, or 1 drop of essential oil to 1 tablespoon carrier oil (depending on age). Caretakers should always test a very small amount of the oil on the skin first for sensitivities. For small children, it's also important to be mindful of not getting an oil on a child's hand or in other places where they could potentially transfer it to their eyes or mouth.
Do you have some exciting products coming to your shop in the future you would like to tell us about?
I am really looking forward to launching a mom-to-be/new mom line I'm working on. It will contain some great products for pregnancy and post-partum. I have some fabulous mommies currently trying out a Belly Butter, Boobie Balm, Peri-Care Spray, and Rockabye Baby rollerball blend. I'd also like to get a hand sanitizer, diaper spray, and a few other goodies in that mix. I am hoping to have them in my Etsy shop by Mother's Day. The products will be available individually or a mix and match gift set.

***
 Thanks to Beth for the fabulous answers! From my own personal experience I can tell you that the Healing Salve is amazing. I'm incredibly accident prone especially when it comes to pulling things in and out of the oven. After bumping a sensitive part of my arm on a hot oven rack last week I applied the salve and noticed almost instant relief from the pain. There was very little redness and absolutely no blistering. Much to my surprise I could barely see the mark just a few days later. Sorry Neosporin, you have been replaced.
For those of you who find sleep hard to come by, I highly recommend the Sweet Dreams Rollerball. The combination of Cedarwood, Vetiver, Lavender, and Juniper Berry oils instantly sends your senses a soothing vibe. You relax and your mind finds it easier to shutdown. I'm so grateful to have this in my nighttime routine.
You can shop the full line of Hawks Homestead on etsy as well as dōTERRA for your essential oils.
Thanks again to Beth for sharing her love for essential oils!
xo,