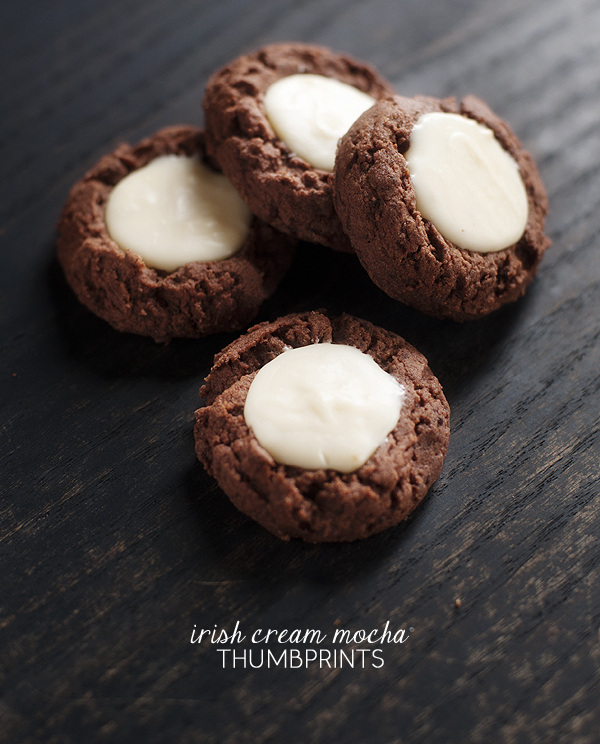 Aren't these festive?  Any mention of espresso and I'm in, but add Irish Cream and chocolate and whoa.  I'm also smitten by the idea of a food that celebrates a holiday, so these were an A+ in my book.  These are a two-step cookie, but don't let that scare you off! The ingredient list is simple and they came together effortlessly- Adelynn even helped by being the designated "thumbprinter". Her thumbs are a bit small so I had to go back through them, but you get the idea…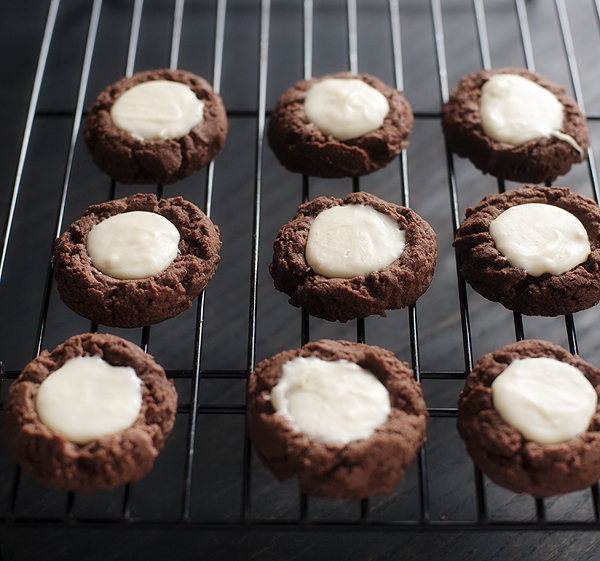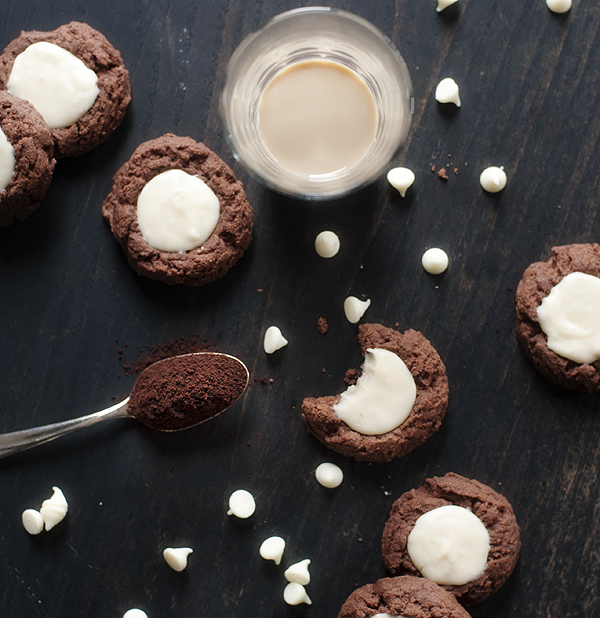 I was laying in bed with Adelynn the other night, waiting for her to fall asleep and scrolling through Instagram.  I came across a post that asked readers, "what are you most excited about for Spring?".  The comments said all kinds of things about herb gardens being planted, the need for fresh air, family vacations, the rebirth of all things green.  It got me thinking.. New Years rolls around every year and we are all still drunk on Christmas cheer.  Yes, the flip of the calendar is exciting.. but I don't think that the "rebirth" people crave happens on January 1st.  It's just another chilly winter day.  We plan, and reflect, and dream.  But the real change.. the one that you can smell on the air and feel in your bones.. comes in spring.  And that, my friends, is worth celebrating.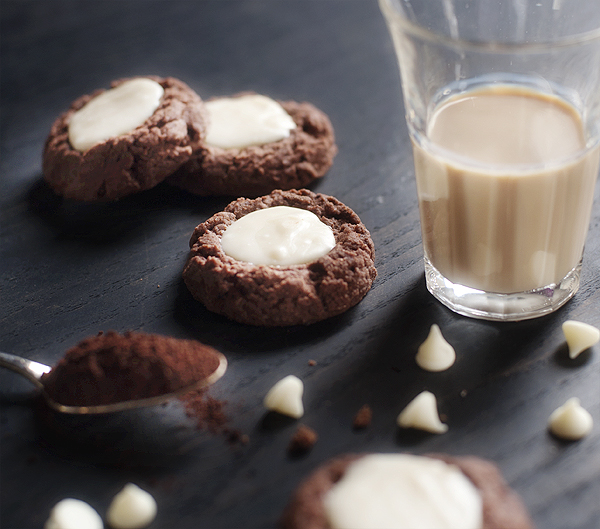 If you are looking for something to bring to work, a party, dinner with family- these are perfect.
XO,

irish cream mocha thumbprints
Author:
Reeni of Cinnamon Spice & Everything Nice
Ingredients
2 CUPS ALL-PURPOSE FLOUR
½ CUP UNSWEETENED DUTCH-PROCESS COCOA POWDER
2 TABLESPOONS ESPRESSO POWDER
½ TEASPOON SALT
1 CUP + 1 TABLESPOON BUTTER, AT ROOM TEMPERATURE
1 CUP SUGAR
1 LARGE EGG, AT ROOM TEMPERATURE
1 TEASPOON VANILLA EXTRACT
FILLING:
4 OUNCES WHITE CHOCOLATE CHIPS
1 TABLESPOON BUTTER, SOFTENED
¼ CUP HEAVY CREAM
2 TABLESPOONS INTERNATIONAL DELIGHT IRISH CREME COFFEE CREAMER
½ CUP SIFTED CONFECTIONERS' SUGAR
Instructions
In a stand mixer, whip butter and sugar until light and fluffy. Add egg and vanilla, being sure to scrape down sides of the bowl as needed.
Meanwhile, whisk together the flour, cocoa powder, espresso powder and salt in a medium bowl.
Add dry ingredients to the butter mixture, and mix until just combined.
Line a baking sheet with parchment paper. Using a 1-inch ice cream scoop, scoop out dough onto sheet 1 inch apart. Use the back of a spoon or your thumb to create a well in each cookie.
Refrigerate cookies before baking for 30 minutes to 1 hour.
Preheat oven to 350F. Bake cookies for 8-11 minutes. Remove from oven and again, press to create well.
Make the creme filling by placing chips and butter in a small heatproof bowl.
On the stove, combine creamer and heavy cream in a small saucepan, stirring often. Bring to a boil, then immediately pour over chips and butter.
Place a piece of foil over the bowl for five minutes, allowing the hot cream to melt the chocolate and butter.
Whisk until smooth, then add powdered sugar.
Once cookies are completely cool, fill the centers with cream mixture. Set aside and let cool completely.
Store in an airtight container for up to one week.