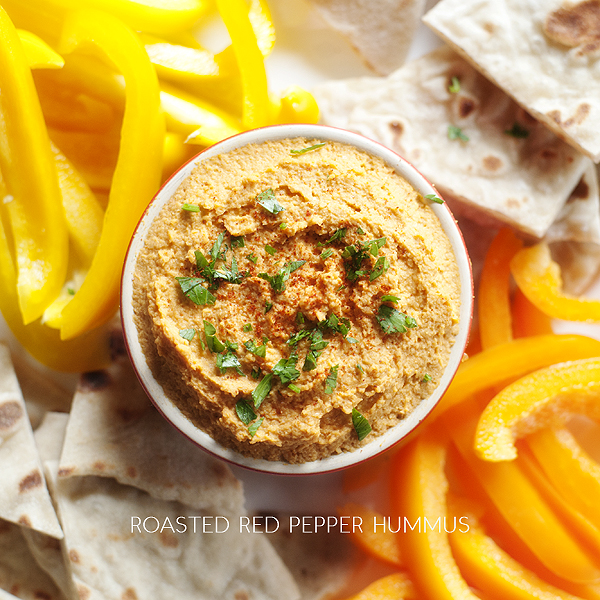 Patriots or Seahawks?  Seahawks or Patriots?  I can't bring myself to route for either so I am pulling for the commercials.  Or maybe Katy Perry.  One of them is bound to be good for a few minutes of entertainment.  (For anyone who is lost right now I am talking football, more specifically the Super Bowl.)
What almost never lets me down is the delicious food served during a big game.  Lots of dips with lots of things to dip in the dip – a snack lovers paradise.  While I can go for a good cream cheese based recipe any day of the week (like our jalapeno popper dip) there are times when something lighter is nice.  Enter hummus.  Chickpea base, punch you in the face with flavor hummus.  Sure you can purchase perfectly delicious hummus in the supermarket.  But this is just as easy, with the bonus bragging rights that you made it yourself.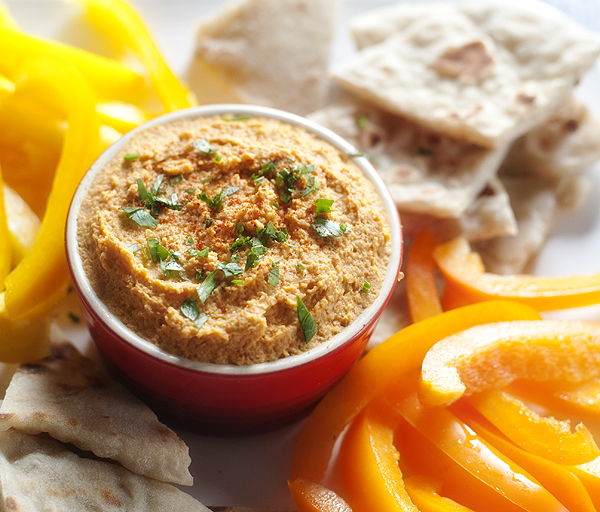 I've heard and read a few times that in order to achieve the creamiest hummus you should pop the chickpeas out of their skin.  Yeah, I don't do that.  I'm sure it's totally worth it, just not enough to make or break the recipe for me.  Super creamy or not this is some yum hummus.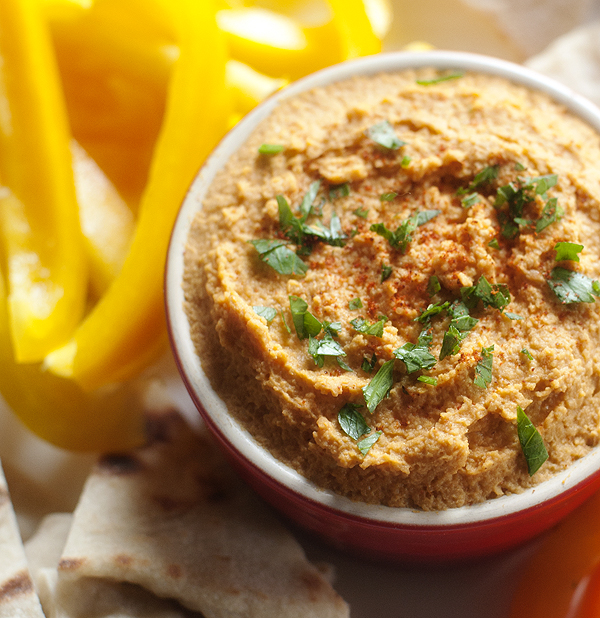 If you have never made hummus before this is a great base recipe for playing around (minus the roasted red pepper of course).  Basically it's all about your taste preference.  Like spicier?  Add more cayenne.  Need some added zip?  Squeeze another lemon.  Want garlic breath?  Throw another clove in.  Just don't forget to have lots of things to dip in your hummus.  (Pita bread, veggies, chips – it's all good!)
Football fan or not make yourself a batch of hummus, grab a drink and enjoy the biggest game of the year (with hopefully the best commercials and a fun halftime show).
Cheers!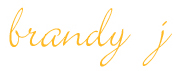 roasted red pepper hummus
Author:
Pretty Plain Janes
Ingredients
1 15oz can chickpeas (drained and rinsed)
2 red peppers roasted and sliced (Throw whole peppers in 400 degree oven until skin turns black. Remove from oven and place in bag and let set for 10 to 20 minutes. Remove peppers and discard skin and core.)
3 tbsp tahini paste
Juice of 1 large lemon (about ¼ cup)
1 large garlic clove
tsp cumin
tsp cayenne
3 tbsp minced parsley
salt and pepper to taste
Instructions
Place all ingredients in food processor and pulse until smooth, scraping down sides in between pulsing. Adjust seasonings as need be.
Put in dish and place in refrigerator covered for at least 2 hours. Take out of fridge before serving at least an hour in advance to allow hummus to come to room temperature.
Server with warm pita bread, veggies or chips.