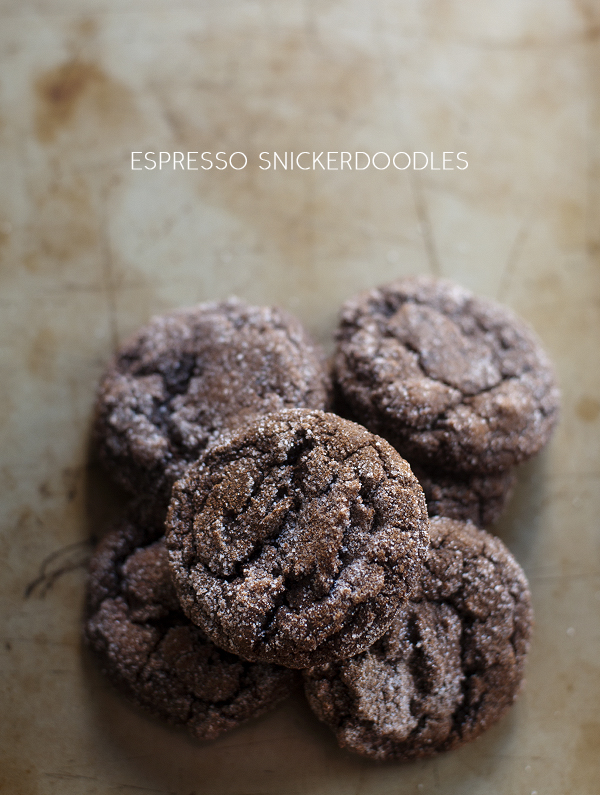 Ah, cookies.  These are a new favorite in our house.  My non-coffee-drinking husband even approves, and in the last few days I have consumed more of them than I would like to admit.  The only problem is they have so much espresso in them that they are not toddler friendly- which is pretty hard to explain to a three year old.  That being said- they are incredibly yummy and you need to make some, now.  
espresso snickerdoodles
Ingredients
3 tablespoons water
2 tablespoons espresso powder
½ cup butter softened
¾ cup granulated sugar
¾ cup brown sugar
1 teaspoon cream of tartar
½ teaspoon baking soda
½ teaspoon salt
2 eggs
2 teaspoons vanilla
½ cup cocoa powder
2 ¼ cup flour
Topping:
¼ cup sugar
2 teaspoons cinnamon
Instructions
First, combine water and espresso in a small bowl. In a stand mixer, beat butter and sugars. Add eggs, one at a time, followed by vanilla and espresso/water. In a separate bowl, combine the flour, baking soda, cream of tartar, salt and cocoa powder.
Slowly add in the dry ingredients, scraping down the sides of the bowl as needed.
Refrigerate dough for 2-4 hours, until firm.
When ready to bake, preheat the oven to 350F and line two baking sheets with parchment paper.
Combine cinnamon and sugar in a small bowl, and roll 1 inch balls into the mixture before placing on the cookie sheet.
Bake for 10-12 minutes until cracks appear on the surface of the cookies.
Let cool, and store in an airtight container for up to a week.
Recipe by LuLu The Baker.
Enjoy!