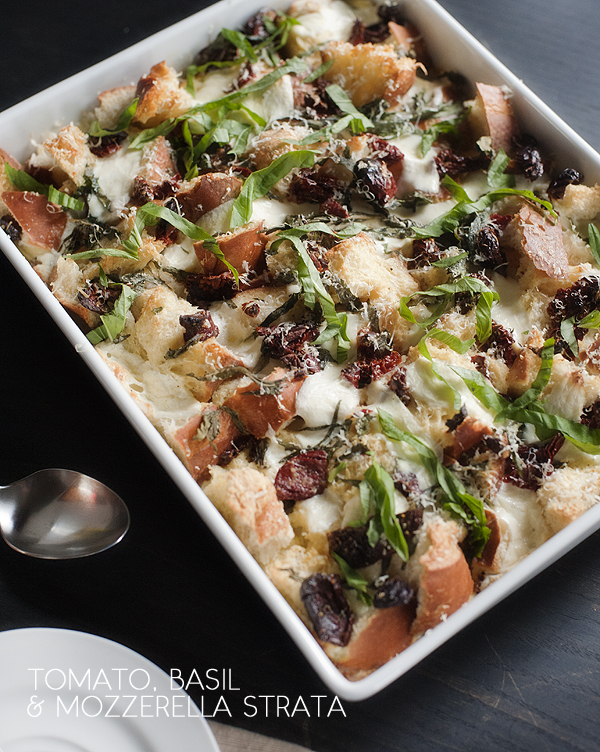 Brunch, it is just the best.  Who doesn't love a lazy late morning going into early afternoon over delicious food in sweet and savory?  Where it's perfectly acceptable to go for the 2nd mimosa before noon.  Everyone should brunch, especially on New Year's Day.  And this strata should be made for said day.  It's easy, incredibly delicious and can be served at room temperature.  A perfect dish to compliment your orange juice and bubbly.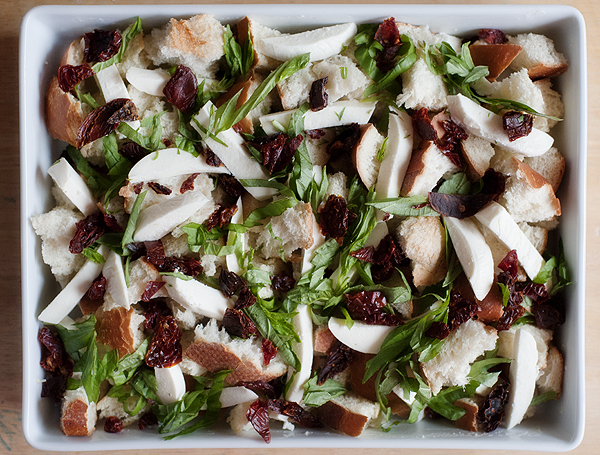 If you have never had strata (or have never seen The Family Stone) you may wonder what on earth it is.  Think baked french toast but savory (86 the maple syrup).  You prep the night before and simply throw in the oven the next day.  I repeat, this is easy and incredibly low maintenance.  It needs to be in your life.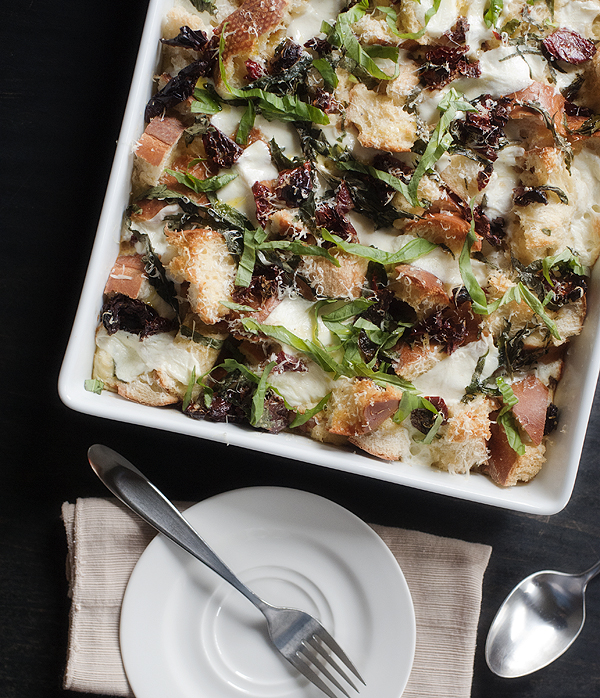 There are thousands of ways you can make this dish.  The bread is your blank canvas.  Whatever cheese, veggie and/or meat, herb combo is totally up to you.  It's a great way to use up things that you need out of your fridge.  Just be sure you always have one flavor pow (like sun dried tomatoes, goat cheese, pancetta, olives, etc…)
Happy Brunching!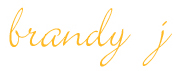 tomato, basil and mozzerella strata
Ingredients
1 loaf of french bread torn into 1" to 2" pieces
½ cup sundried tomatoes roughly chopped
8oz fresh mozzerella cut into ½" strips
1 bunch basil, chiffonade cut (aka leaves piled on top of each other, rolled and then cut in strips)
6 eggs
3 tbsp butter (1 for greasing dish, the other 2 melted)
2 cups milk
1 tsp salt
½ tsp fresh cracked pepper
¼ cup grated parmesan
Instructions
Preheat oven 350F and grease 9X13 baking dish with 1tbsp butter.
Place torn bread on baking sheet and toast in oven for 8 minutes (or until lightly toasted).
Put bread, mozzerella, sun dried tomatoes and most of basil (reserve a little) in baking dish.
Whisk eggs, milk, melted 2tbsp butter, salt and pepper in a large bowl.
Pour egg mixture over bread mixture and top with grated parmesan.
Cover with plastic and chill in fridge overnight (or at least 8 hours).
Preheat oven 350F and take plastic off strata. Bake for 30 to 40 minutes or until center is set.