Yesterday we returned home to cold temps and glistening snow.  Beautiful, yes.  Calming, not so much.  Almost instantly I felt suffocated by "the list" that haunts me every holiday season.  You know, the one that you swear you will get an earlier start on because who wants to put themselves through this kind of torture year after year…yeah, that one.
One nice thing about all this snow is that at the very least it puts you in the holiday mood.  Even a strict  "no Christmas decor before Thanksgiving" person, such as myself, can't help but jam to Bing Crosby and break out the twinkling lights.  So let's fill our mugs with hot cocoa and do a little of Santa's work.  Here is a gift guide that will make any of the beauty lovers on your list very happy: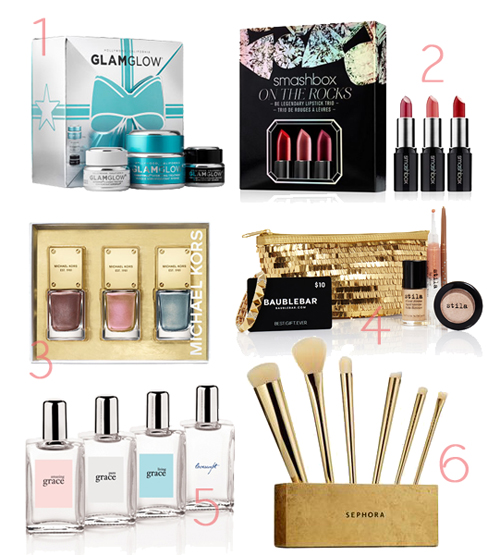 1skin GLAMGLOW Gift Sexy 2lips Smashbox On the Rocks Be Legendary Lipstick Trio 3nails Michael Kors Holiday Nail Lacquer Set 4gift within a gift Stila Best of Kitten 5perfume Philosophy Wishing You Love and Grace Fragrance Coffret 6brushes Sephora Collection 24 Karat Gold Mine Brush Set
Which beauty set would you love to see under your tree?
xo,