T-minus 3 days until our local Trick-or-Treat!  A few years back we started a tradition of celebrating Halloween together with the Rammels and it is truly a tradition we cherish.  It kicks off our holiday season, and rain or shine we have so much fun dressing up and taking part in the festivities.  I won't spoil the surprise, but like always there is lots of crafting involved so this week involves more spray paint and Elmers glue than usual.
For Locke's one month birthday I made this sweet and salty puppy chow– and two weeks later I am still munching on the leftovers (I made a double batch and it may have been overkill, but that's okay!)  The bottom of the bowl is finally visible, so late at night when I am rocking my newborn and not sleeping I am pinning puppy chow and snack mix recipes because I'm slightly addicted.
Here is a roundup of some great finds, perfect for a Halloween bash or just a busy week of crafting!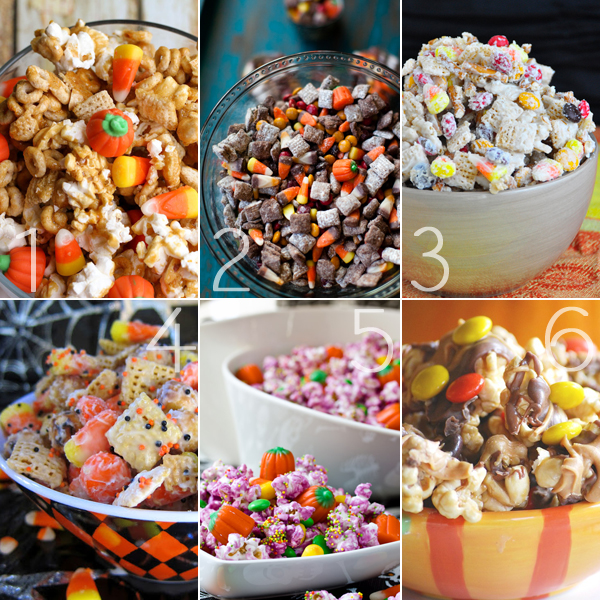 1. Pumpkin Snack Mix   2. Halloween Puppy Chow  3. Sweet and Salty Chex Mix   4. Halloween Chex Mix   5. Halloween Party Popcorn   6. Dressed Up Caramel Corn
Happy snacking (and crafting!),