This recipe went a bit astray- sort of like my day.  I got up early today, was at the grocery by 7am (yes. seriously. 7am!) and was ready to zoom through my to-do list.  (This blog post was on that list.  Wait.  It's 6pm?  How did that happen?)   Seriously though, its been one of those days.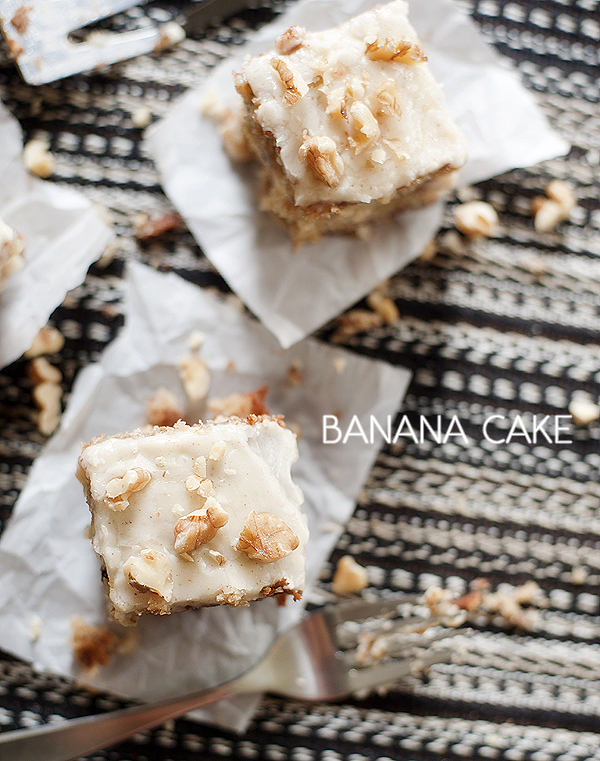 My mind is a million different places. It's on work, it's on Josh and I's anniversary that is this Saturday, it's on my messy house, my never ending pile of dishes, my upcoming doctor appointment. I just burnt two trays of cookies, which I never do. Pistachio shells covered my living room rug an hour ago. I'm a walking tornado. Can I check out from life for today? (You can just lock me in a room with a hunk of this cake- I think I will be just fine!)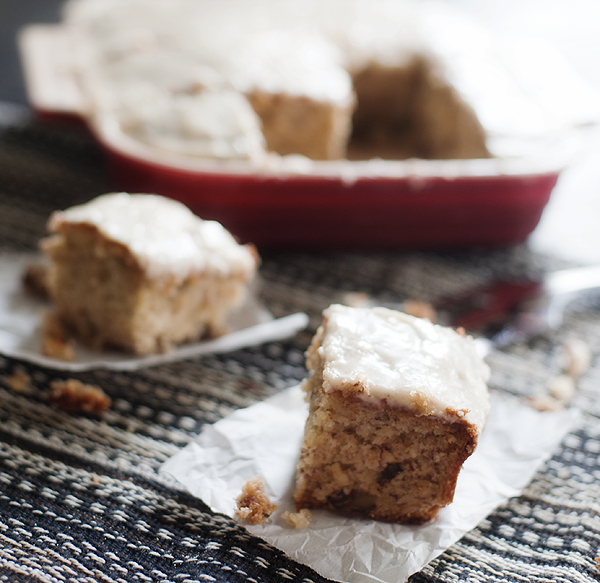 Let's move on to happy things, like this banana cake that almost wasn't. This recipe was for banana "bars", but I threw in some cinnamon, made them in a smaller pan and decided that in this version they are indeed cake. Yummy cake at that. Double plus, the recipe used up the 4 over-ripe bananas that were attracting gnats, and those gnats were multiplying at a terrifying rate. Why do gnats have to come with summer time? Can we all just mutually agree to exile them? Back to the cake. Light, nutty, with a bit of sweet frosting, it certainly made my day a little brighter today. On top of that, its not overly sweet- you could eat a piece for breakfast and not feel terrible about yourself (which I fully intend to do tomorrow.) Truly, this recipe is quick and simple and perfect for a busy day, or a set of over-ripe banana's.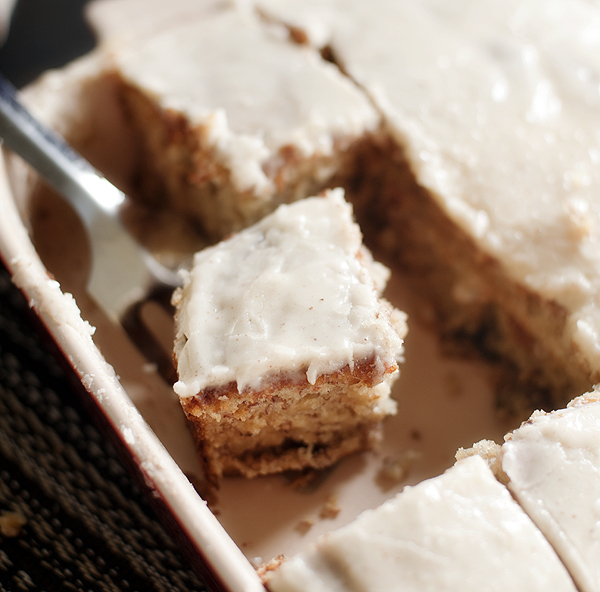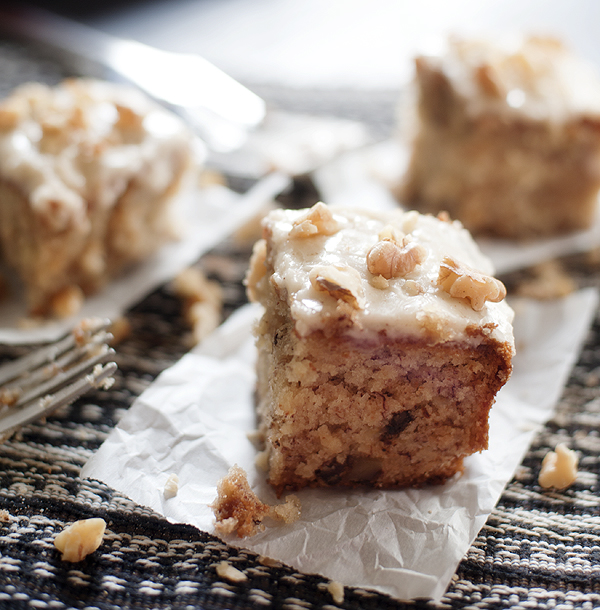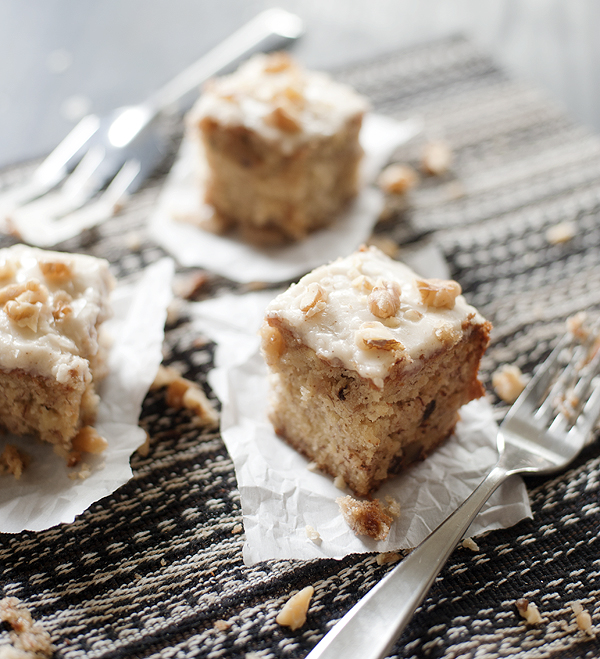 banana cake
Ingredients
Cake:
•1 ½ cups sugar
•1 cup sour cream
•½ cup butter, softened
•2 eggs
•1 ¾ cups (3 or 4) ripe bananas, mashed
•2 teaspoons vanilla
•2 cups flour
•1 teaspoon baking soda
•¾ teaspoon salt
•½ cup chopped walnuts (optional)
cinnamon for sprinking the top
Icing:
•½ cup butter
•3 cups powdered sugar
•1 ½ teaspoons vanilla
•about 3 tablespoons milk or half and half
Instructions
Preheat oven to 375F, and butter & flour a 10x10 pan. (Other sizes will work too, with adjusted baking time- the thickness will just vary.)
In a mixing bowl, combine sugar, sour cream, butter and eggs. Beat until smooth. Add bananas and vanilla, and beat a minute longer.
In a seperate bowl, combine the flour, baking soda and salt.
Add the dry ingredients to the wet, and mix unil just combined. Fold in chopped walnuts.
Pour batter into prepared pan, and sprinkle lightly with cinnamon. Bake for 25-30 minutes, until a toothpick can be inserted and comes clean from the center of the cake.
Prepare frosting by heating the butter on the stove- stirring frequently until the butter is a light, nutty brown. Remove from heat, and stir in powdered sugar, vanilla and milk. The frosting should be fairly thick, and will spread evenly when applied to the warm cake.
Let cool to set frosting, and serve!