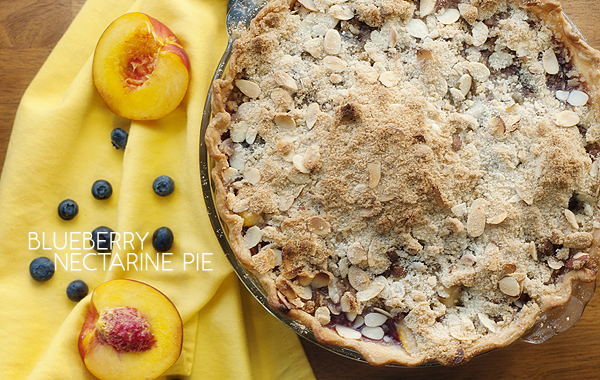 Two days in a row of blueberries, because like Brandy said yesterday, when they are $10 for 5 pounds you buy a lot, freeze some, eat some, put some on your face, and put some into pie.  (I love pie.)  As I served up the leftovers of this dish to my friend Kate she commented on how she never has liked pie, because she hates crust and warm fruit…. ummmm what?  those are literally two of my favorite things on earth.  Weird.  But anyways, this pie shifted her attitude in a more sane direction and I'm proud to say she ate the whole piece.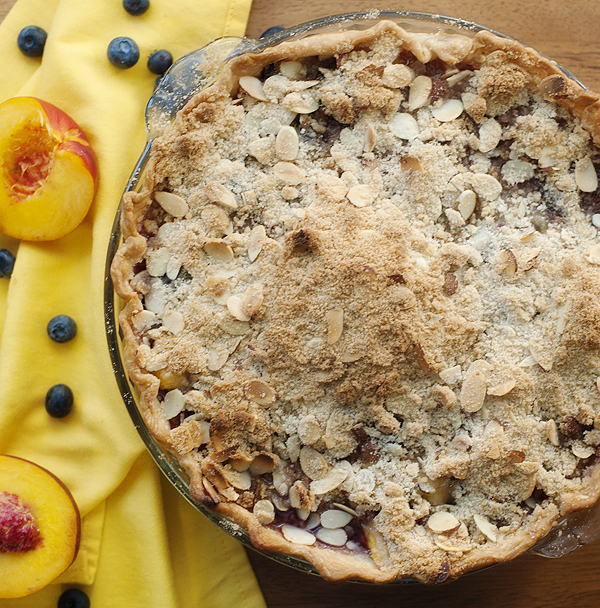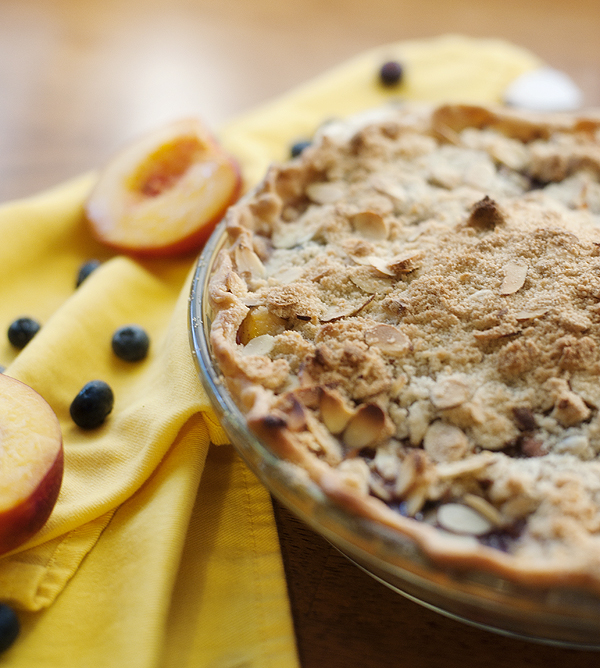 This recipe comes from the prettiest cookbook I have, that Brandy surprised me with a few months ago called First Prize Pies.  It's filled with delicious spins on classic pie recipes, and the book itself is such a treat. If you know a pie lover- this would be a perfect gift (pair it with a pretty pie dish and you're really set.) This recipe combines blueberries and nectarines- a unique pair that works fabulous together. In place of a traditional pie crust I topped this one with an almond crumb topping that gave it a bit more texture.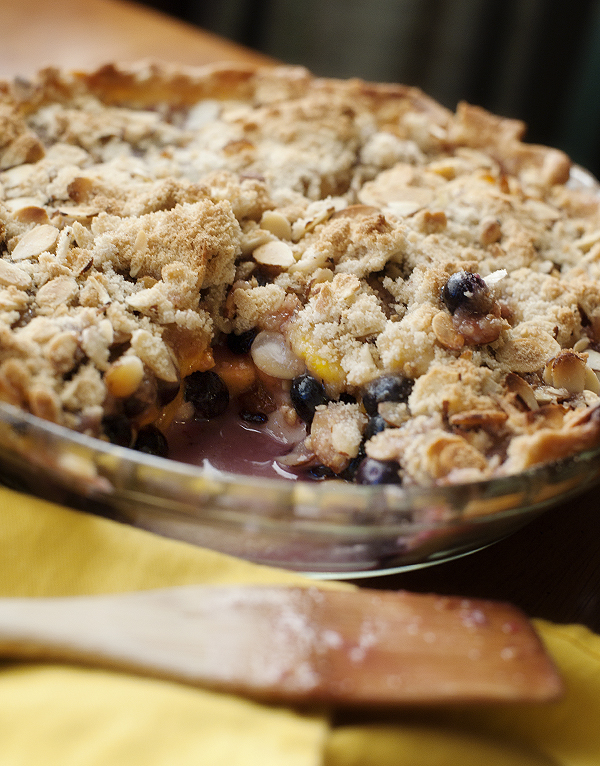 The homemade version of Jeni's Backyard Mint ice cream (from her cookbook) made it's way onto our plates during family dinner this week- right next to the pie.  Somehow the mint, berries and nectarines all acted as though they were made for eachother- the combo  could not have been better!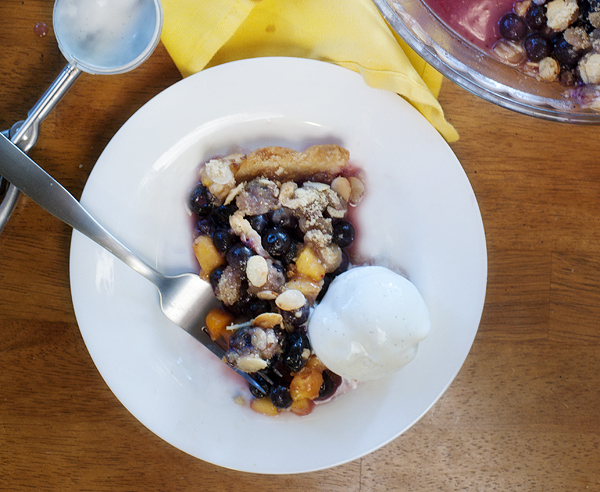 Cheers to dinner with friends, and of course, to pie.
XO,


blueberry nectarine pie
Ingredients
1 9inch pie crust (I used Pillsbury, or you could make your own!)
Filling:
1 lb nectarines (about 4), sliced, peeled and cored
4 cups fresh blueberries
zest of 1 lemon (I used two!)
1 tsp vanilla extract
¾ cup sugar
¼ cup cornstarch
¼ tsp cinnamon
¼ tsp salt
Topping:
¾ cup flour
¾ cup brown sugar
½ cup sliced almonds
¼ cup cold butter, chopped
Instructions
Preheat oven to 425F.
Prepare filling by placing nectarines, berries, lemon zest and vanilla in bowl, and mixing to combine. In a seperate bowl, whisk together dry ingredients: sugar, cornstarch, cinnamon and salt.
Prepare topping by whisking together flour and brown sugar. Cut in cold butter using a fork, pastry cutter or fingers until you have a coarse crumble. Toss in almond slices.
Place bottom crust in pie pan. Toss berry mixture into the dry ingredients and immediately pour into bottom crust. Sprinkle topping over the pie, covering it completely.
Bake pie at 425F for 20 minutes, and then lower the oven temp to 350F, rotate the pie, and bake for an additional 12-15 minutes until golden on top.
Let cool for an hour before serving.