Last night we ventured to the Three Rivers Festival for some caloric food and carnival rides (pics to come tomorrow).  While taking in all the fun we couldn't help but notice how gorgeous the park itself was.  Which then made us wonder why on earth we have yet to take advantage of it.  Shan mentioned "having a picnic" as something on her summer bucket list.  Looks like we have our spot picked out, now we just need some fantastic gear:

1West Elm Color Stripe Picnic Throw – first a foremost you need something to sit on.  This one is a great size and pretty to boot. 2Anchor Glass Clamp Lid Jar – being an advocate of glass food storage over plastic I love these clamp jars.  Keeps things sealed and washes beautifully. 3Ikea Cooler Bag – perfect for keeping all those salads, drinks and chilly treats cold.  4Seventh Generation Napkins – eco friendly is the way to go for convenient and conscious picnic-ing. 5Eco-products Compostable Cold Drink Cups – environment friendly container for your cold beverages. Cheers! 6Bormioli Rocco Giara Glass Bottle with Stopper – keep that lemonade looking pretty with this almost 34oz glass container. 7&8 Bambu Utensil Set and Bambu Plates – certified organic products that biodegrade in 4 to 6 months.  Plus they are super eco-chic. 9Fossil Keeper Tote – carry it all in style with this classic stripe tote.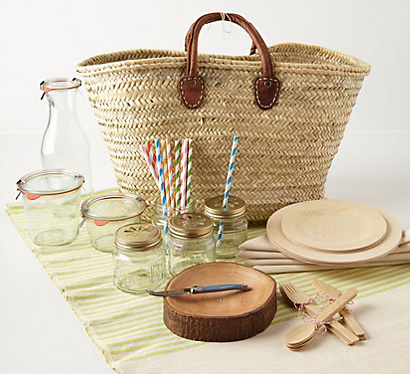 And then there is the ultimate of all kits with this one stop shop Picnic Basket for 4 from Red Envelope.
With summer being the season that seems to be gone before it even starts there is no time like the present to have a picnic.  Hopefully we will be enjoying our very own soon!
xo,