Brandy is so so close to meeting her precious boy- and we are all over the moon with anticipation and excitement!  Hard to believe we will be adding a little man to our crew, when for so long it has been the four of us and our girls. Jettie and Adelynn were born a mere three weeks apart.. I can still remember the very first time we laid them down next to eachother.  We used to guess what their personalities would be like and wonder if they would like to play together as much as we hoped they would.  Three years later, and these girls are truly like sisters. A friendship and love so genuine that I know regardless of what the future holds for them they will always be connected by this special bond. To watch them grow and learn together has been the biggest gift- to see them laugh together still makes my heart leap.
Adelynn has been working on putting something special together for Jettie for when her brother arrives. A "big sister kit" that could be personalized for any big sibling to be sure they feel special and important on that big day, too.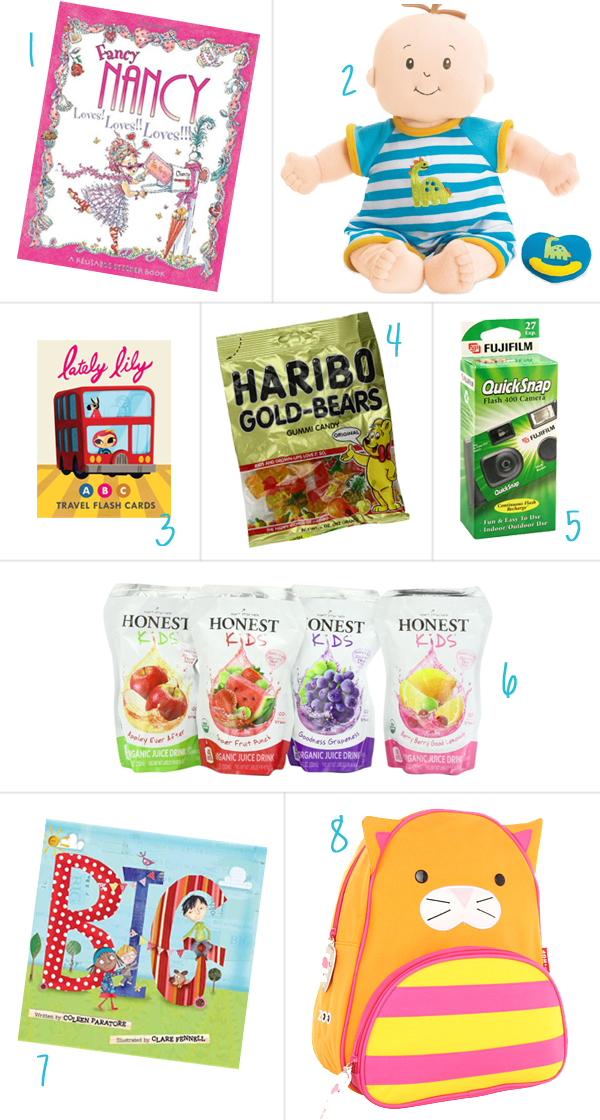 A few things to keep her busy, a camera to capture memories from her point of view, some snacks, and of course a baby of her very own.
1. Fancy Nancy Reuseable Sticker Book for quiet time in the hospital.  2. Baby Stella Boy doll–  I got the girls the girl version of this doll when they were babies, and they still tote them around.  I also love this doll because it is the only cute boy doll I have seen!  3. Lately Lily Flash Cards to keep her little mind busy!  4 & 6- Yummy snacks! (Grab something from the dollar isle at Target!)  5. Disposable Camera– Remember these?!  I can't think of many uses for them- but how perfect for capturing moments from a big sisters view. (Or taking pictures of the walls. Whatever floats her boat!)   7. Big – A book not just about being a "big" sister, but about being the biggest, best version of yourself.  Love!  8. A cute kitty backpack to put it all in!
You're going to be the best big sister, Jettie Jean!  We are so excited to meet this little guy!
XO,