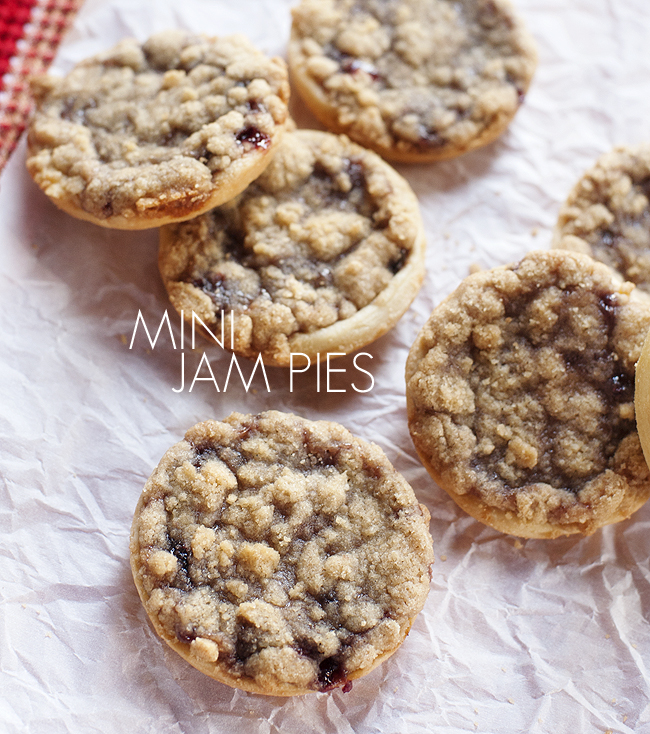 I really should have named these little creations "lazy girl's pie", because they are too easy to even count as real pie.  (But flakey crust doesn't lie! These are legit.)   I have been thinking about pie for a few weeks now, and I would blame pregnancy but I'm the kind of person that thinks about things like pie all the time, so that's not really valid.
Pie always reminds me of my mom.  While we definately fell from the same tree, we are so very different at the same time.  My house is always messy, her house is always spotless.  She cries when she watches Oprah and obsesses over diamond rings.  (Not in a weird, superficial way, she genuinely just loves them.) She hates to cook, and really hates to bake. But!  Every great once in awhile, after much begging and pleading, she will make apple pie, and it's the best apple pie you'll ever have.  And then she will scrub her kitchen and there will be no sign that apple pie was ever made there, and you have to wait a good year or two before she can be convinced to make it again.
There is something special about food crafted at the hands of someone you love.  I'm certain she could give me that recipe, and I could make it pretty close to hers, but it wouldn't taste the same.  It wouldn't feel the same.  And that, my friends, is the beauty of food.
mini jam pies
Ingredients
Pie Crust:
½ cup (1 stick) butter, diced and chilled
1¼ cup all-purpose flour
¼ tsp salt (or ½ tsp if you are using unsalted butter!)
2-4 tbsp ice water
Filling:
1 8oz jar fruit preserves (I used MessMakerBaker Very Berry Preserves!)
Topping:
½ cup flour
½ cup brown sugar
⅛ tsp salt
¼ tsp nutmeg
¼ tsp cinnamon
¼ cup butter (1/2 stick), at room temp
Instructions
Crust: Dice your butter, then return it to the refridgerator. Get a measuring cup and fill it with ice water and set aside. Pulse flour and salt in a food processor (or whisk together by hand.) Add your butter, and pulse until a sandy texture appears. (If making by hand, use a pastry cutter to incorperate butter.) Add ice water, 1 tbsp at a time until dough comes together into a ball in your processor, or forms into dough in your bowl. Wrap dough and refridgerate for an hour, or until ready for use.
Next, roll out your dough to ⅛inch thickness, and use a biscuit cutter to form circles (or something similar).
I used a woopie pie pan for these, but you could also use a mini muffin or muffin tin. Whichever you are using, butter and flour it well.
Place the dough circles into the baking pan, pressing them gently into place.
Fill with 1 tbsp of jam of your choice.
Topping: Whisk together flour, brown sugar, salt, nutmeg and cinnamon. Using a fork or a pastry cutter cut in room temp butter, until a crumble texture is achieved. (You can also make this topping before hand and freeze it! Its yummy on all sorts of pies and fruit dishes!)
Sprinkle evenly over mini pies.
Bake pies at 350F for 14-16 minutes, until crumble is set and lightly browned.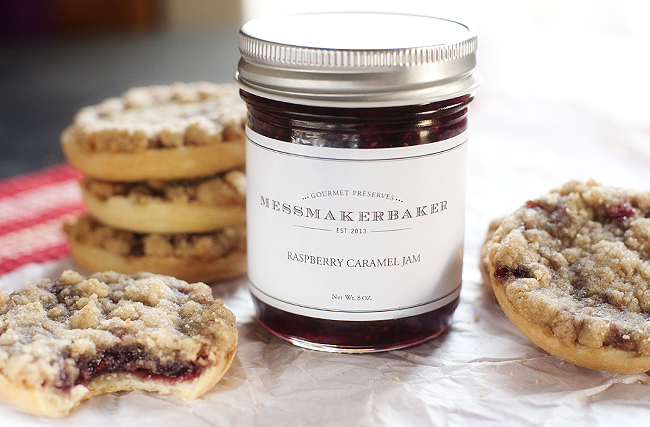 (I used
Very Berry Preserves
, but also tried one with Raspberry Caramel! They were both yummy!! I didn't think my empty Very Berry jar would make for a pretty picture! )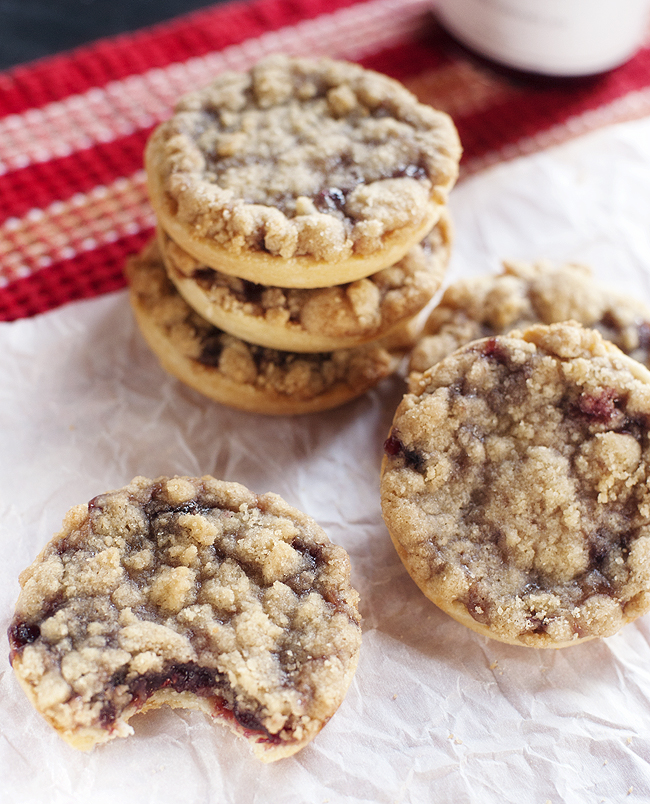 xo,