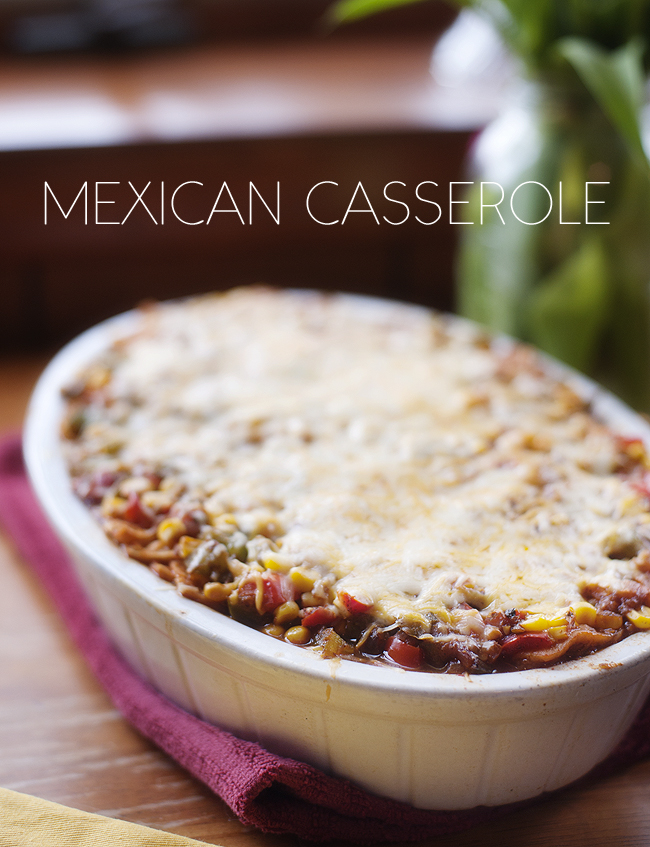 When someone you love is hurting and overwhelmed by worry all you want to do is make things better.  Tell them all will be ok.  Take on some of their pain so they do not have to feel every ounce of it on their own.  When Shan had a miscarriage I felt armed with knowledge and experience.  I had been there, several times over, and knew what to ask, what not to ask and when to simply offer a warm hug.  This time is different.  This time I feel helpless,  unable to relate.  My words are scattered and harder to form. All I want to do is take some of the fear away.  Bear some of the weight that I know she feels buried under.
For now what feels natural is to offer unconditional love, support and some yummy food.  I wanted to provide distraction during this waiting game.  My first instinct told me to bring dinner over to enjoy together.  It could not have been more simple – a casserole, some homemade guacamole and fresh watermelon.  Yet it was therapeutic to prepare and share with our dear friends.  It means the world that Josh and Shan open their hearts to us so we can be there for them.  Hopefully this small offering made the seconds tick by a little faster.  As selfish as it sounds I know it helped me a little.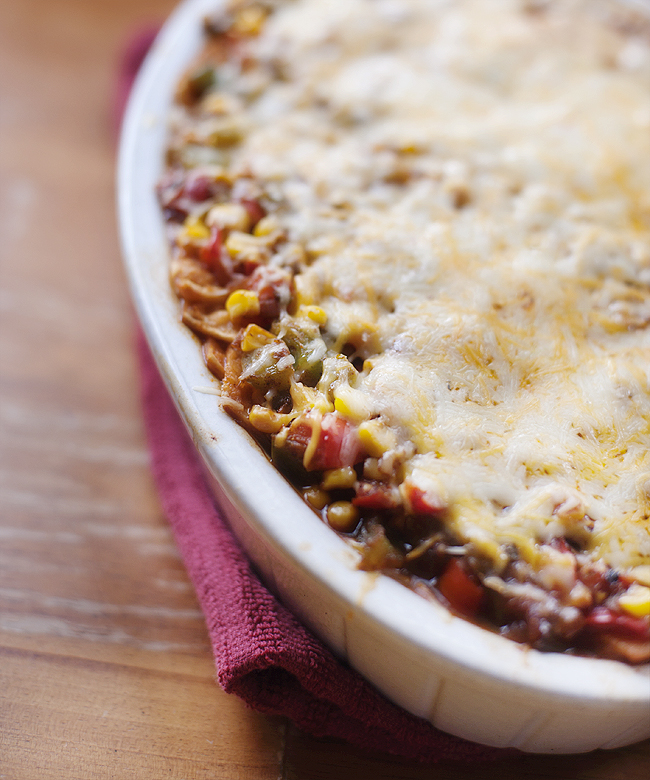 This casserole is healthy without tasting like a "health" dish.  The roasting of the vegetables give it a deep smokey flavor that is so incredibly satisfying.  It is impossible to make this without everyone in your home asking what smells so good.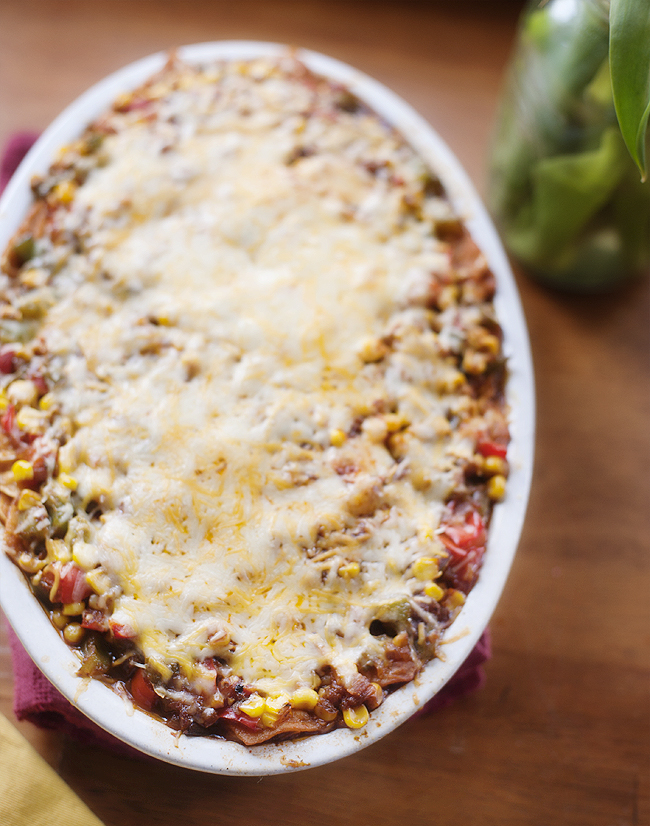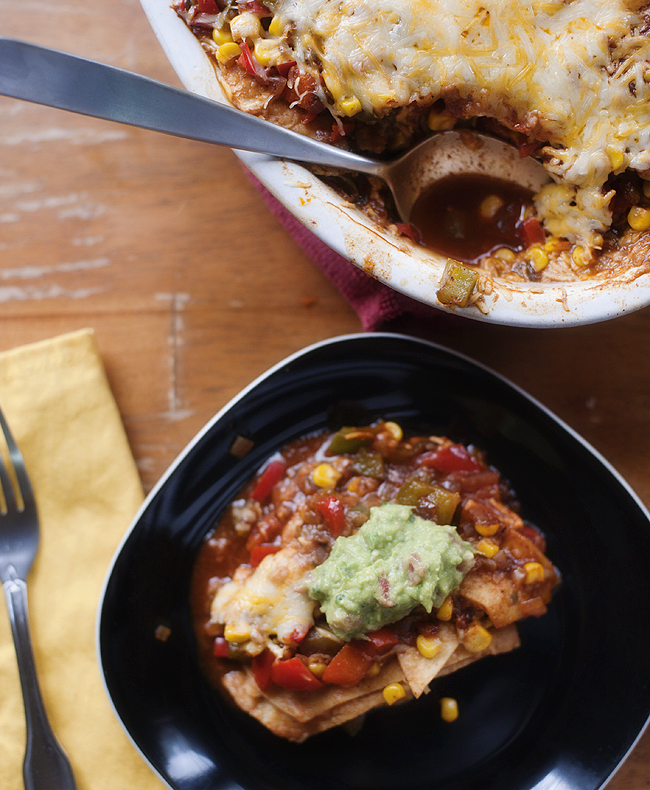 It's my personal believe you must top this with avocado, fresh guacamole or sour cream.  The creaminess cuts through the acidic enchilada sauce making every bite perfection.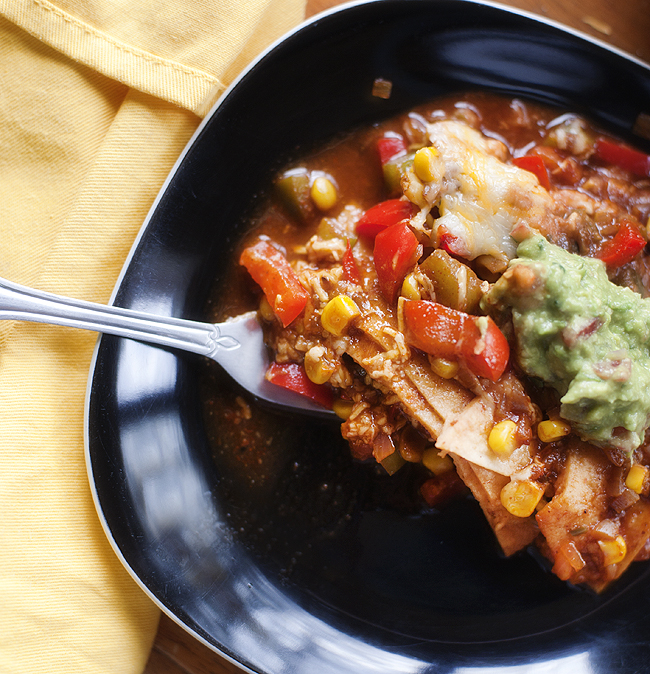 If you are looking for a mini family celebration this upcoming Cinco De Mayo you cannot go wrong with this dish.  It will certainly be added to the go to recipe rotation in our home.
Enjoy!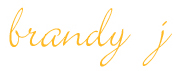 mexican casserole
Ingredients
2 red bell peppers diced
2 green bell peppers diced
2 jalapenos minced (seeds and ribs removed)
½ red onion minced
2 cups frozen corn
2 teaspoons chili powder
2 teaspoon cumin
1 tsp of salt to taste
2 cups shredded Mexican cheese blend
18-20 corn tortillas cut into 1" strips
1 can refried beans
2 cans red enchilada sauce
cilantro, guacamole, or sour cream for topping
Instructions
Grease a 9x13 inch baking pan and preheat the oven to 400 degrees.
Heat a large nonstick skillet with NO oil over high heat (I used my Le Cruset pan and it did great. Some comments on the original post stated that their nonstick pans were ruined using this method. Just a caution). Add the onion and peppers and sprinkle with half the chili and cumin.
Do not stir, allowing the peppers to roast and brown on the outside. After a few minutes shake and repeat the roasting process. Remove and set aside. Repeat the roasting process with the corn, sprinkling with other half of the chili and cumin. Remove from the heat when browned and roasted. Sprinkle the roasted veggies with salt and toss to coat.
Pour refried beans in a bowl and mix with a little bit of water (tablespoon or 2) to make them easier to spread.
Spread a little bit of sauce on the bottom of the pan. Layer half of the tortilla strips, all the refried beans, half of the veggies, half of the sauce, half of the cheese. Cover with the other half of the tortilla strips, veggies, sauce, and cheese.
Cover with foil (butter inside of foil to prevent sticking) and bake for 15-20 minutes, until the sauce is bubbling and the cheese is melted.
Serve with guacamole, fresh cilantro, sour cream, or anything in the world that you want.
recipe from Pinch of Yum