You know those people who have their bag perfectly packed the night before they travel?  Well, I will never be one of them (I've tried – it's simply not genetically possible).  Along with my awful procrastination I have a tendency to pack everything but the kitchen sink.  With a babe on the way and plans for travel late summer and fall I am more than ready to efficiently bring just the essentials.  Starting with my makeup: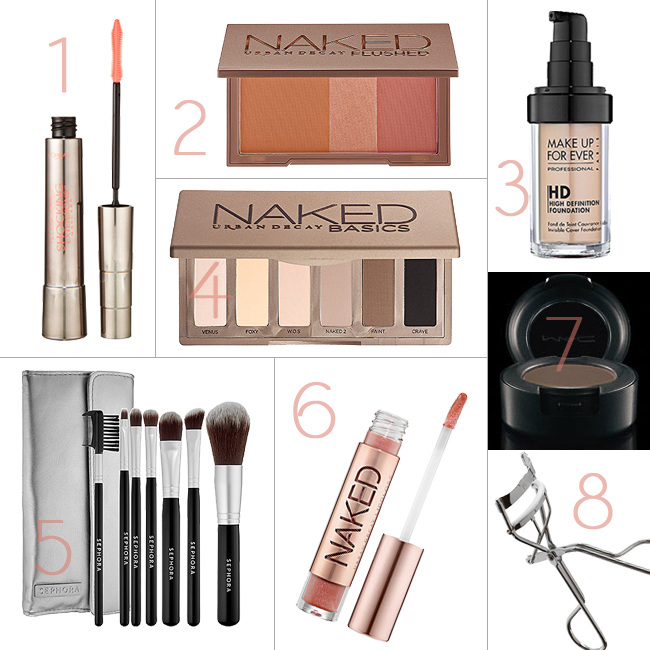 1L'orèal Telescopics Extension Mascara – I feel like every girl is on a lifetime hunt for the perfect mascara.  Both Shan and I are loving this one of late.  Light with superb thickening and extension lash results. 2Urban Decay Naked Flushed – bronzer, highlighter and blush all in one. 3Makeup Forever HD Invisible Coverage Foundation – while I've never had great skin this foundation evens my skin without having a heavy feeling. 4Urban Decay Naked Basics Palette – Shan gave me this little gem for Christmas and I believe it's been used every single day since.  Basic shades that can be played down or amped up for a more dramatic look.  The darkest color makes for the perfect eyeliner as well. 5Sephora Collection Deluxe Antibacterial Brush Set – Every brush you need to take care of brows, eyes and cheeks in a tidy little case. 6Urban Decay Naked Ultra Nourishing Lipgloss – yes, I have a Naked obsession (it's impossible not to).  As someone who doesn't put much fuss into lips this gloss is the perfect combination of stay there coverage with moisturizing power. 7MAC Eye Shadow in Brun – I'd feel incomplete without a little brow filler.  This has been my go to brow shade for several years now.  8Revlon Eyelash Curler – For whatever reason it feels like a waste of mascara to me if I don't curl my eyelashes first.  This silver gadget is always a must in my bag.
What are your can't leave the house without makeup essentials?