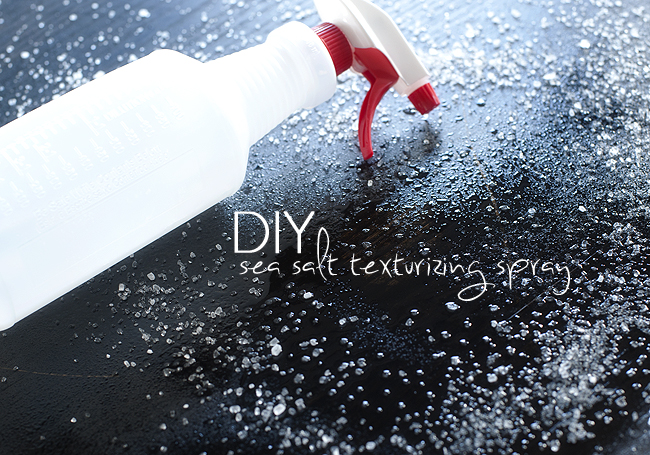 Ever since starting this blog I have became an incredibly crappy self taught tech geek.  I feel lost yet determined to diy my own coding and tackle server issues.  There is not enough wine on the planet sometimes though.  And now that I'm pregnant, well, let's just say it's a miracle my computer still functions.
This super simple yet so excited to share post is late due to my lack of understanding the behind the scene cyber world of blogging.  My server clearly has no idea just how fabulous diy sea salt spray is.  And it is – fabulous.  Thank goodness I am stubborn.  A punk server is no match for a woman with a hair product tip.
What makes this spray so darn awesome is the effectiveness.  We tested it on Shan's naturally straight, not willing to "rough" up much hair.  (Don't feel bad for her – all this means is that she has the pretty, silky, shiny hair that they flip around in shampoo commercials.)  Tested on my hair would have been slightly misleading considering I've already got loads of roughed up texture and body.  There is a reason I could never live in the South: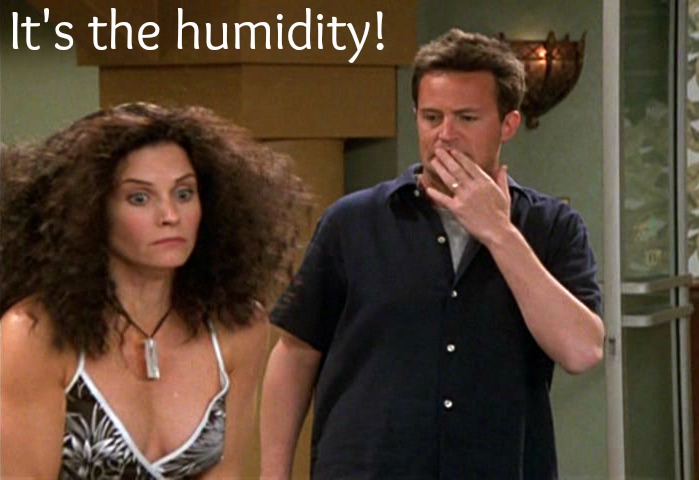 But in all seriousness this diy spray from Wellness Mama would work on almost any hair (with slightly different results depending on how much natural wave you have to start with).   It is also far cheaper than any prepackaged sea salt spray on the market.  There is a very good chance you already own everything you need.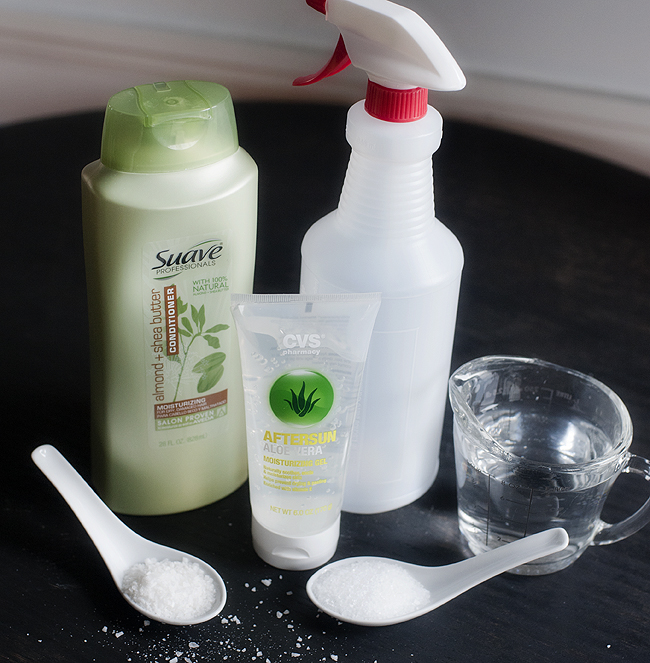 Supplies
1 cup of Hot Water (not boiling)
2 tablespoons Epsom Salts (or more for extra texture)
1/2 tsp Himalayan or Sea Salt
1 teaspoon Aloe Vera Gel
1/2 tsp Conditioner
empty Spray Bottle
Optional Essential Oils or spritz of Perfume for scent
Optional fresh squeezed Lemon Juice or Vodka for a natural highlighter
Directions
Place water, salts, gel, conditioner and optional ingredients in bottle.
Seal and shake for 2 minutes
Store at room temperature (fridge if using lemon juice) and use for up to 3 months.
Best used on unwashed hair.  Simply dampen hair slightly with water and scrunch with towel.  Spray sea salt spray all over hair and scrunch more achieving desired texture.  Seal texture with a little hair spray.
For really stubborn straight hair apply sea salt spray to damp hair after washing (you will want to do this before bed).  Sleep in braided pigtails or a tight bun overnight.  Undo hair in morning and spray in a tad more texture.  Hold with hair spray.
We did not overnight Shan's waves but did apply to her unwashed, previously curled hair.  She was surprised by the texture it instantly created: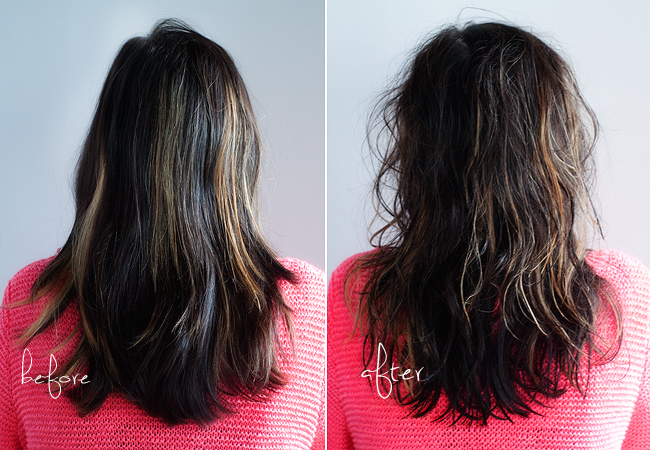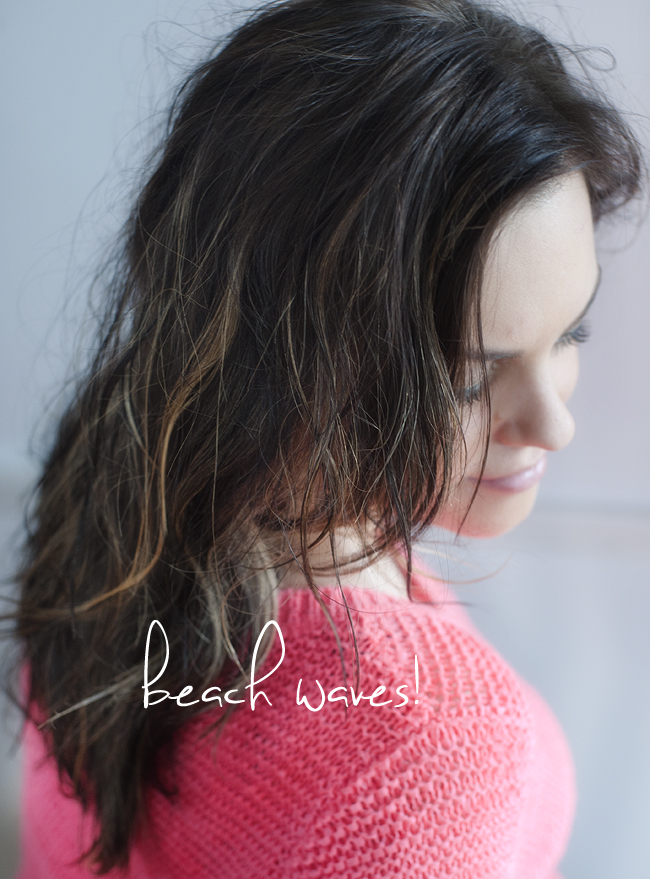 We then tried it out on Adelynn's more fine straight hair and were pretty impressed with her toddler texture: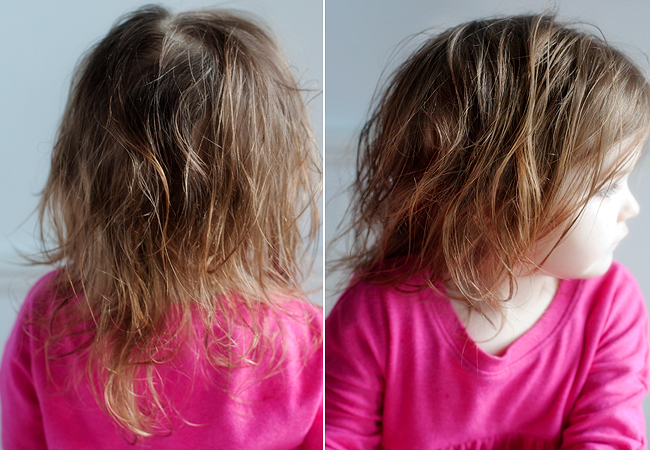 There is no doubt that many a bottle of sea salt spray will be made this summer.  I will update this post with how it worked on my natural wave.  (Currently staring out the window at a snow covered evergreen does not really have me craving beach waves at the moment).  If you try this out (come on, why wouldn't you?!) we would love to hear how it worked on your hair type.  We are all in this "I want J Lo beachy waves" battle together after all.