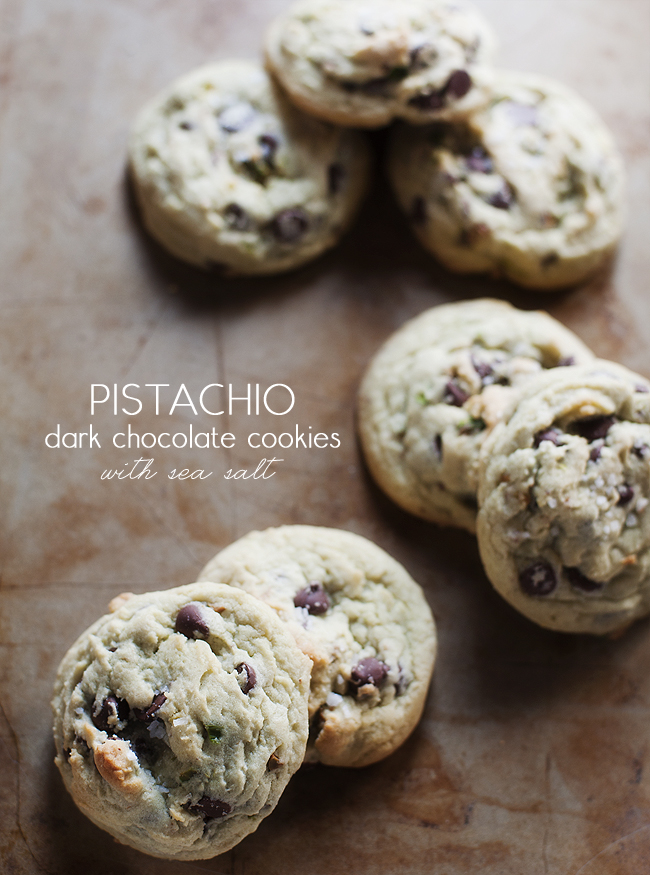 Oh, for the love of pistachios!  These are yummy beyond belief.  Pistachios never last long in our house, but I managed to hide a little bag in my baking cupboards, and quite honestly forgot they were there for a few months. (Don't worry, they weren't expired!)  I couldn't have found them at a better time- these cookies are just what we needed this week.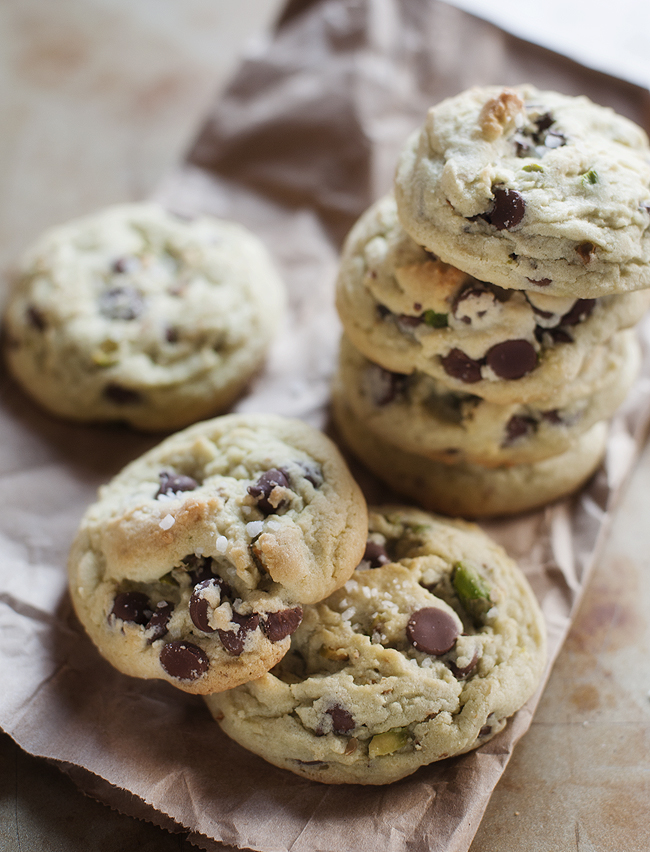 Adelynn's cousins and Auntie Hannah have been staying with us for a few months before moving home to South Carolina. Previous to them arriving, the girls had hardly spent any time together, besides our trip to Hawaii to visit them last year. We knew that in their time here the girls would have the opportunity to bond and make those cousin-memories that we all have from childhood- but we never really thought about how hard it would be to wave them goodbye when their stay with us was over. Adelynn learned what it felt like to have "sisters", to share even her most prized possessions, to split the last cookie.
Leading up to their leaving today we have tried to explain to her that they are moving, and won't be here when she wakes up every morning anymore- but to an almost three year old those are just words. Words that don't resonate because the emotion of telling someone goodbye- change of that magnitude- is not something she has yet felt or dealt with in her life.
Walking your child through new emotions is so, so hard.  Last night when we told her she needed to say goodbye before going to bed the "okay" that followed dripped in a sadness that I had never heard in her voice.  My heart shattered on the spot.  Why can't we take these painful emotions for them?  It certainly would be easier sometimes.
This morning has gone far better than we expected.  We are trying to distract her with little things that we know make her smile, and it seems to be working.  A small milestone, but it truly feels like a mountain, which I know sounds ridiculous unless you know that love.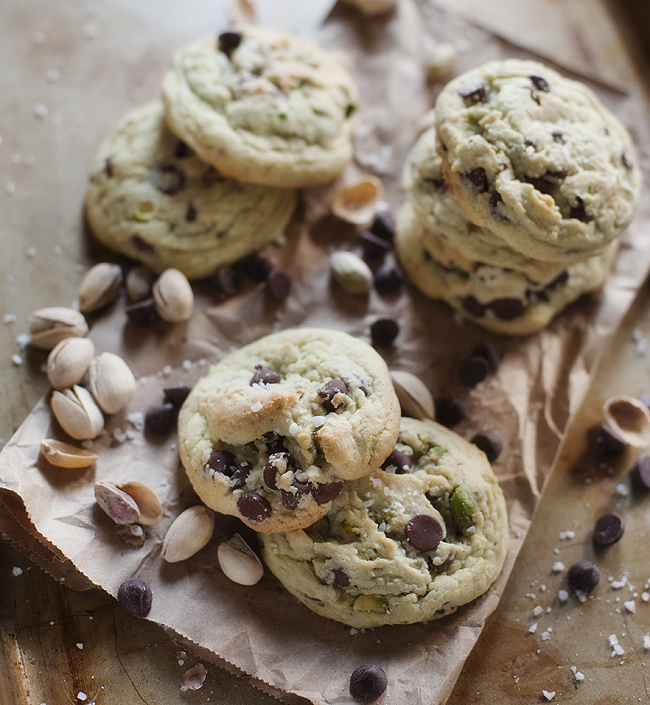 pistachio dark chocolate cookies with sea salt
Ingredients
1 cup (two sticks) unsalted butter, at room temp
½ cup granulated sugar
½ cup brown sugar
2 eggs, at room temp
1 tsp vanilla
1 3.4 oz package pistachio instant pudding mix
2½ cups all-purpose flour
1 tsp baking soda
1 tsp salt
2 cups semi sweet or dark chocolate chips
½ to ¾ cups pistachios, toasted and chopped
Instructions
Preheat your oven to 325F and evenly spread pistachios on a baking sheet.
Toast for about 10 minutes, stirring about every ¾ minutes.
Once toasted up the oven temperature to 375F, and line two baking sheets with parchment paper.
In a mixing bowl, cream butter and sugars together until light and fluffy. Add eggs, seperately, being sure to scrape down the sides between each addition. Add vanilla, and finally pistachio pudding mix.
In a seperate bowl, whisk together flour, baking soda and salt.
Using a wooden spoon, mix by hand the wet ingredients into the dry. Stir in the toasted pistachios and chocolate chips, being careful to not overmix.
Scoop cookies onto prepared baking sheets, and bake for 12 minutes, until tops are just barely golden.
Let cool on baking sheets for about 10 minutes before moving to cooling racks. (They are so yummy warm- so feel free to gobble them up at this point!)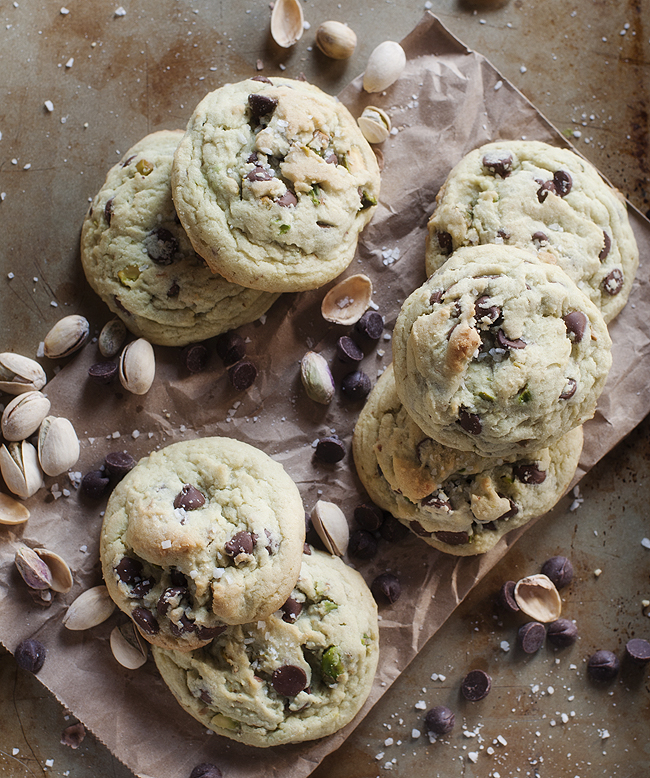 I added sea salt just before throwing these in the oven, because when my heart is in turmoil sea salt and dark chocolate seem to be the cure. I loved this combo here, but they would be incredible without the salt as well. The crunch of the pistachios gives these cookies the perfect texture, and you could add less or more, depending on your personal love affair with pistachios. (No one is judging you here!) For now these cookies are filling the lonely gaps those three sweet souls have left in our home.  We certainly will miss you, girls.