In the last two months I have been described as organized from two different individuals.  Say what?  Are we talking about me?  Rest assured I am anything but.  There is certainly a mass amount of physical clutter in my home but it's my head that really needs the spring cleaning.  Wearing so many hats in a day can sometimes make me feel like I have accomplished nothing.  Often it's so overwhelming that I'll resolve to throwing in the towel and doing something wasteful (like online window shopping for these too cute for words cat measuring cups on amazon):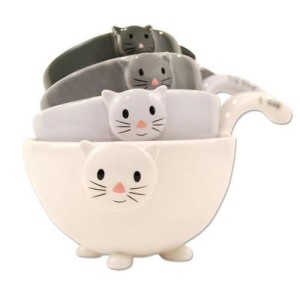 Since online window shopping is unfortunately not one of my jobs, the hunt is on for better ways to organize my brain and simplify my day.  The last 2 weeks I have used and fallen in love with several apps.  From meal planning to professional organization these have helped my head and life feel a little more put together and less cluttered.  They also happen to meet my #1 requirement for almost all apps – they're free.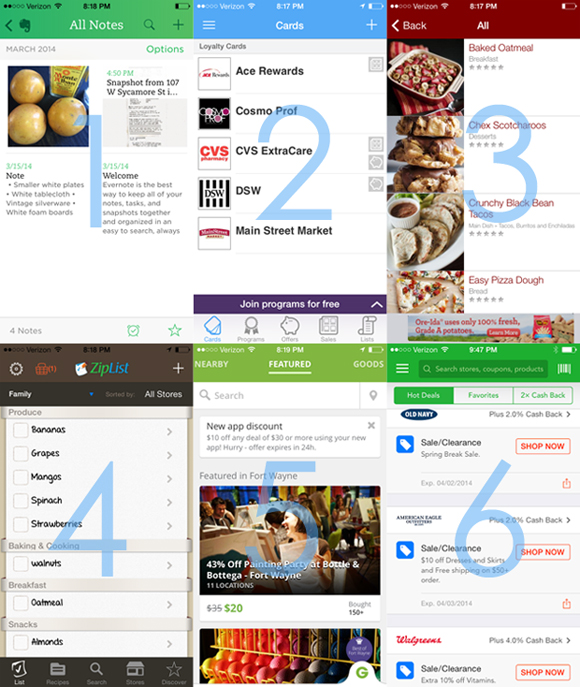 1 Evernote – are you a scatterbrain (specifically a creative one with tons of ideas swarming in your head)?  If yes, this is the app for you.  Organize notes, paperwork, ideas, photos, videos and check lists with an incredibly easy to operate interface.  I use this for everything from a PPJ post idea to documenting a receipt.  You can also sync your phone to computer for access anywhere!  Only downfall is if you want your entire life on Evernote you will need more space (which will cost you).  I am pleased to report the free version is more than enough for me (at least for now). 2 Key Ring – reward cards are so 2009.  Rid your keys of the bulk by storing all of their information in your phone for easy scanning at checkout.  No more searching through dirty worn out cards (or asking the clerk to look up your information). 3 BigOven – meal planning is something my life was in desperate need of.  Having used several apps I had all but given up that there was one that had the ease and versatility I was looking for.  Enter BigOven and all has changed.  Using their database of recipes or add your own favorites (from the web or even an image from a cookbook, yes, a cookbook!) you can easily create a weekly menu.  Think of it as pinterest but with a meal planner.  And the best part – PPJ recipes add brilliantly into this app. 4 ZipList – the simplest way to create a shopping list for yourself or send to that special someone shopping for you.  Includes a 300,000+ directory of recipes to add ingredients directly from.  Honestly though I enjoy the no nonsense list making and send aspect of it more than anything. 5 Groupon – yes, you more than likely already know about this wonderful site.  You may not know however, that the app will automatically update to whatever location you are in making finding the best local deals that much easier.  A gem for someone like me who doesn't put much time into planning before embarking on a trip. 6 Ebates – ok, this may encourage the non-productive online shopping addiction (and really doesn't help organize or simplify) but it's fabulous.  Chose from over 1700 stores and receive cash back for shopping online.  Yes, you heard me correctly – cash back!  You'll receive $5 from your first purchase for just joining.  Better yet, earn more by referring a friend.  Being rewarded for shopping feels like a dream except it's not.
There are certainly times when my iphone can feel like it is doing anything but making life easier.  With the right apps however it can be your best friend in simplifying and de-cluttering the everyday.  Now about this house (and those measuring cups I don't need)…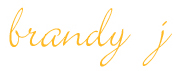 Have a favorite can't live without app?  Please share with us!