My oven has been on more than it has been off this week.  Before this pregnancy began, Josh and I spent a lot of time trying to map out when "the best time" for me to be pregnant would be, with holidays many times calling for all-night baking sessions that we knew would not be healthy for me.  When I was pregnant with Adelynn I had a fairly easy pregnancy, but found it hard to be on my feet for more than 15 minutes at a time without fainting, which is sort of a big issue.  They say no pregancy is a like but with this small heart condition we couldn't help but feel like I needed to steer clear of big baking holidays like Christmas and Valentines Day, just to be sure I wasn't in over my head.  The funny thing is, when you really pull out your calendar and try to map out 9+ months, there really is no "good time".  There's just God's timing, and it comes whenever He sees fit, and suddenly it makes more sense than your plan ever did.  Now that we are on this journey, and beginning our second trimester, over and over I find myself thankful that it's not my plan, because lets be honest- I was never a planner anyways.  This is the time, right now, and all is well.  (Actually, more than well really.)
Back in the fall, I signed on to help sponsor Hope Spoken, a conference in Dallas hosted by a few bloggers that I deeply admire (Casey Wiegand & Danielle Burkleo, along with a few others!).  Hope Spoken is this weekend- so lots of cookies are going out my door and headed their way, and I couldn't be more excited for these ladies.  Finding a balance between work and extreme sleepiness has been so challenging (as it is for every working mother), but weeks like this- so very awarding.  Causes like this make my heart happy, and being able to help in a tiny, edible way is the best thing in the world.
We've been powering through this busy week with these dangerously good little peanut-buttery-heaven-crispies.  Simple and yummy, with no oven time required, which is good because my oven is indefinately occupied.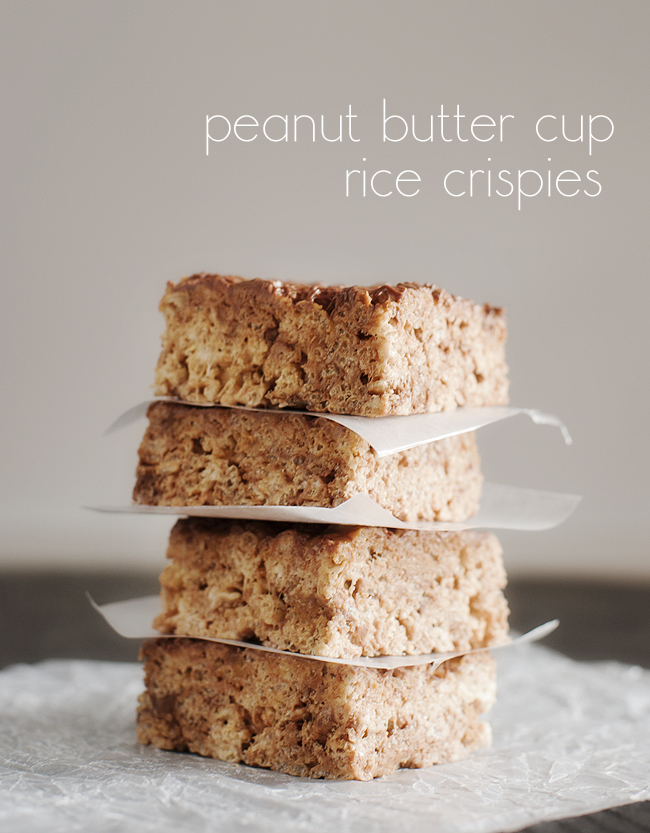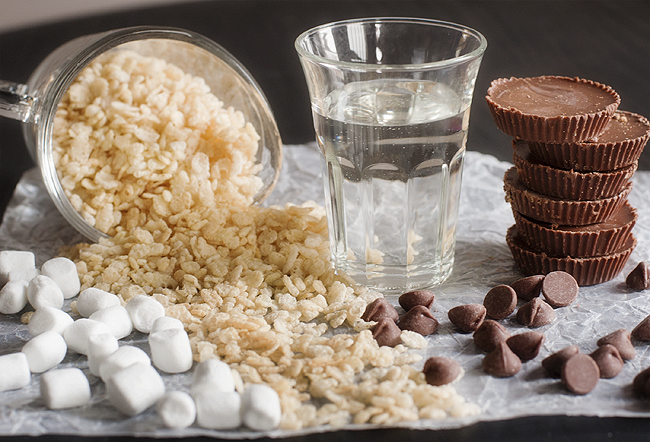 peanut butter cup rice crispies
Ingredients
6 cups Rice Crispies cereal
16-18 Reese's peanut butter cups, chopped
5 tbsp butter
3 tbsp light corn syrup
1 (10 ounce) package mini marshmallows, plus 2 cups mini marshmallows
⅓ cup peanut butter
½ cup milk chocolate chips
Instructions
Line a 9x13 dish with alluminum foil, and butter the surface of it.
Measure cereal out into a very large bowl, add chopped peanut butter cups, and mix to combine. In a large saucepan, melt butter. Add corn syrup and marshmallows, stirring constantly until smooth.
Pour mallow mixture over cereal, and combine using a wooden spoon. (Your peanut butter cups will melt and fall apart a bit, but thats okay!)
Press into prepared pan, and set aside to cool completely.
In a small saucepan melt peanut butter, and then pour into a ziploc bag. Snip the end and pipe onto treats.
In the same pan, melt chocolate chips until smooth, and then pour into a ziploc bag. Pipe over the treats. Let cool completely before slicing and serving.
Recipe slightly adapted from this recipe.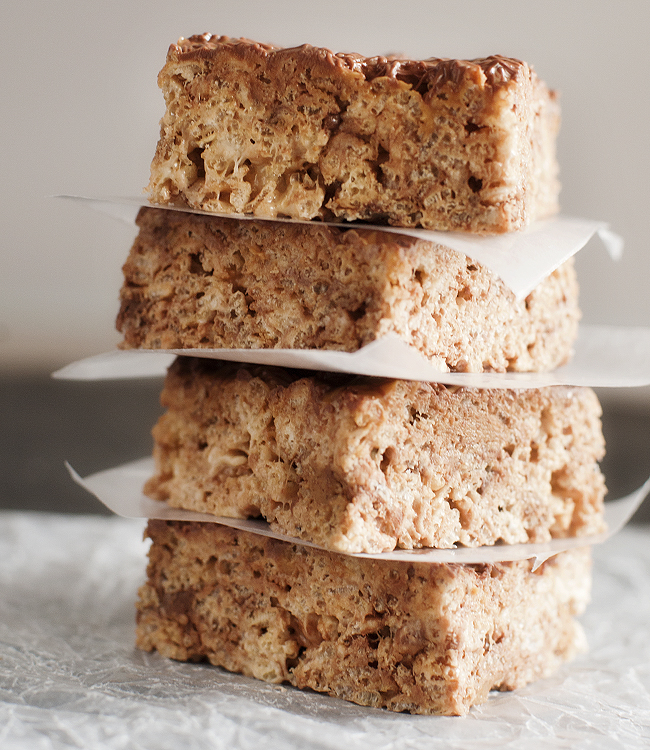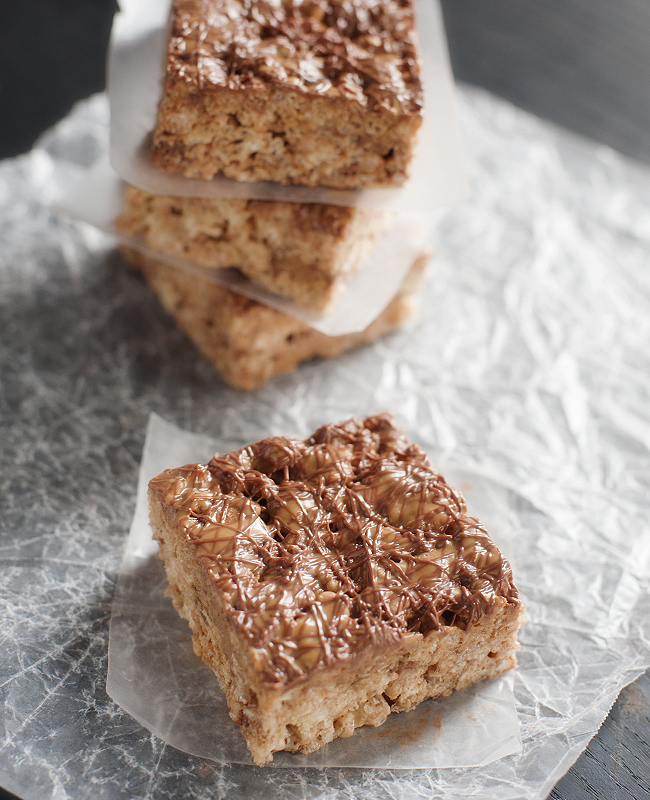 Nom nom nom,