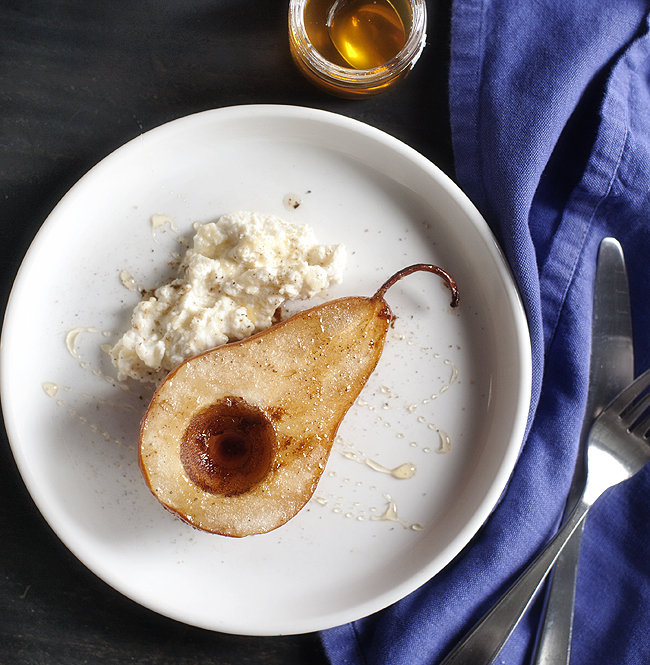 When it comes to sweets and especially baking of any kind Shan is by far your girl.  When it comes to a dessert that feels more like cooking with no precise measurements or exact timing, I can handle that (most of the time).  This dish combines the simplest of ingredients into something sophisticated and sexy.  Honey, cheese and fruit – add a glass of wine and what more would a person need?  Someone to share this pretty little dessert with of course.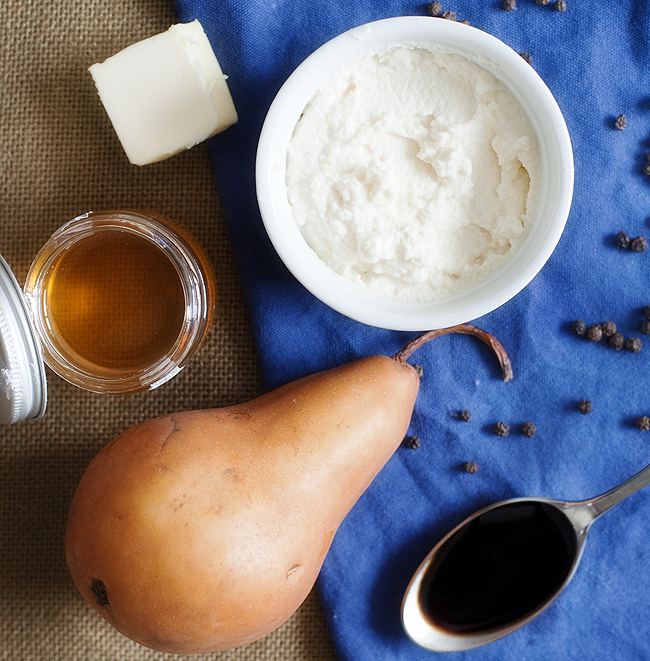 Obviously the star of this dish is the pear.  Be sure to select a ripe yet firm piece of fruit.  As far as the honey is concerned if you happen to have an exotic flavor on hand this would be the time to use it.  I have a collection of Waxing Kara honeys whom Alicia from Sophie Design Boutique so graciously sent me.   They are incredibly delicate in flavor, worth saving every drop for a dish as elegant as this is.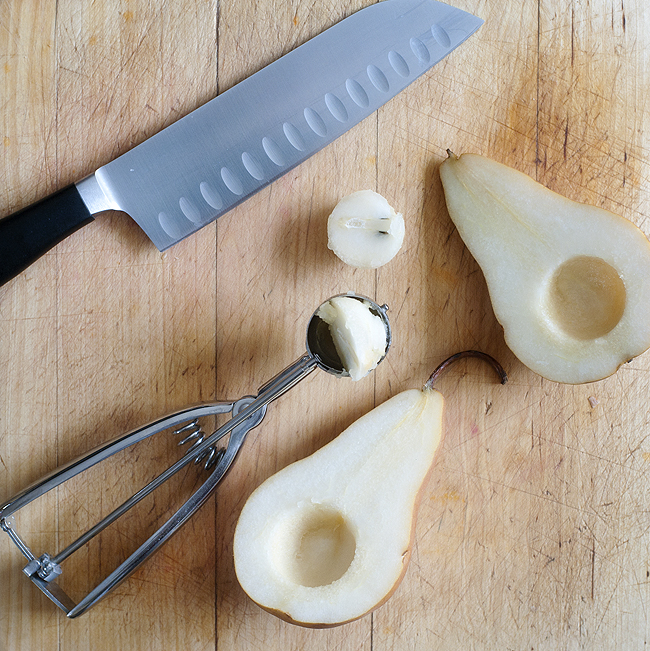 This is a simple matter of halving, coring and roasting a bit.  Trust me, this is ridiculously easy.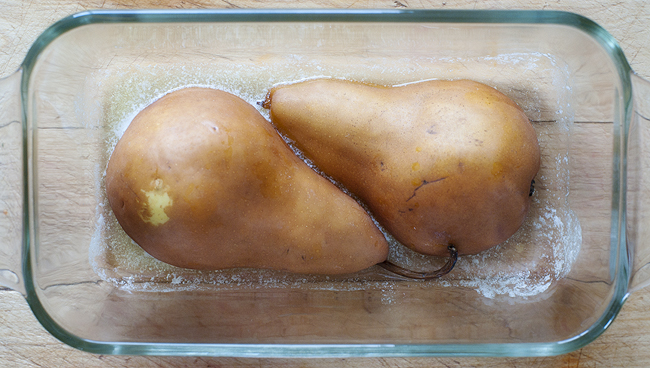 How cute are those little pear halves snuggled up to each other?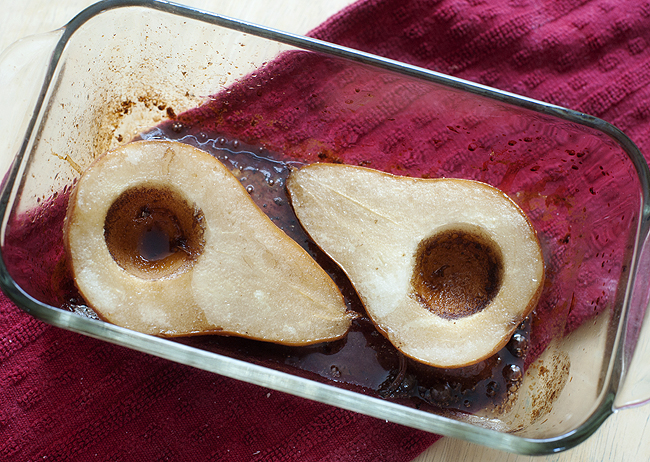 Roasting anything in balsamic vinegar has to be good.  The smell alone is worth the trouble.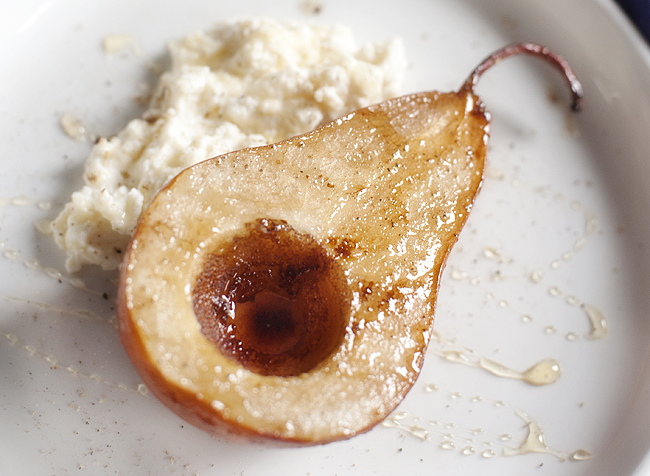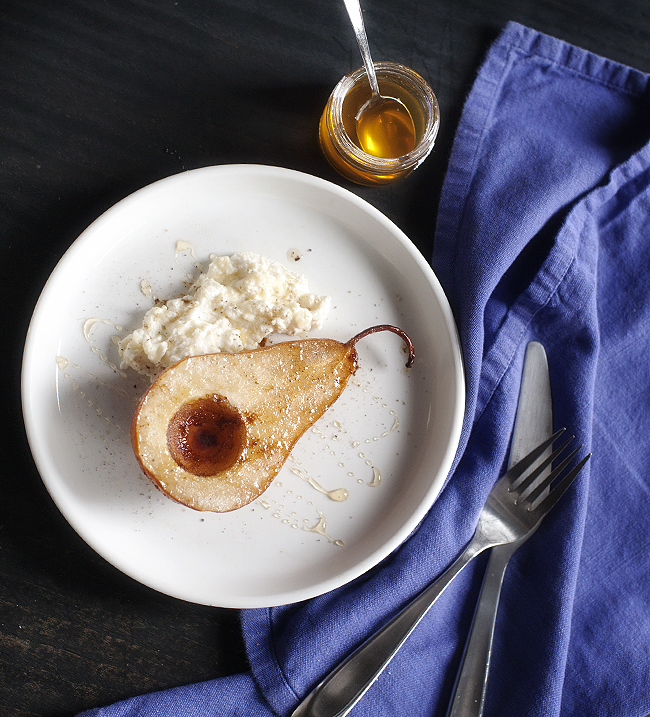 Just looking at these images have me salivating.  I cannot begin to explain my love of a dish like this.  The creamy ricotta with the warm and sweet roasted pear is an amazing combination on it's own.  But then there's that honey, it flirts with the cheese and fruit while the black pepper adds just a bit of spice.  A seductive way to end a meal with your favorite person.
Enjoy!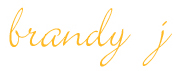 roasted pears with ricotta and honey
Ingredients
1 Tbsp. unsalted butter
1 ripe yet firm Bosc pear, halved and cored
2 Tbsp. balsamic vinegar
2 ounces ricotta cheese, at room temperature
2 Tbsp. honey
Ground black pepper, to taste
Instructions
Preheat oven to 400°. Put butter into a glass loaf pan and bake until just melted, 2 to 3 minutes.
Swirl butter in the dish to coat the bottom completely, then arrange pears, cut sides down, in a single layer in the dish. Roast until tender, about 20 minutes. Gently turn over pears, drizzle vinegar over top, and roast until very tender, 15 to 20 minutes more. I knife should easily insert when done.
Transfer pears to serving plates, spooning a bit of the ricotta alongside each. Spoon over some of the cooking juices, drizzle pears and ricotta with honey, sprinkle pepper to taste, and serve.
recipe from Michael Pollan