Let's do brunch.  Music to my ears.  There is an ease to this meal like no other.  It's casual yet special because it involves things like champagne and orange juice.  When we decided on a Christmas Eve brunch we knew it would be fantastic, we had no idea it would be exactly what we needed.  There is something so fulfilling about chatting midday over eggs, french toast and breakfast meat.  No one is in a hurry and everyone has something they like to eat.  Those people in NYC that brunch every Sunday have the right idea.  Brunch is fabulous and should be enjoyed more often.
Initially I was going to make strata but once I spied this slab pie I knew I had to try it.  It is very similar to a quiche except it's a tad more rustic which I love.  There is something comforting about the pie squares with the flaky edged crusts.  A keeper recipe for sure and something that will grace my brunch menu again.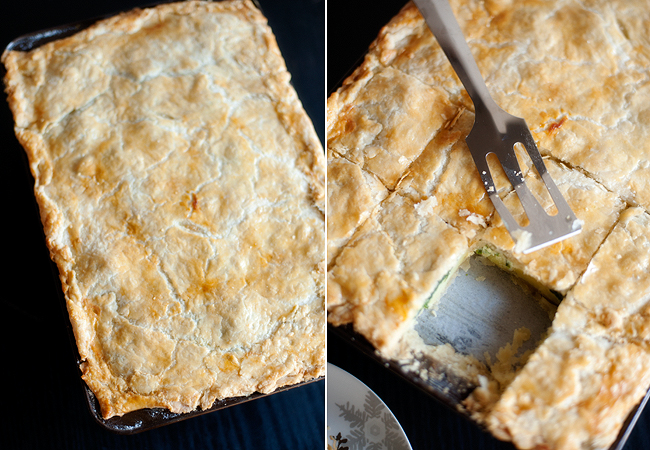 breakfast slab pie
Ingredients
Crust
3¾ (470 grams) cups all-purpose flour (feel free to replace up to half with whole-wheat)
1½ teaspoons table salt
3 sticks (340 grams) unsalted butter, very cold and chopped in small pieces
¾ cup very cold water
Filling
1 pound yukon gold potatoes, peeled if desired, cut into ½-inch slices
10 ounces spinach (baby, "grown-up," or frozen)
1 cup coarsely grated sharp cheddar cheese
4 scallions, thinly sliced
11 large eggs + 1 large egg white (you'll use the yolk in a minute)
1 teaspoon kosher or coarse sea salt, plus more to taste
Freshly ground black pepper
To finish
1 large egg yolk (leftover from filling)
1 teaspoon water
Instructions
Make pie crust: Whisk together flour, and salt in the bottom of a large bowl. Using a pastry blender, two forks, or your fingertips, work the butter into the flour until the biggest pieces of butter are the size of tiny peas. Gently stir in the water with a rubber spatula, mixing it until it combined (will look like a mess). Knead two or three times with your hands to form a ball. Divide dough roughly in half (it's okay if one is slightly larger). Wrap each half in plastic wrap and flatten a bit, like a disc. Chill in fridge for at least an hour or up to two days or slip plastic-wrapped dough into a freezer bag and freeze for up to 1 to 2 months. To defrost, leave in fridge for 1 day.
Heat oven oven to 375 degrees F. Line bottom of 10x15x1-inch baking sheet or jellyroll pan with parchment paper.
Prepare filling: Place potatoes in a medium saucepan and cover with cold water. Bring to a boil, then reduce to a simmer, cooking for 7 to 10 minutes, until potatoes are tender but not falling apart. Drain.
Wash spinach but no need to dry it. Place wet spinach in hot skillet and cook until it just wilts. Drain in a colander, pressing or squeezing out as much liquid as possible (this step is incredibly important to avoiding a soggy crust).
Assemble pie: On a lightly floured surface, roll one of your dough halves (the larger one, if you have two different sizes) into an 18-by-13-inch rectangle (or a little smaller which is what I used). Do your best to work quickly, keeping the dough as cold as possible and using enough flour that it doesn't stick to the counter. Transfer to your prepared baking sheet and gently drape some of the overhang in so that the dough fills out the inner edges and corners. Some pastry will still hang over the sides of the pan; trim this to ¾-inch overhang.
Layer vegetables evenly over bottom pie crust (potatoes, spinach, scallions then cheese). Beat 11 whole eggs and 1 egg white lightly and pour over vegetables (slowly pour because you may find you have more eggs than your pan will hold - you could beat a few eggs at a time to avoid egg wasting). Sprinkle with salt and many grinds of black pepper.
Roll the second of your dough halves (the smaller one, if they were different sizes) into a 16-by-11-inch rectangle. Drape over filling and fold the bottom crust's overhang over the edges sealing them together. Cut two small slits in the lid to act as vents. Beat remaining egg yolk with 1 teaspoon water and brush over lid.
Bake pie: Until crust is golden and filling is set, about 40 to 45 minutes. Transfer to a wire rack and cool a bit before cutting into squares.
recipe from Smitten Kitchen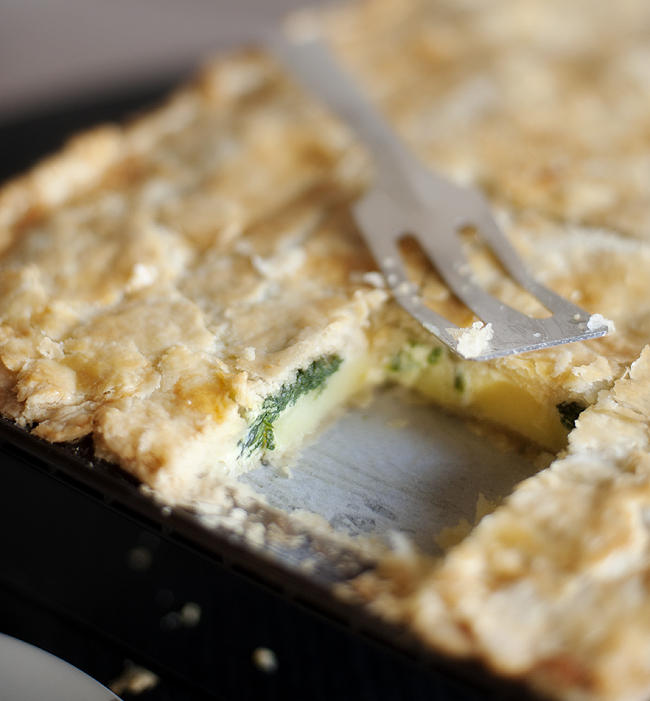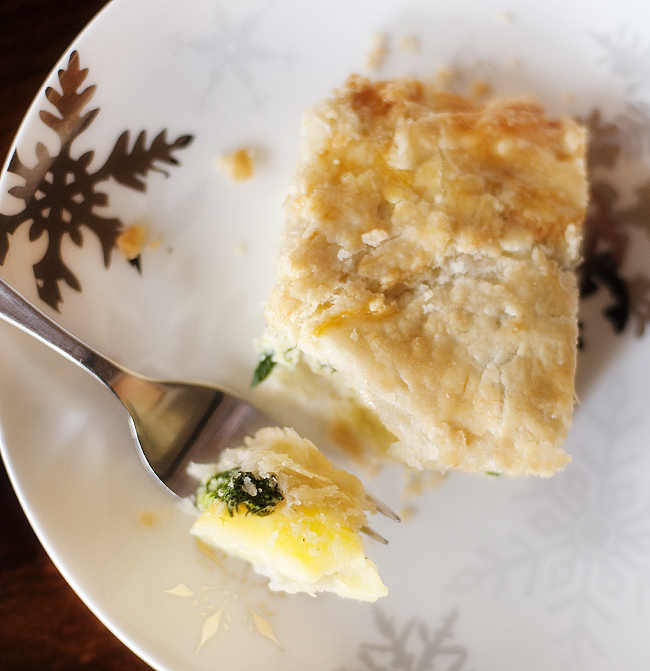 Being that this was my first attempt I did not stray from the recipe.  In the future I will definitely experiment with other filling ingredients (roasted red peppers come to mind) as well as add more cheese.  As is though it really was delicious and satisfying.  It's also a great dish served warm or room temperature.  Basically you cannot go wrong with this pie.  A must try for your next brunch (and of course, we enjoyed something fabulously sweet as well which Shan will be sharing later today).
Enjoy!