I know that it is officially December (and believe me, I have Christmas on the brain), but I want to jump back a second and talk about how thankful I am.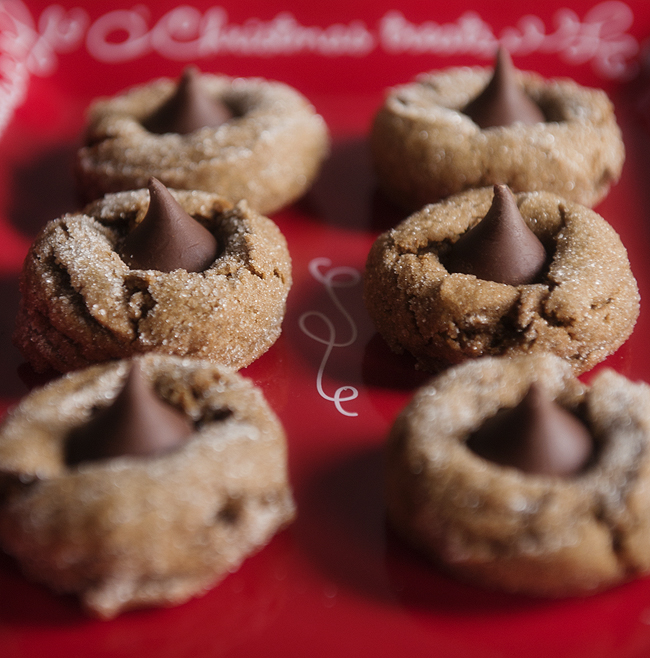 Every once in awile we all have those months where it feels like someone, somewhere, is sitting there with a voodoo doll they have made of you, sliding in pins.  As the punches roll in it's easy to let each one hurt a bit more than the last.. it's easy to overlook all of the good, and focus on the bad. It's easy to throw your white flag.  It's easy to feel defeated.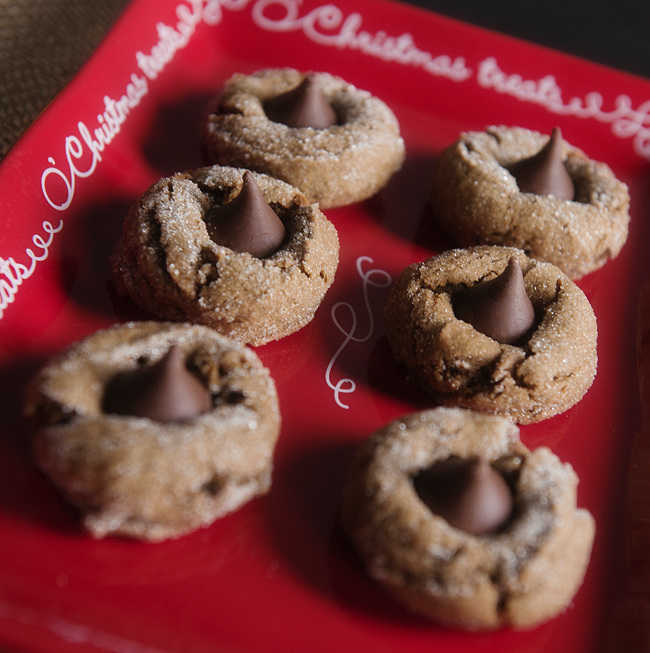 And then something happens.  A random little bouquet of flowers.  A box of your favorite cupcakes.  A cup of coffee.  A package of "sunshine" when you need it the very most.
Love.
Pouring in from every outlet, somehow making all of the grey dissappear.
Thankful. For you my dear friends, each and every one of you, for making my grey dissappear.
Christmas is about pouring love into other's lives, and reminding people how very much they mean to you.  Our family has vowed to fill this  Christmas season with random acts of kindness- for friends, family, neighbors and complete strangers.  You don't need a lot of money to show kindness, only a little time.  Bake a batch of cookies, shovel your neighbors snow, surprise your grandmother  with a handwritten letter in the mail.  Pour love into others lives, because you never know when they are feeling clouded out by grey.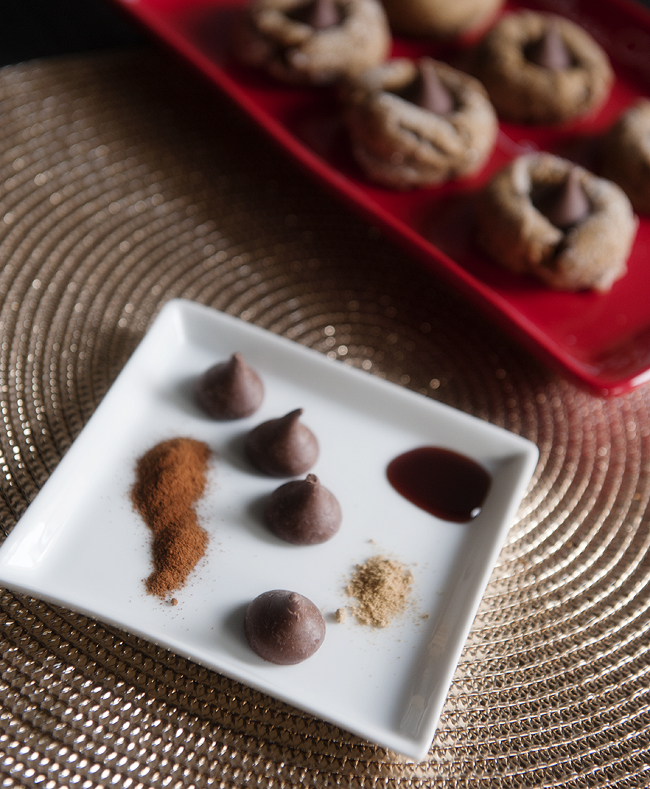 gingerbread kiss cookies
Ingredients
3 cups all purpose flour
1 tsp ginger
1 tsp cinnamon
¼ tsp nutmeg
1 tsp baking soda
¼ tsp salt
¾ cup unsalted butter, at room temperature (1½ sticks)
¾ cup brown sugar
½ cup molasses
1 egg
1 tsp vanilla extract
¼ cup sugar, for rolling
30 Hersheys kisses, unwrapped and frozen
Instructions
In your mixing bowl, beat together butter and brown sugar on high for 3-5 mins. Meanwhile, in a large bowl, whisk together all dry ingredients, and set them aside.
In your mixing bowl (filled with butter/brown sugar), add egg, molasses, and vanilla- scraping down your bowl when needed.
Add dry ingredients and mix until just combined.
Wrap dough in plastic wrap, and refrigerate 2-4 hours, or overnight.
Preheat oven to 350F, and place parchment paper on baking sheets. Roll dough into 1" balls, roll them in sugar, and place on sheet.
Bake for 8-10 minutes, until cookie tops are cracked, and gently place a kiss in the center as soon as they leave the oven.
Transfer to a cooling rack to cool completely, and store in an airtight container for 4-6 days.
This lovely recipe is by Baked By Rachel.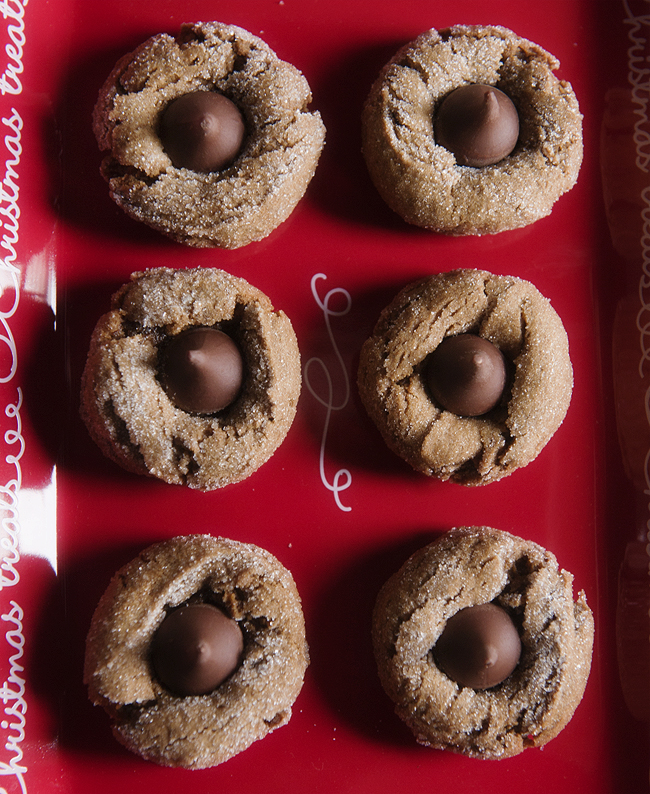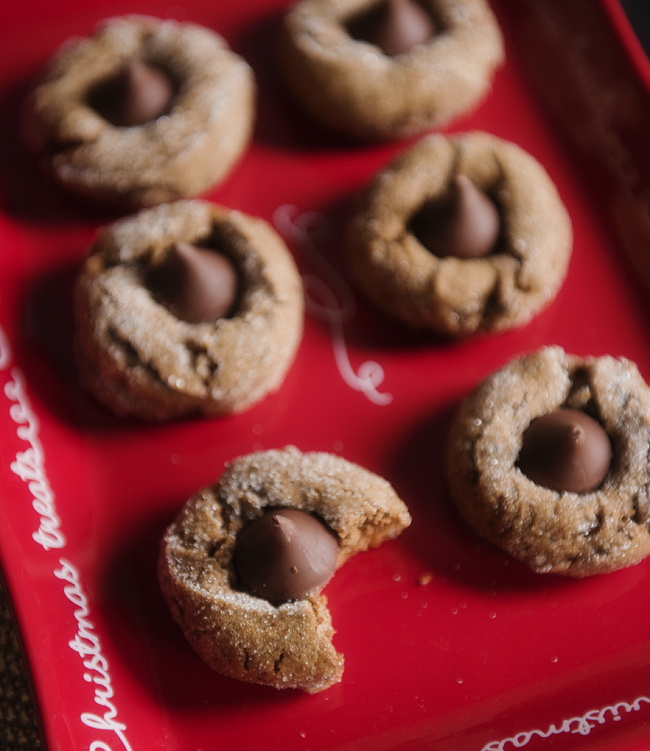 Love,