When it comes to family get togethers I like to try new recipes. I know, so rude to use relatives as guinea pigs but honestly I do not think they mind. Yesterday was Sticky's family Thanksgiving and per usual I brought a salad, vegetable and dessert. I'd give all these a thumbs up with the brussel sprouts being a definite "will make again" recipe.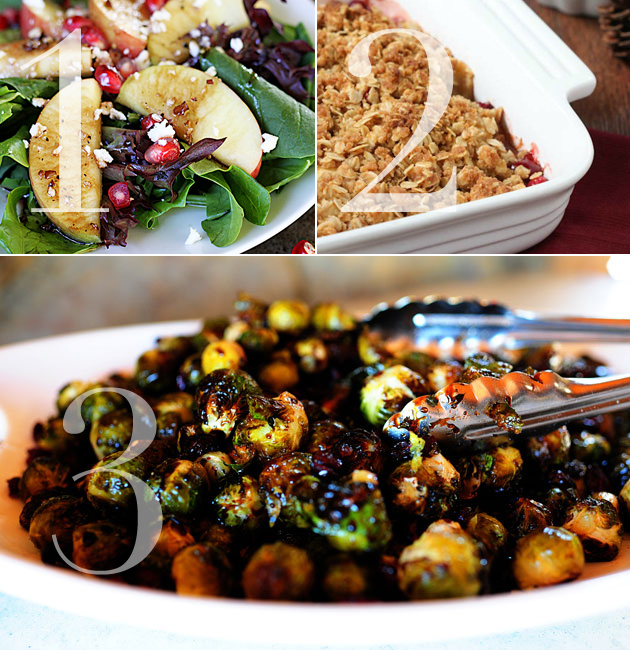 1 Apple Pomegranate Salad with Honey Balsamic Dressing – simple, refreshing and delicious. The dressing is not low cal but hey, it's Thanksgiving after all. 2 Apple, Pear and Cranberry Crisp – made this with Granny Smith's which really elevated the tart value (I enjoy tart even more than sweet). This is even better the next day. 3 Brussels Sprouts with Balsamic and Cranberries Oh my gosh. Pioneer Woman does it again with a incredibly delicious, super easy, yum yum YUM recipe. I am considering making these again for my family's gathering on Saturday.
Speaking of Saturday not only do we have our other Thanksgiving but there is a certain football game of importance going on. I am not 100% on what I am bringing as of yet. Any last minute ideas would be welcome and appreciated!
And for those of you who are staying home as opposed to braving the Black Friday crowds there are some AMAZING deals to be had including H&M ($4.95 stretchy pants, yes please!!).
Wishing everyone a wonderful weekend!