Anything that is "caramel filled" and I get along pretty well, if you haven't noticed.  Add sea salt and you've got perfection, which is just what these too-easy-to-be-true cookies are.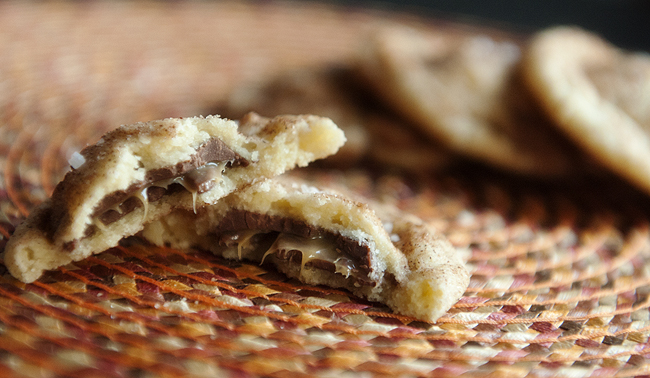 As you know, I bake a lot of cookies.  Most of my recipes go through several "tests" before I put them in my shop (do they stay fresh for 5 days? are they thick enough? are they too similar to something I already offer?).  If they pass all of those tests, they are whisked off to a photo shoot with Brand and a new flavor is born.  What I love about baking for this blog is that those tests go out the window, and all that matters is that they are really stinkin' good.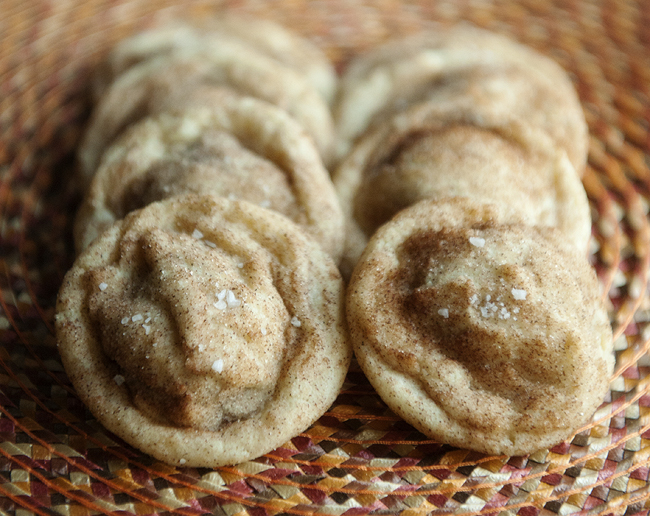 These came out of the oven and Josh says, "what are those??". Ummmm, magical snickerdoodles, babe.  "Well… don't you think they are kind of.. flattish?"  (This is Josh's nice way of saying "those don't pass the poof test".)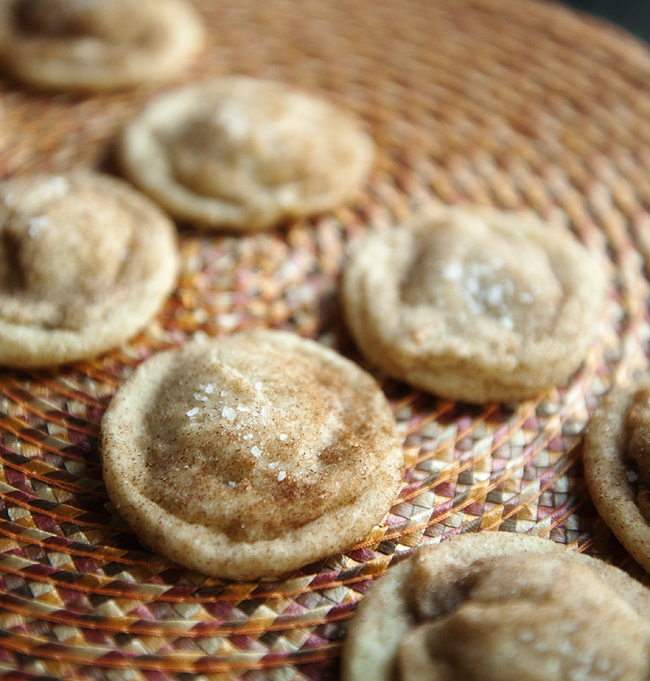 You guys, in this moment I realized I have transformed him into a cookie snob, like myself.  Oops.
salted caramel-filled snickerdoodles
Ingredients
Topping:
¼ cup granulated sugar, for cinnamon-sugar topping
3 teaspoons cinnamon
Cookie:
1½ cups granulated sugar
1 cup (2 sticks) unsalted butter, softened
2 large eggs
¼ teaspoon vanilla
2¾ cups all-purpose flour
2 teaspoons cream of tartar
1 teaspoon baking soda
⅛ teaspoon salt
35 chocolate covered caramel candies, such as Rolo or Dove
Coarse sea salt
Instructions
Preheat oven to 375F. Line baking sheets with parchment paper and set aside. Using a small bowl, mix together your topping (cinnamon & sugar), and set that aside as well.
In your mixing bowl, cream butter and sugar until light and fluffy. Beat eggs in one at a time, being sure to scrape down the bowl after each addition. Add in vanilla.
In a separate bowl, whisk together the dry ingredients (flour, tartar, baking soda, salt). Using a wooden spoon, mix the wet ingredients into the dry, being careful to not overmix.
Using a small ice-cream scoop or tablespoon, scoop dough out, adding a caramel to the center of each cookie. Roll in topping, and sprinkle with sea salt.
Bake for 7-9 minutes, until small cracks appear of the top of the cookies. Let sit on cookie sheet for 5 minutes before transferring to cooling racks- and be sure to eat a warm one! So yummy!
My recipe was adapted from this recipe.
These may not pass the poof test, but one bite and I promise you wont care.  (The cookie connoisseur in my house didn't at least!)