Brownies seem to be getting a bad rep lately, with the spotlight being on their skinnier sister- blondies.  People are getting really fancy with them, using browned butter and unconventional add-in's- and okay, I totally get it, they are really good.  But these old school brownies are pretty darn good too, and after all, there is something to be said for the original.  There is nothing blonde about them.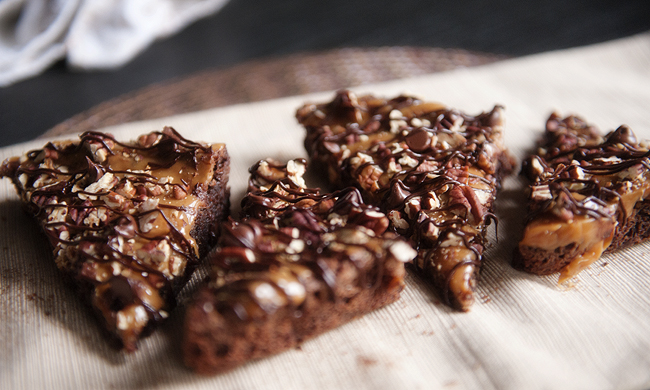 These have been sweetening up my counter this week, in a house filled with moving clutter.  *Sigh*.  Seriously, I will be one happy girl when we get moved and settled.  There are boxes stacked in every corner, yet somehow it looks like we have packed nothing.. how does that happen!?  If I had any packing or moving tips to share with you, I certainly would, but it turns out I am not very good at it myself.  My only tip would be this; make yourself some brownies.  They will make everything better when you walk into your clutter filled kitchen, I promise.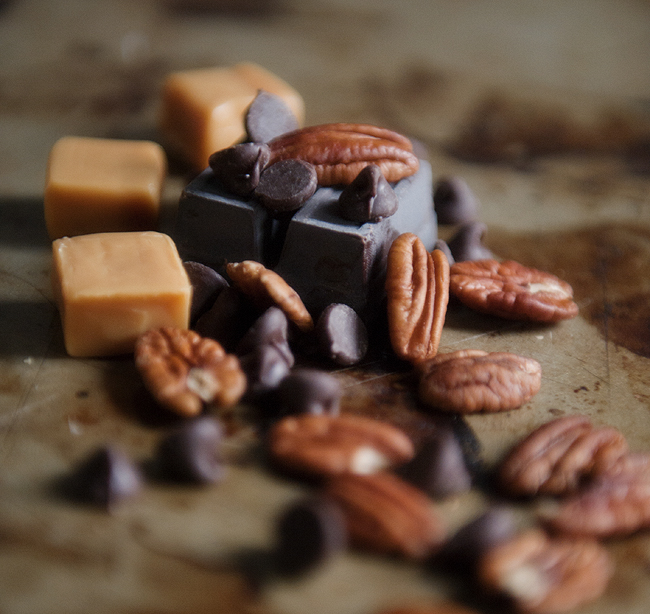 pecan caramel brownies
Serves:
8-16 brownies, depending on how they are cut
Ingredients
½ cup unsalted butter (1 stick)
3 ounces unsweetened chocolate, chopped coarsely
1 cup sugar
2 eggs
1 teaspoon vanilla extract
⅔ cup all-purpose flour
¼ teaspoon baking soda
1 cup chopped pecans, toasted
1 cup semi sweet chocolate chips
20 vanilla caramels, unwrapped
1 tablespoon milk
Instructions
In a medium saucepan heat and stir butter and unsweetened chocolate over low heat until melted and smooth. Remove from heat, and let cool.
Preheat your oven to 300F. Line a baking sheet with foil, and evenly spread chopped pecans on it. Toast the pecans for about 10-15 minutes, stirring a few times, until toasted and fragrant. Remove and set aside.
Up your oven temp to 350F and line an 8x8 baking dish/pan with foil, extending the foil over the edges of the pan. Grease the foil, and set the pan aside.
Stir sugar into the cooled chocolate mixture. Add eggs, one at a time, beating with a wooden spoon after each addition just until combined. Stir in the vanilla extract.
In a small bowl, whisk together the flour and baking soda. Add flour mixture to the chocolate mixture, stirring just until combined. Stir in ½ cup of the pecans and ½ cup of the chocolate chips. Spread the batter evenly in your prepared 8x8 pan.
Bake for 30-35 minutes, until you can remove a toothpick from the center without seeing any batter on the toothpick. Let cool on a wire rack.
In a small saucepan, combine caramels with your 1 tablespoon of milk over medium-low heat until melted and smooth. Spread caramel over brownies, and immediately sprinkle remaining pecans and chocolate chips over the top. Let stand for two hours before cutting.
To top them off, use a small saucepan to heat remaining chocolate chips over low heat until melted and smooth. (Add in a dab of butter if chocolate becomes to thick.) Drizzle the melted chocolate over the top of the brownies , before or after cutting them, whichever you prefer.
Using the foil overhang, pull the brownies from the pan and cut to serve.