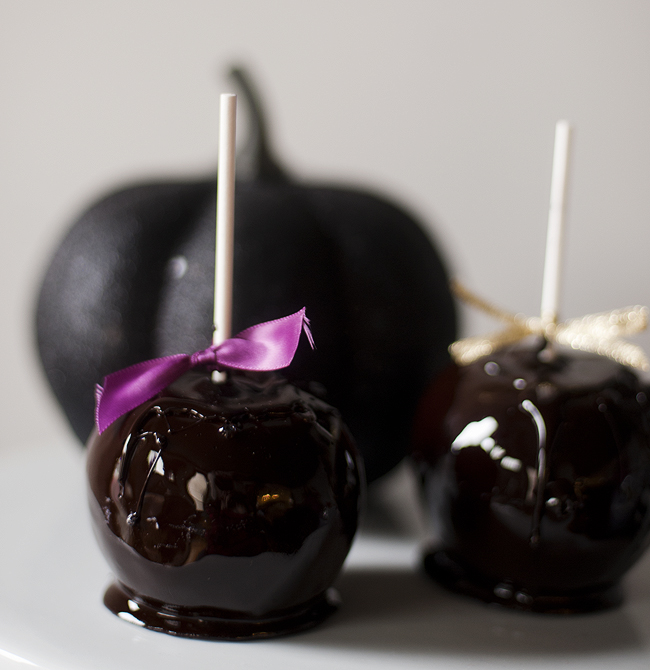 Candy apples are always popular this time of year- but this twist on them is so fun for Halloween.  A bit of black added to the hard candy shell and you've got witchy black apples that every bit as tasty.  With the help of a candy thermometer these could not be more simple to make!   The entire process only takes about 20 minutes from start to finish.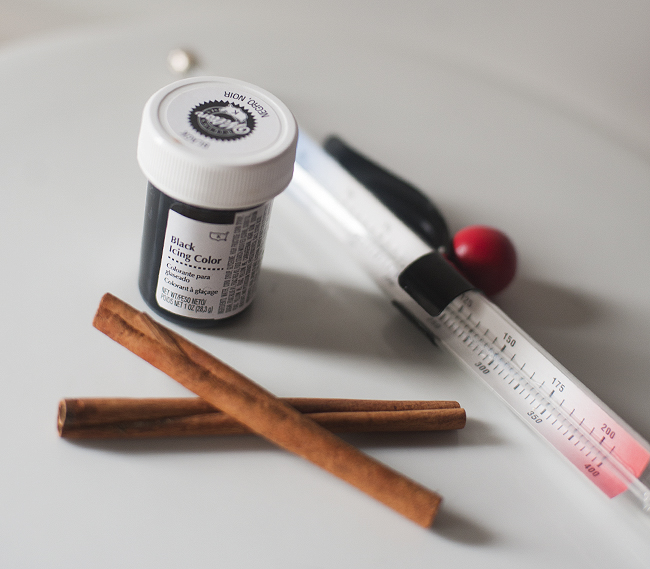 black candy apples
Ingredients
2 cups granulated sugar
¾ cup water
⅔ cup light corn syrup
1¼ tsp black food coloring
¼ tsp cinnamon
6 8-inch sticks
6 apples (I used Honeycrisp!)
parchment or wax paper
cooking spray
candy thermometer
Instructions
Begin by lightly spraying your parchment or wax paper with a coat of cooking spray so that your apples can be removed from it easily once set. (This step is important!! The first time I ever made caramel apples I missed this one, and believe me- prying my apples off of the wax paper was NOT fun. )
Place the sticks securely in the apples, placing them at the stems. (I usually use a hammer to lightly tap the stick into the apple, and I remove the stems!) Set aside.
In a saucepot over high heat, combine the sugar, water, corn syrup, food coloring and cinnamon. Stir to combine, and then insert your candy thermometer. (Follow the directions on your thermometer for correct placement.)
Bring to a boil, then reduce the heat to medium-high, and boil until the thermometer reads 300F, about 15 minutes.
Once at 300F, remove from heat and quickly dip the apples into the syrup, rolling to evenly coat. Place the candied apples on the prepared wax paper and allow to cool. Apples can be made up to 6 hours in advance of serving.
We have found that the best way to enjoy these pretty apples in by slicing them, to protect your pearly whites from biting into the hard shell.  However you decide to serve them, they certainly make a fabulous centerpiece for your Halloween feast!  Enjoy!
Happy Halloween Eve!