Let me start by saying, I messed this brittle up a bit.  Making  this brittle took me right back to those pretzels I tried to make a few months back.  I though, oh, brittle- it can't be that hard.  And truly, it's not.  There are just a few things you should know before you attempt it- a few things that I didn't take the time to read.  (Don't worry, you're not going to make those same mistakes.)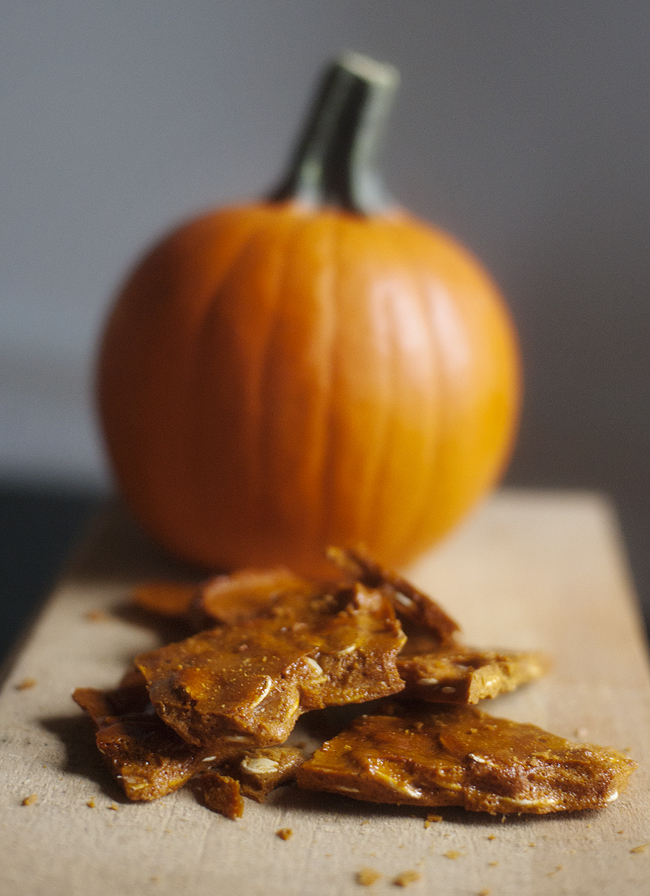 I was drawn to this recipe because I LOVE pumpkin seeds- but honestly I never thought to do anything with them besides the normal tradition of salting them, baking them, and gobbling them up in one sitting.  I also read that this makes an incredible garnish for pumpkin pie, which was my second motive for making it.  (Brittle on pie? How fun is that!?)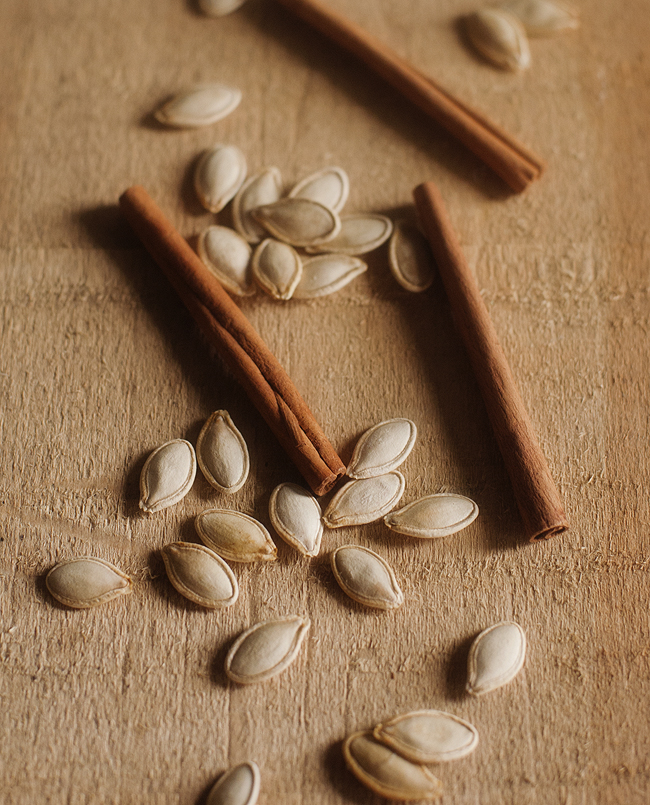 Now let's fast forward to all of the things I did wrong.
1. Before making brittle, go get yourself a candy thermometer.  Seriously.  Have you ever read Smitten Kitchen?  She's got fabulous recipes- but I also love that she works from a tiny New York kitchen.  She's a minimalist when it comes to kitchen gadgets, and usually finds a way to make it work without the fancy tools.  I was trying to channel her here, but lets face it: a candy thermometer is neither fancy or space consuming- therefor I really have no reason for not having one.
2. Slow and steady wins the race.  I read the words bring to a boil, and turned the heat up a bit too high.  I have since figured out that they meant to cook it slowly over low/medium heat until it simmers.  I blame my lack of patience for this one.
3. Do yourself a favor and use a non-stick pot.  We've got a nice set of Calphalons, but we also have those random Ikea pots floating around as well.  I grabbed for my low-quality Ikea pot and I blame it for the fact that my brittle went from "amber" to "campfire" in the blink of an eye.  (No joke, it happened so fast.)
Okay, so now that I have scared you brittle-less- go get out your candy thermometer and nonstick pan, and give this a go.  I swear it really is worth it!
cinnamon pumpkin seed brittle
Ingredients
¼ cup butter, cut into chunks, plus more for pan
1 teaspoon baking soda
1 tablespoon vanilla extract
1½ teaspoons cinnamon
½ teaspoon salt
2½ cups sugar
⅓ cup light corn syrup
1½ cups toasted hulled pumpkin seeds
Instructions
Lightly butter a 10- by 15-in. baking pan.
In a small bowl, stir baking soda in vanilla to dissolve; set aside. In another bowl, stir together cinnamon and salt (to help the cinnamon distribute evenly when it's stirred into the sugar mixture).
In a 4- to 5-qt. saucepan over medium-low heat, use a heatproof spatula or wooden spoon to stir together sugar, ½ cup water, corn syrup, and ¼ cup butter until butter is melted and sugar is completely dissolved.
Increase heat to medium and boil sugar mixture, stirring occasionally and watching closely, until it turns a deep amber and measures 335° to 340° on a candy thermometer, 8 to 12 minutes.
Remove sugar mixture from heat and carefully stir in vanilla and cinnamon mixtures (they will bubble up). Immediately stir in pumpkin seeds and pour into prepared pan, using spatula or wooden spoon to evenly spread and fill pan. Let brittle cool at room temperature for 30 to 40 minutes.
Gently twist pan to release brittle (if necessary, run a heatproof spatula underneath brittle to help release it), then chop or break it into chunks. Store in an airtight container at room temperature for up to 2 weeks.
Recipe from My Recipes.