There is no turning back, it's autumn around here.  I am in the midst of seasoning out Adelynn's closet (AKA hiding all of her beloved summer dresses), and mine as well.  Cookie baking is in full swing as "baking season" makes it's appearance- I've been spending more time in my kitchen than any other rooms in my house combined.  But that's pretty normal for me.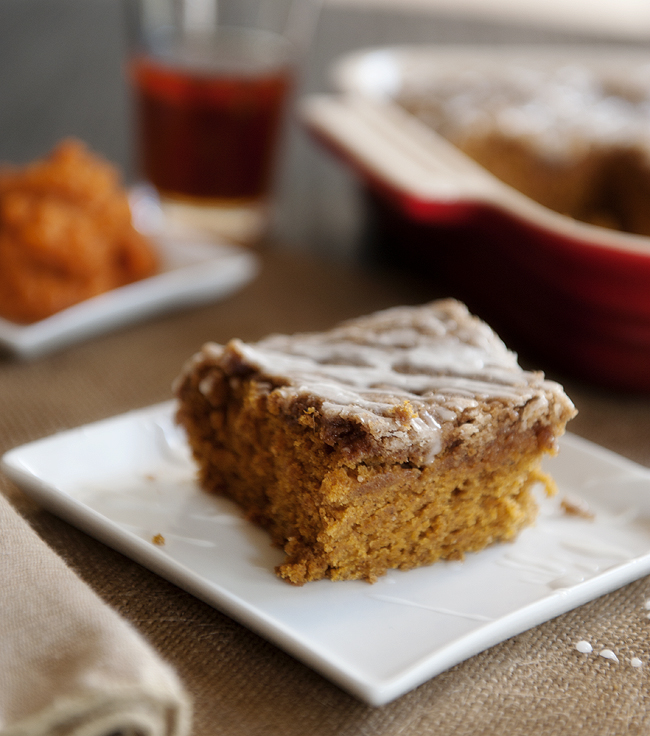 Not to be like Hobby Lobby, but I've already got Christmas on the mind.  Looking back on last year I have a lot of mixed emotions.  Last Christmas was Flour Loves Sugar's first, and I was busier than I could have ever dreamed.  When you start a business (and have big dreams for it), it gets really hard to tell anyone no.  So there I was, full of "yes! sure! I can do that!", working around the clock.
It was exhilarating, and truly, I enjoyed it.  But then Christmas day came and went and all I was left with was a sad feeling that I had missed something (and a messy kitchen).  My favorite part of the Christmas season is the cozy part.  The movies on the couch.  The gift wrapping.  The glow of the tree.  And I hardly got to enjoy any of those things.   I was so busy that I worked away Christmas.
This year I am working hard now to find ways to lessen the load that is coming.  I'm trying to soak up fall, and prep for Christmas so that this year I can spend more of it enjoying what these lovely seasons are really about- my sweet little family.  I am finding that writing for this blog and baking for these posts helps keep me in the present.  Baking not just cookies, but other things that I love to make.. like this pumpkin crumb cake.
pumpkin crumb cake
Ingredients
Crumb Topping:
½ cup all-purpose flour
¼ cup (half-stick) unsalted butter, cold
½ cup dark brown sugar
¼ teaspoon salt
2 teaspoons ground cinnamon
Cake:
2 cups (250 grams) all-purpose flour
1 teaspoon baking soda
½ teaspoon baking powder
½ teaspoon salt
2 teaspoons ground cinnamon
½ teaspoon ground nutmeg
¼ teaspoon ground cloves
½ teaspoon cardamom
1 cup pure pumpkin puree
½ cup dark brown sugar
1 teaspoon vanilla extract
½ cup vegetable oil
¼ cup pure maple syrup
¼ cup buttermilk
Glaze:
½ cup powdered sugar
2 tablespoons milk or coffee creamer (I used Hazelnut!)
Instructions
Preheat your oven to 350F. Prepare a 9x9 baking dish by generously greasing and set aside.
First, prepare your crumb topping: In a small bowl, whisk the flour, brown sugar, salt, and cinnamon together. Cut in the cold butter using a pastry blender or a fork. I usually end up using my fingers to achieve the crumbly, sand-like texture. Set aside.
In a separate bowl, whisk the flour, baking soda, baking powder, salt, cinnamon, nutmeg, and cloves together until combined. In another bowl, whisk the pumpkin, vanilla, brown sugar, oil, maple syrup, and milk together until smooth. Pour the wet ingredients into the dry ingredients and stir until just combined- be so careful not to over-mix the batter!! Spoon the batter into the prepared baking pan. Pour the crumb topping evenly on top and gently press them down into the batter.
Next, bake your cake for about 30 minutes. After 30 minutes, insert a toothpick into the center of the cake to check fore doneness. If the toothpick has wet batter on it, bake the cake for 5 more minutes.
For the glaze, whisk the confectioners' sugar and 2 tablespoons of creamer/milk together until smooth. Add more creamer/milk to thin, or more powdered sugar if it needs thickened up a bit. Drizzle over cake. Enjoy cake warm or at room temperature. Cover cake tightly and store at room temperature or in the refrigerator for up to 3 days. Cake may be frozen for up to 2 months.
Enjoy!
My recipe was adapted from Sally's pumpkin coffee cake.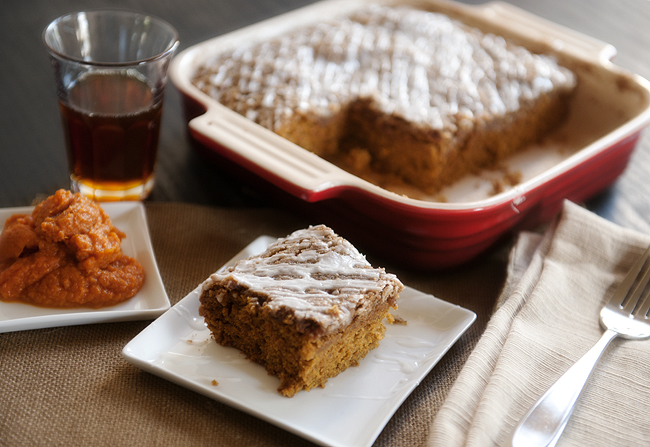 I hope you are soaking up fall in your house as well!  This cake will certainly do the trick, if not!