Last fall, I made homemade caramel for the very first time.  I had thirty apples ready to be dipped, coated in white chocolate and rolled in sprinkles- but I could not stop stealing nibbles of the caramel.  Seriously, it is so so good when you make it from scratch!!  It completely puts any store-bought caramel to shame.  (Sorry, Kraft.)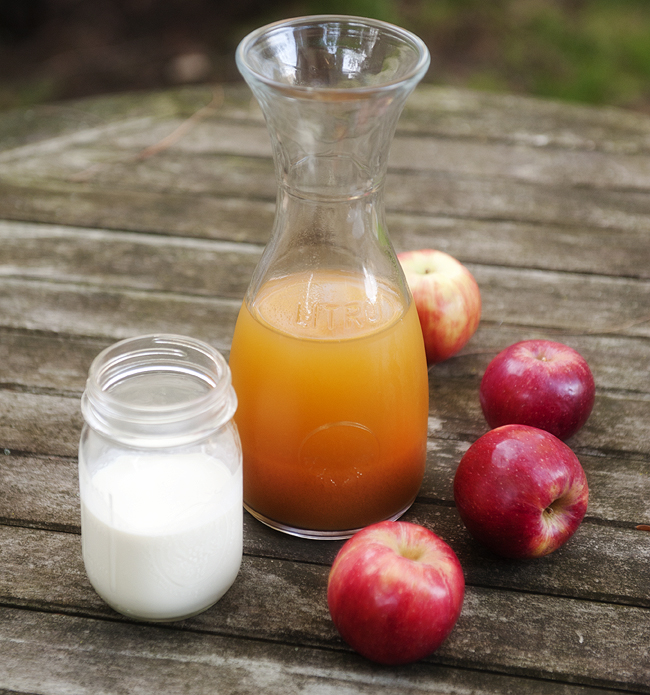 These caramels were a bit different to make, because no apple dipping was involved- although I am sure that would be so yum!  This recipe requires a lot of waiting, which is not my strong suit.  (Patience?  Whats that?)  The first step of making these caramels is boiling down your cider, which takes roughly four hours.   At first I thought, "four hours!?!?! who has time for that!"  But the great thing is you just put it on the stove and let it do it's thing.  And the smell.  Your entire house will smell like hot apple cider, and whats better than that?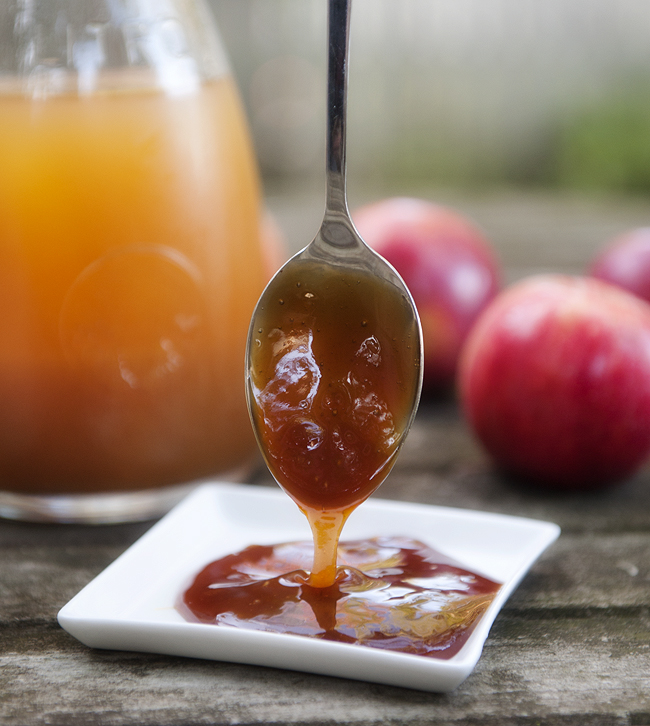 Before beginning, learn how to boil your cider here.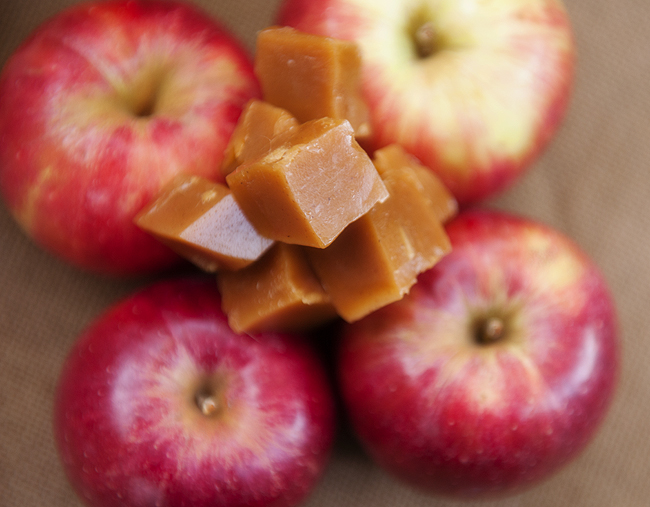 apple cider caramels
Ingredients
2 cups heavy cream or whipping cream
1 cup light syrup
2 cups sugar
6 tablespoons butter, salted or unsalted
½ cup boiled cider
½ teaspoon salt
1 teaspoon Apple Pie Spice*
*No Apple Pie Spice? Substitute ½ teaspoon cinnamon, ¼ teaspoon ginger, and ¼ teaspoon nutmeg or allspice
Instructions
Lightly grease an 8" x 8" baking pan and line with parchment paper, leaving an overhang on opposite sides.
In a large stockpot, combine the cream, corn syrup, sugar, butter, and boiled cider. Bring the mixture to a boil over high heat, stirring to dissolve the sugar. Reduce to medium-high heat and cook until the mixture reaches 248°F on a candy thermometer, 20 to 30 minutes, depending on your particular stove. (Don't have a candy thermometer? Your caramel is ready when you can drop a few drops into cold water and it gets hard, and does not dissolve.)
Remove the pan from the heat; stir in the salt and spice.
Carefully pour the hot caramel into the prepared pan. Let it stand for 12 to 18 hours at room temperature before cutting into 1" squares.
*Cutting was a little bit difficult! To make it easier, run your knife under hot water, then spray with baking spray, and cut in a sawing motion.
Wrap caramels in wax or parchment paper, and share with friends!
Recipe by King Arthur Flour.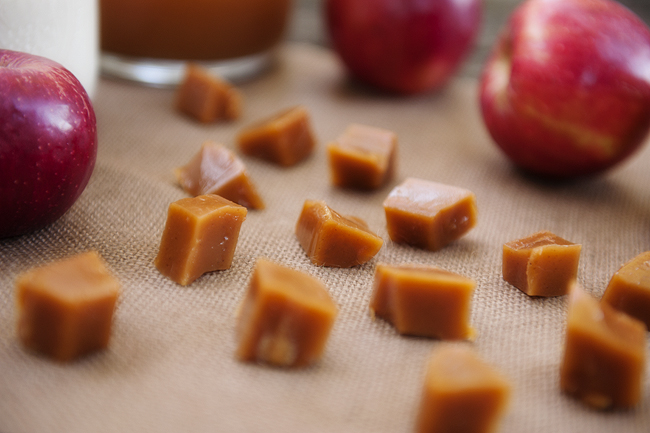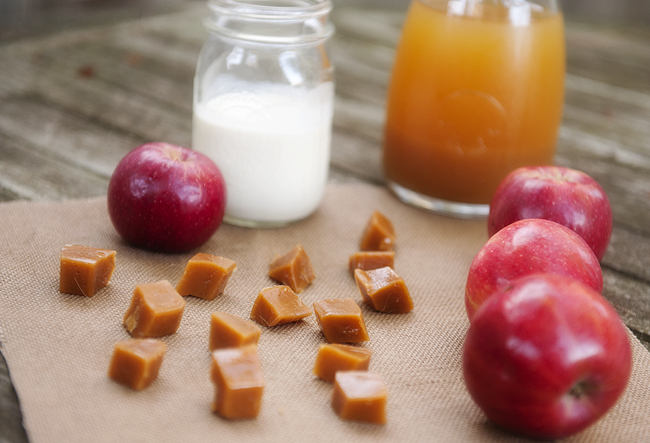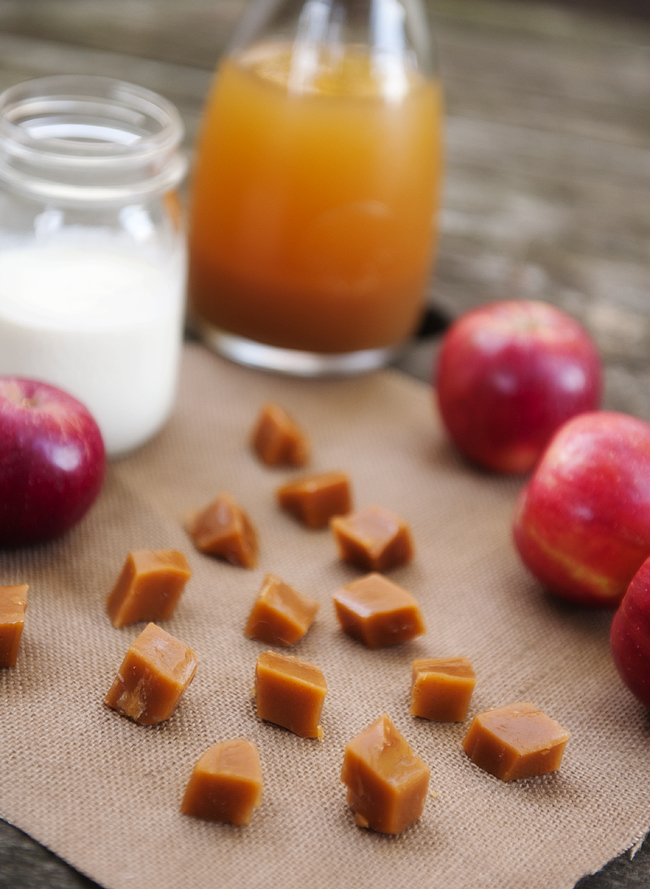 I am curious what else could be made with this lovely boiled cider, experiments are in my future!  If you don't gobble these all up, they would also make fabulous gifts!