White bean chicken chili is a favorite in our house.  As much as I love any kind of soup, I have four or five soup recipes that stay on pretty constant rotation in the fall and winter months.  The great thing about soup is that it's pretty darn near impossible to mess up (unless you accidentally over-salt or something, and there is probably even a way to save that disaster.  Or forget to soak your navy beans.  Who does that?)   Guilty, and guilty again.
white bean chicken chili
Ingredients
1½ pounds chicken thighs, skin and bones removed
2 tablespoons olive oil
1 medium onion, minced
4 cloves garlic, minced
2 teaspoons kosher salt
½ teaspoon oregano
1 teaspoon ground cumin
½ teaspoon ground coriander
1 teaspoon ground chili powder
1 teaspoon ground chipotle
6-8 cups chicken stock
10 ounces corn (thawed if frozen)
4 cups small white navy beans (soaked overnight and precooked for 30-40 minutes)
Garnish:
Cilantro
Lime wedges
Green Onions
Avocado
Instructions
In a large pot over medium heat, saute chopped onion in 2 tbsp of olive oil, about 5 minutes. While your onion is sauteing, remove skin and bones of chicken and chop into small pieces. Add chicken to onions, and cook an additional 5 minutes or so.
Reduce heat, and add in your garlic and salt. As the pot begins to simmer, add in the rest of your spices.
Add 6 cups of chicken stock, your beans and corn, and stir well. Bring to a boil, then turn the heat back to low and simmer for about an hour.
When ready to serve, garnish with chopped green onion, avocado, cilantro, and the juice of a lime wedge.
My recipe was adapted from this recipe.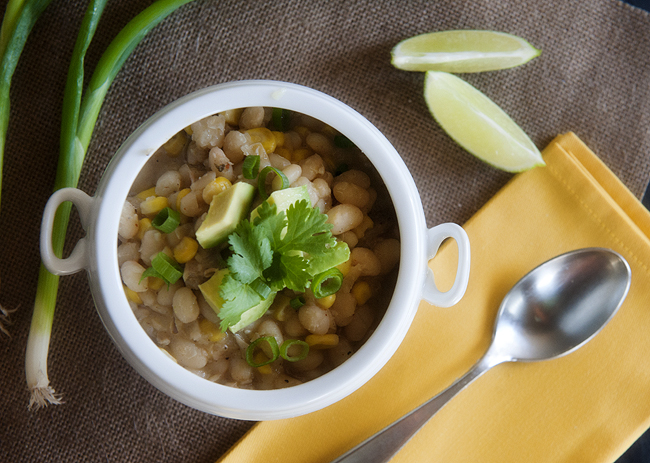 Um, back to forgetting to soak my beans.  If this happens to you- don't panic!!  The quick remedy is this:
1. Rinse your beans. (And yes, this is important.  Rinse them well!)
2. Toss them in a large stockpot filled with water.
3. Boil for 5 minutes.
4. Cover the pot, remove from heat, and let sit for an hour.
Ta da!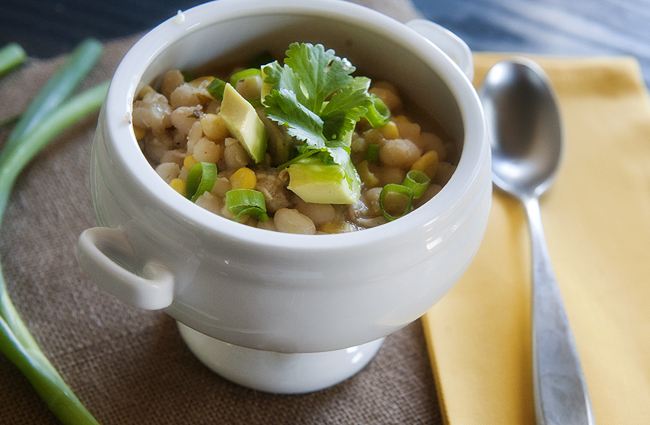 After sitting in the refrigerator, your beans may soak up the broth of the soup, so I sometimes add a cup or two of stock as I am reheating.   In our house, we love this hearty soup!  I hope you do, too.