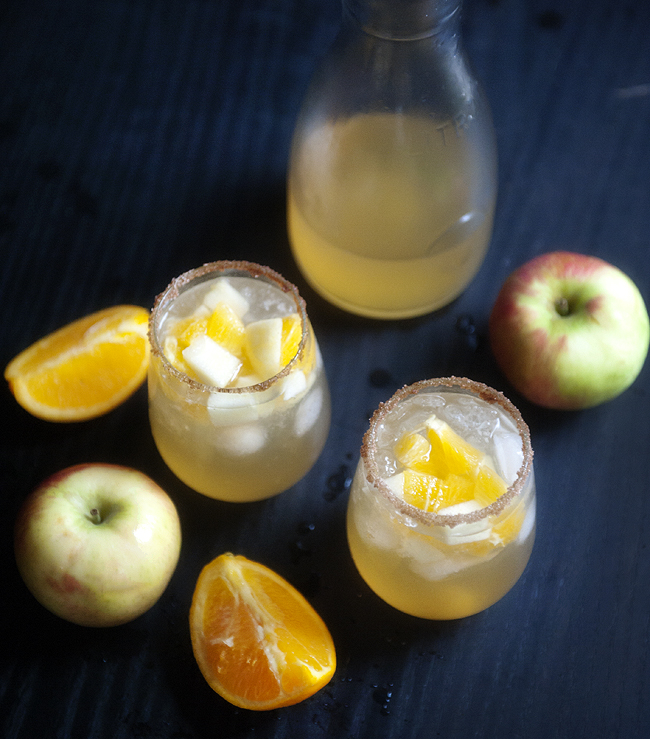 A few weeks ago I mentioned owning a sangria recipe that would go to the grave with me.  It is so treasured to the point where I have concocted variations only to appease friends and family who have begged for it.  That may sound a little possessive.  Ok a lot possessive. But don't we all have something?  That one thing that always turns out perfect, never disappoints and makes others happy.  My sangria recipe is my something.  And this is not it.  It is however a darn good fall recipe that is 100% worth sharing.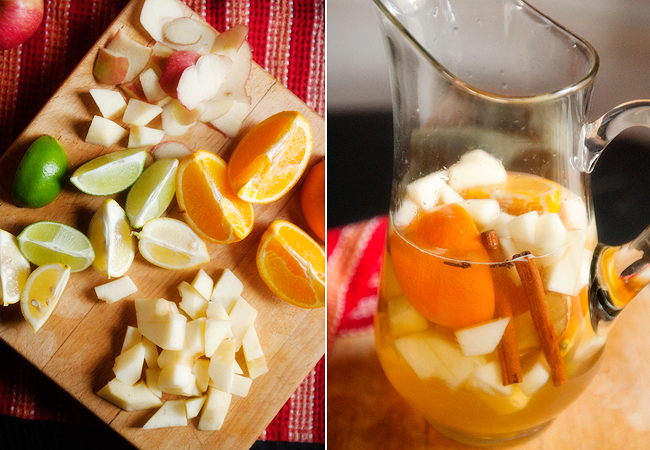 This recipe surprised me a little with it's choice of a white wine.  And truthfully I sway towards the reds when it comes to sangria.  But there is something so beautiful about the marriage of honeycrisp apples and unoaked chardonnay.  Both crisp, both perfectly snappy.  Paired with cinnamon, clove and a hint of honey makes it irresistible.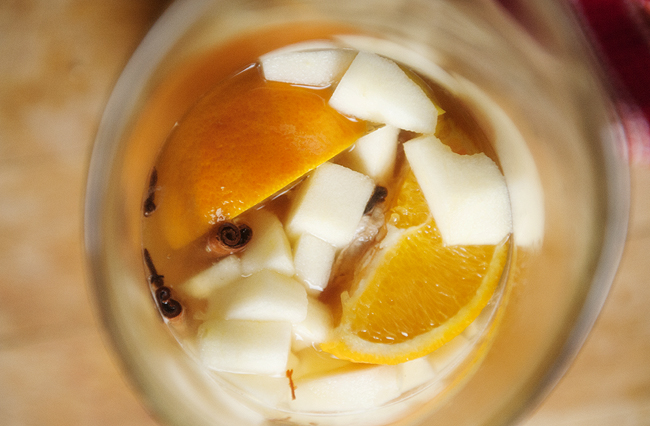 When it comes to sangria patience is essential.  Hide it in the back of your fridge, store it at a trusted friend's home – do what you need to do to keep from drinking it too early.  It's completely worth it, trust me.
fall sangria
Ingredients
2 honeycrisp apples
One 750-milliliter bottle unoaked Chardonnay
½ cup peach brandy
¼ cup raw honey
2 oranges- 1 quartered
1 lemon - quartered
1 lime - quartered
2 cinnamon sticks
2 quarter-size slices of fresh ginger
3 whole cloves
2 tablespoons sugar
½ teaspoon ground cinnamon
Ice
Club soda
Instructions
Peel, core and chop one of the apples. In a pitcher, combine the Chardonnay, brandy and honey. Add the quartered orange, lemon, lime, cinnamon sticks, chopped apple, ginger and cloves and refrigerate overnight.
Strain the sangria into a pitcher. Peel, core and chop the remaining apple. Peel, section and chop the remaining orange. Mix the apple and orange in a bowl.
On a small plate, blend the sugar and cinnamon. Moisten the rims of wine glasses with water (or simple syrup) and dip in the cinnamon sugar to coat. Fill the glasses with ice. Pour in the sangria until three-quarters full. Top with a splash of club soda. Garnish with a spoonful of the chopped apple and orange.
recipe adapted from Nutmeg Nanny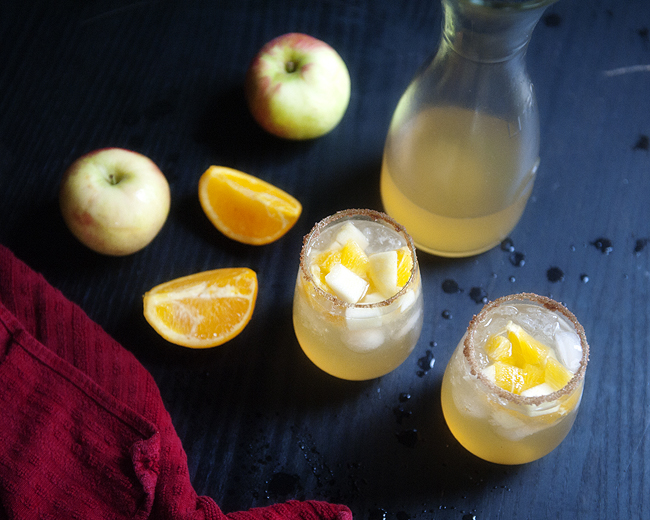 This is the perfect September sipper in my humble opinion.  You have the concept of fall yet are drinking something light and refreshing.  There's also that lovely wine and brandy soaked fruit sitting around that you strained.  Totally all yours after being so good and waiting for your sangria to marinate.
Cheers to the first taste of fall!