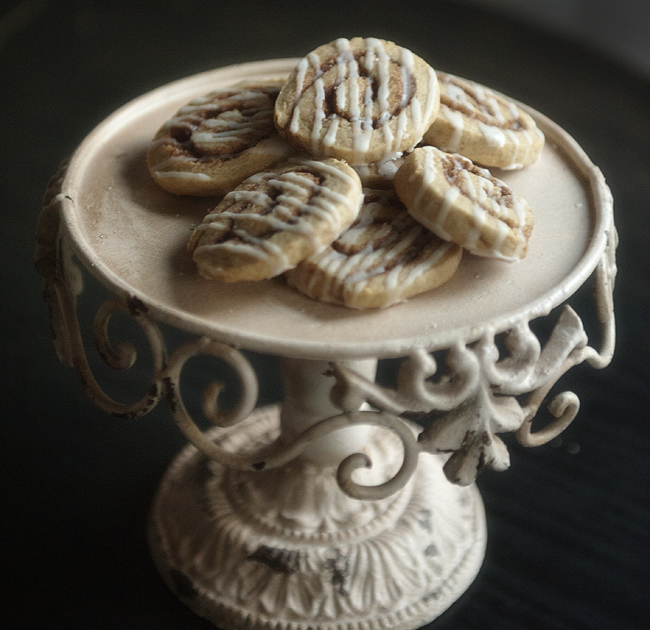 This post was not suppose to be about magnificent cinnamon roll cookies,  it was suppose to be about soft pumpkin-beer pretzels, in all of their glory.  Pretzels that I was so excited to whip up.. that is, until I "whipped them up" five times.  Countless packages of yeast, five hours of "waiting on the dough to rise", a whole bag of flour- and 5 perfectly good bottles of Sam Adams wasted  (Josh is most distraught over this one.)  I failed.  Miserably.  And I am a wee bit bitter about it.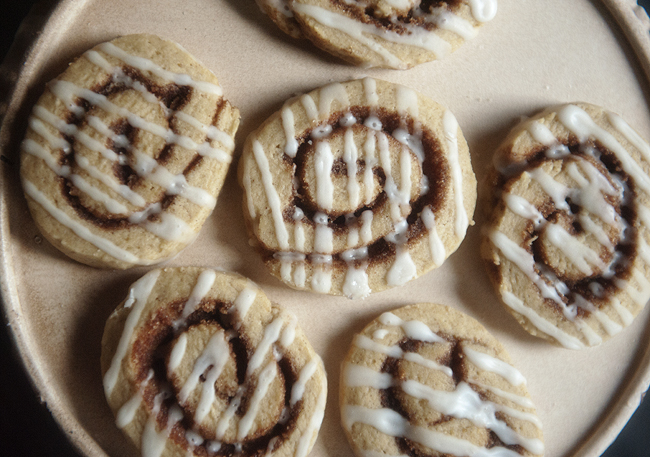 To be honest, I have always been slightly terrified of baking with yeast.  I was flipping through a magazine a few weeks ago, saw beer pretzels and immediately was sold on making them.  Within the next few days it seemed that every food blog I follow was whipping up these pretzels, claiming things like, "inch by inch, pretzels are a cinch!" Um, you are lying.  They are not a "cinch", or maybe they are and yeast just loathes me.  Either way, there are no pretzels in my house right now.  In my anger and defiance towards yeast, I decided that these cookies were just what I needed.  Cinnamon rolls are made with yeast, but these cookies are not.  And they are still fabulous.  Just as fabulous as those darn pretzels.  (Probably better.  Yes, definitely better.)  Seriously, drop what you're doing and go make these now.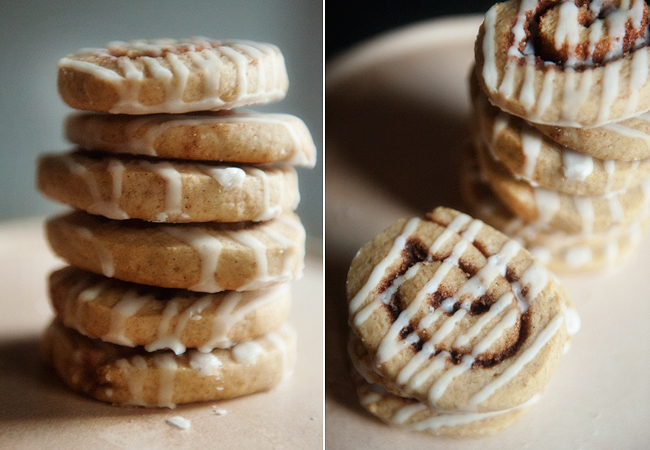 cinnamon roll cookies
Ingredients
2 cups flour, plus 2 tbsp flour
1 tsp cinnamon, plus 1 tbsp for divided use
½ tsp baking soda
½ tsp salt
1 stick of butter, softened, plus 3 tbsp melted for divided use
¼ cup granulated sugar
¼ cup light brown sugar, plus ½ cup for divided use
1 egg yolk
¼ cup unsweetened applesauce
1 tbsp light corn syrup
1 tsp pure vanilla extract
For the glaze:
½ cup powdered sugar
2-3 tbsp milk
Instructions
Sift together flour, baking soda, salt & cinnamon and set aside.
Place butter & sugars in mixer bowl fitted with paddle attachment- beat until fluffy. Add in egg yolk, applesauce, light corn syrup and vanilla. Beat until smooth, and turn mixer off.
Using a sturdy wooden spoon, fold butter mixture into flour mixture, until just combined. Do not overmix. Divide dough in half, wrap in wax paper or plastic wrap and refrigerate for 30 minutes.
Place remaining 1 tablespoon of cinnamon and ½ cup of brown sugar in a bowl and whisk to combine. Divide cinnamon and brown sugar mixture in two; one for each portion of dough. Set aside.
Remove one wrapped dough. Dough will sticky so place it between two large pieces of wax paper and roll out dough to ¼inch thickness. Using a pastry brush spread 1½ tablespoon of softened butter on dough. Then sprinkle half of the cinnamon and sugar mixture on top and gently press it into dough. Roll up dough, beginning with long side. Place roll seam side down on plastic wrap and cover tightly. Repeat this once more with reamining dough and 1½ tablespoon of butter, along with remaining cinnamon and brown sugar mixture. Place both rolled doughs back in refrigerator for an additional 30-45 minutes.
Preheat oven to 350F, and line two baking sheets with parchment paper.
Remove roll from refrigerator once firm, (if not firm toss it in the freezer for a few minutes), unwrap, and cut into ½ inch slices. Place on baking sheet and bake for about 10 minutes until lightly browned.
Let cool on baking sheet until firm before transferring the cookies to a cooling rack.
To make the glaze, simply add milk, one tbsp at a time until desired consistency is achieved. A fork can be used to drizzle glaze atop cookies- or I use a small fine tipped bottle.
Be sure to store cookies in an airtight container.
Recipe courtesy of Bakers Royale– visit her page for helpful tips on making these cookies and lots of other stellar recipes!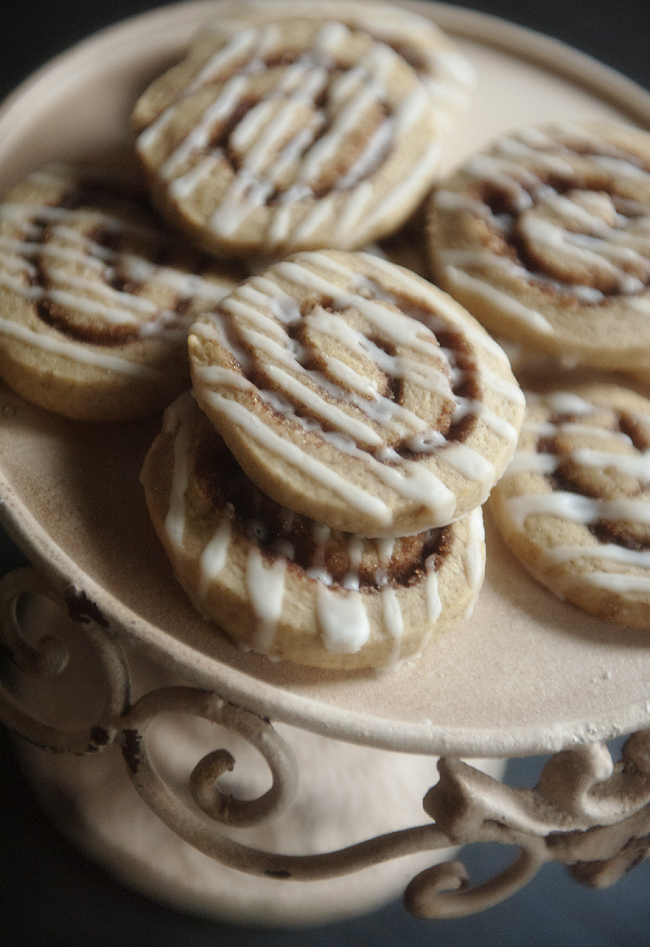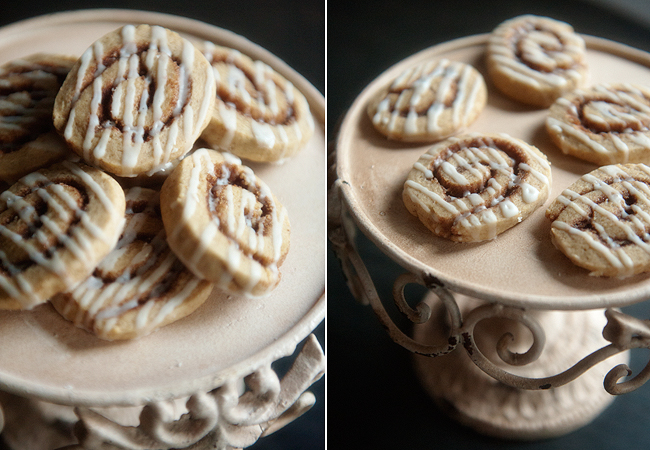 Any tips on baking with yeast would be greatly appreciated- I WILL make those pretzels, even if I have to waste ten more bottles of Josh's beer and it is December before they make their way to this page! Seriously though…