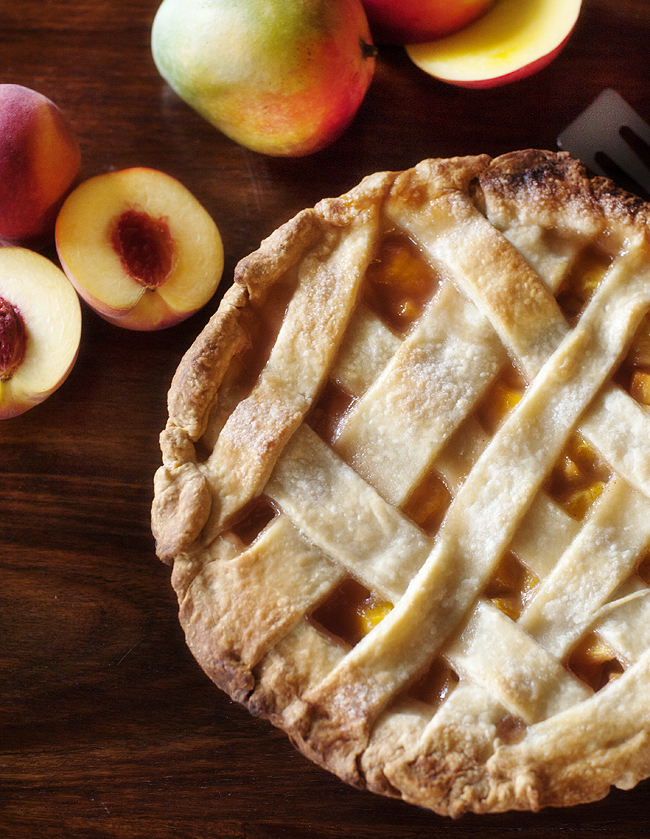 One of my very favorite things about the house that we live in is the back yard.  An asparagus patch, two cherry trees, an apple, pear and a peach tree.  There is nothing better than walking out your back door and filling a bowl with fresh fruit.  Last summer was our first summer here and the view from the road of me on Josh's shoulders filling bowls with peaches had to be pretty entertaining for our neighbors.  (We didn't have a ladder, but we didn't care.  We still laugh thinking about how crazy we must have looked.)  Whoever planted those trees years ago knew what they were doing, and when we buy a house some day we will most definitely fill our back yard with some of those same trees if we can.  The stores right now are filled with peaches, although our tree will not bloom for another month or so- just in time for our wedding.
peach mango pie
Ingredients
Crust:
2½ cups all-purpose flour, plus more for dusting surface
1 tablespoon sugar
1 teaspoon salt
2 stick unsalted butter, room temp and cut into pieces
½ cup water, ice cold
Filling:
6 large peaches
2 mangos
the juice of 1 lemon
¼ cup sugar
¼ cup brown sugar
¼ teaspoon cinnamon
a pinch of salt
⅛ teaspoon nutmeg
3 tablespoons cornstarch
**I added ¼ cup MessMakerBaker Peach Bourbon jam, but this ingredient is completely optional.
Topping:
almond milk for brushing over crust (or water or regular milk)
sugar for sprinkling
Instructions
Crust: Whisk together flour, salt and sugar. Using your fingers, work in cold butter until largest lumps are pea size. Add ice water and stir together with spatula until just combined, and then kneed the dough two or three times to form ball. Split the ball into two even pieces and wrap them individually in plastic. Refrigerate for at least an hour and up to two days.
While dough is refrigerating, prepare pie filling. Peel peach and mango skin, and slice them into whatever size pieces you prefer in your pie. Cover & toss in lemon juice. (I usually squeeze the lemon over a sieve so that no seeds sneak in.) *Also add jam here if you choose to. In a separate bowl, mix together sugars, nutmeg, cornstarch, salt and cinnamon. Sprinkle evenly over fruit and toss to combine.
Once your dough is refrigerated, prepare a well-floured surface for rolling it out. Roll dough out into 12/13 inch circle and place in pie pan. There should be about an inch of overhang around the sides, the rest can be trimmed. Roll out second dough disk. You can give your pie a complete lid (Just be sure to create air holes for ventilation.) or you can cut dough into slices as I did and layer them onto your pie. It tastes great regardless so don't stress yourself out over making it look fancy, pie is pie. Brush milk onto pie-top and sprinkle with sugar before baking.
Bake for 20 minutes at 425F, then reduce heat to 375F for about 30 more minutes. Pie is done when the crust is browned and juices are bubbling over. Let pie cool completely before serving for juices to completely thicken, or eat warm if you are okay with slightly runny pie!
MessMakerBaker Jam is available here.
Pie can seem intimidating (and reserved for your grandmother) but its not!  Fruit and crust go together in any form, so even if you "mess it up", it will most likely still be yummy!  Give it a go..