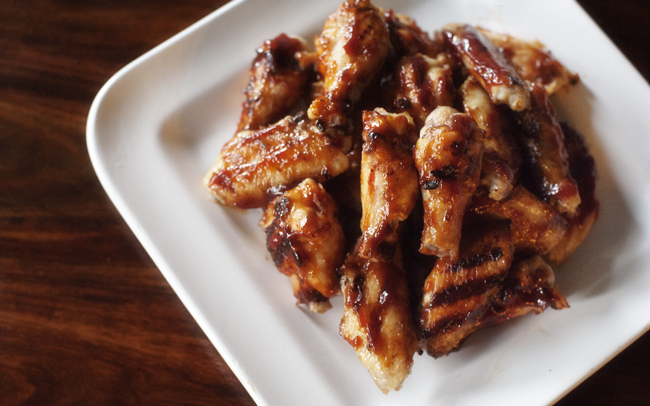 This may make me the strangest non-meat eater ever but I truly enjoy preparing and cooking carnivorous dishes for my husband.  First of all, he rarely gets to enjoy meat which admittedly leaves me feeling a tad guilty (although I have never heard him complain).  Second of all, I find satisfaction in cooking for others and want to be able to please all.  Barbecue chicken is something that I ate and loved back in my meat eating days, so when my husband began asking me for some a few years back I happily went searching for a great recipe.  Sticky now helps me with this entire dish (can almost make it on his own) – a true tell sign that this barbecue chicken is legit.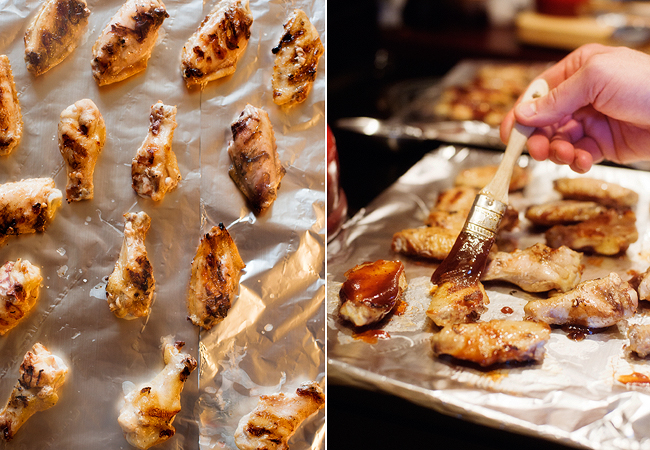 Grilled Barbecued Chicken Wings
Ingredients
2 quarts water
2 tablespoons kosher salt
¼ cup brown sugar
2 garlic cloves, smashed with the side of a large knife
24 chicken wings
olive oil
2 cups of your favorite barbecue sauce (no I do not make my own, sorry Tyler)
Instructions
For the brine, in a mixing bowl combine the water, salt, sugar and garlic. Transfer the brine to a 2-gallon sized re-sealable plastic bag. Add the chicken, close the bag and refrigerate 2 hours (if you've only got 15 minutes, that's fine) to allow the brine to penetrate the chicken. This step is very important and the reason I believe this chicken is so moist.
Preheat oven 375 degrees F.
Preheat a grill pan or an outdoor gas or charcoal barbecue to a medium heat. Take a few paper towels and fold them several times to make a thick square. Blot a small amount of oil on the paper towel and carefully and quickly wipe the hot grates of the grill to make a nonstick surface. Take the chicken out of the brine, pat it dry on paper towels. Arrange the chicken pieces on the preheated grill and cook 5 minutes on each side. Transfer the grill marked chicken to a cookie sheet and then place in the oven. Cook the chicken for 5 minutes, remove it from the oven and then brush liberally, coating every inch of the legs with the barbecue sauce and then return to the oven for 10 to 15 more minutes, basting the chicken for a second time half way through remaining cooking time. Serve with extra sauce.
Recipe adapted from Tyler Florence – usually I use the legs and thighs as suggested, just happened to have wings this time.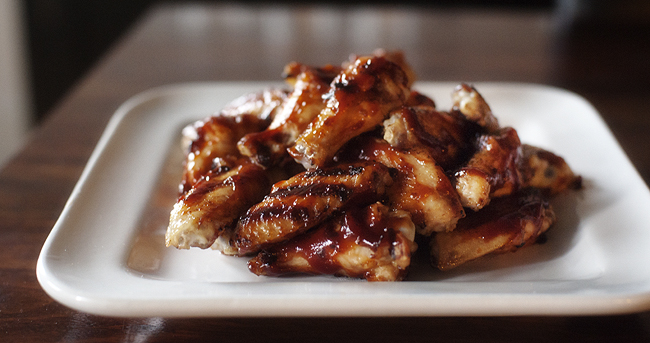 We have served this to both of our immediate families (the leg and thigh version) and almost instantly phrases like "wow, this is good", "can't believe how moist this is", "who knew Brandy could make barbecue chicken" ensue.  For a dish I have never taste tested myself it completely satisfies the people pleaser in me.  Give it a try the next time you fire up the grill!