Ok, ok, I know – there are MANY DIY striped curtains out there, this is not new.  But when I was looking over 2 years ago there were significantly less so let's just pretend that this is then and not now.  If you have never came across a DIY of striped curtains then forget what I just said and continue reading as if I am some sort of DIY phenom.  It's not the truth, made evident by this post, but for a few short seconds you will believe it and that's good enough for me.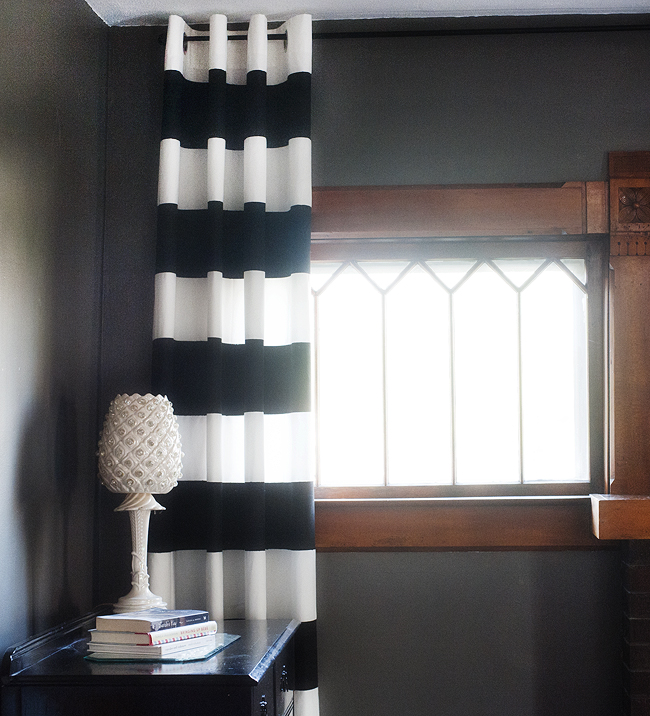 My living room is a very dark grey on 3 walls with a heavenly mass amount of natural light.  2 years ago while painting the room Sticky asked me what we would do about curtains (not that he would normally care but the morning light restricts Sports Center viewing while the evening restricts the Reds) .  I proudly exclaimed my plan for a bold stripe that was not only going to be fabulous but budget friendly as well.  He was on board and said "well let's get them going because it sucks not having curtains in here.".  A few days later my aunt picked up 3 packs of the infamous Ikea canvas curtains and I was ready to go.  This week I broke open the first pack, clearly I am speedster when it comes to home projects.
You may be wondering why this is "Part One" of what I hope to be a two part series.  There are several reasons, which I will elude to in the process section, but basically I want to try a few things differently than I did on my first attempt.  This means only one panel is finished, hoping the other 5 make it up before Halloween.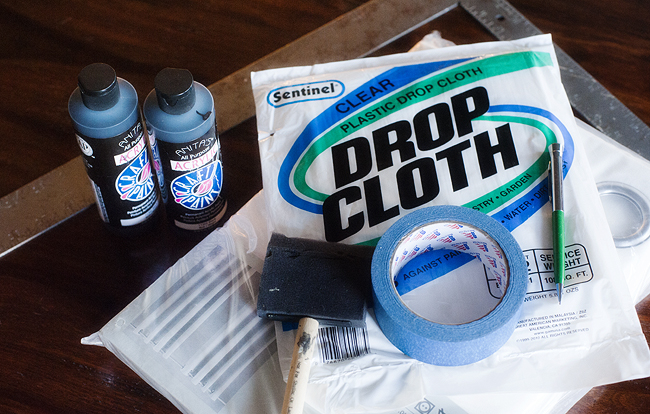 DIY Striped Curtains (attempt 1)
Supplies:
Cotton curtains (I used Ikea's Mereta Curtains)
Acrylic paint
Paint pan
Painter's tape
Plastic drop cloth
Foam brush (many DIY's use a foam roller, this did not do the trick for me)
Pencil
Ruler
Iron and ironing board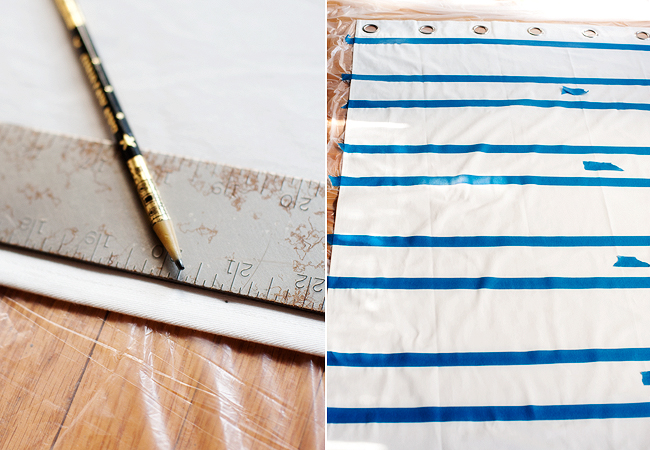 1.  Iron your curtains and lay them on a plastic drop cloth covered surface.  My iron showed up broke to this project so I zapped them in the wrinkle release cycle of my dryer, worked good enough for me.
2.  Beginning from the top,  mark the left and right hand side of each panel with a ruler and pencil.  I started 6″ from the top and marked every 7″.
3.  Using the marks, place painters tape from one side of panel to the other.  My arms are pretty long which made this fairly easy to do myself, if you struggle with stretching the tape across you may want to ask a friend to help you.  Be sure to place the tape on the side of the mark where the unpainted stripe will be.  Place a small piece of tape on the stripes to remain unpainted to help ensure you won't accidentally paint them (something I miraculously did not do).  Press tape firmly down.
4.  Pour paint into your pan and begin painting (you may want to give the tape another good press right before painting).  To avoid bleed under tape be sure to paint on top of the tape near the edge and not from the side.
5.  After each stripe is painted, say a little pray and pull the tape from the curtain while paint is still wet.
6.  Allow to dry, hang and then marvel at your masterpiece.

A few things I would like to correct that made me sigh and go "what?!" during this project:
1.  The tape would adhere to the plastic like it's life depended on it.  When I would go to swiftly yet carefully pull the tape it would be a struggle to remove it from the drop cloth.  Not only that but the tape would have some wet paint on it which would then transfer to my hands which would then of course accidentally smudge somewhere it shouldn't.  Next time I will wrap it around the edge of curtain or find a tape that doesn't stick to plastic in the same way.
2.  I am mad at the tape again because while it stuck to the plastic with super power force it still allowed some paint to seep through on the fabric.  It's a real buzz kill when you are lifting the tape and you see those little hills of "ha, ha, it's not perfect!".
3.  On the floor the stripes look solid, no spot left unpainted.  When they are hanging and the sun is shining through them, you can see little white specks of light making it's way through which sounds minimal but they really stand out even from a distance.  I can hear myself explaining to people now why they do that (because I assume that is the only thing people can see which the reality is they probably don't even care).
My next panel I am going to try at least a different brand of painters tape if not frog tape.  I am also going to mix my paint with a textile medium to make it softer to the touch and hopefully cover the fabric even better.  I may even try using latex paint as many DIY-er's have suggested.  There are 5 more panels to be done and with the amount of paint just this one used I am thinking latex may be more cost effective.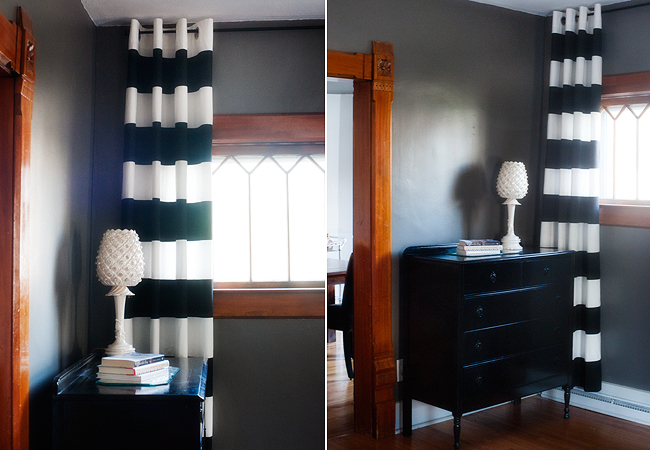 The beauty of this project is that when hung the little imperfections on the edges of the stripes are not even noticeable.  What is noticeable is that the full length of the panel is a little short to go from ceiling to floor.  Since the next color of stripe would be white I am going to try to add some fabric to the bottom so that it hits just 1″ above the floor.  I also want the curtain to be more to the left, Sticky will be so thrilled to move it.
While I want to make some changes all in all I am pleased with the outcome and actually can't wait to get started on the rest of my panels.  It's such a tease just to have one up because I really love how it looks in the room and can't wait to see them all hanging.  And don't worry, I plan on putting something on the wall above that dresser.  I have no idea what yet but I'm working on it…