Father's Day is a few weeks away- and I couldn't think of a better boozed up treat for Father's Day gifting.  Truffles are fairly simple to make- and the flavor combination in these is incredible!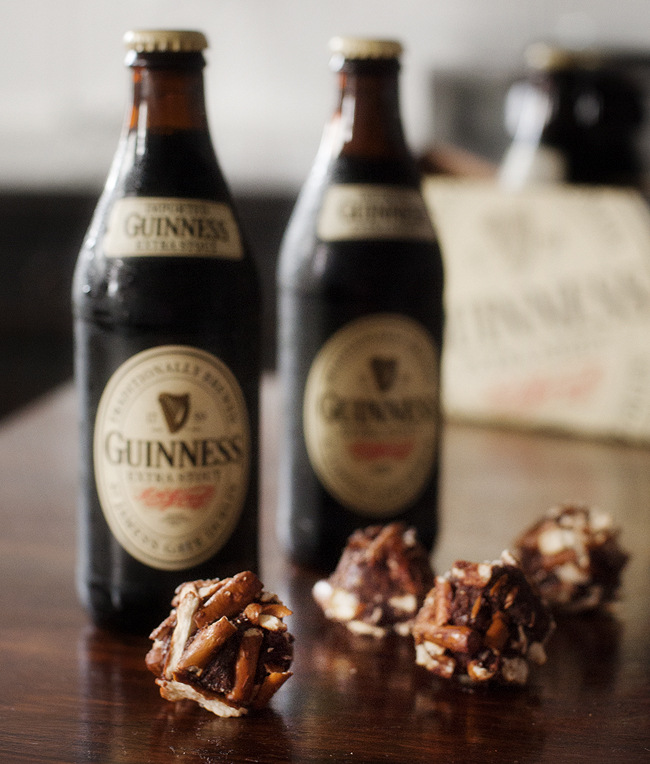 Speaking of the flavor combination- these were suppose to be one of those treats that I make but don't eat.  Brand and I started a cleanse yesterday, and let's just say these are NOT on the "allowed to eat" list.  The wedding is sneaking up on me and I am trying to get my severe sweet tooth in tact, but these were staring me right in the face.  After all, I can't gush to you all about how fabulous they are if I don't really know.  So, I had a bite… or two.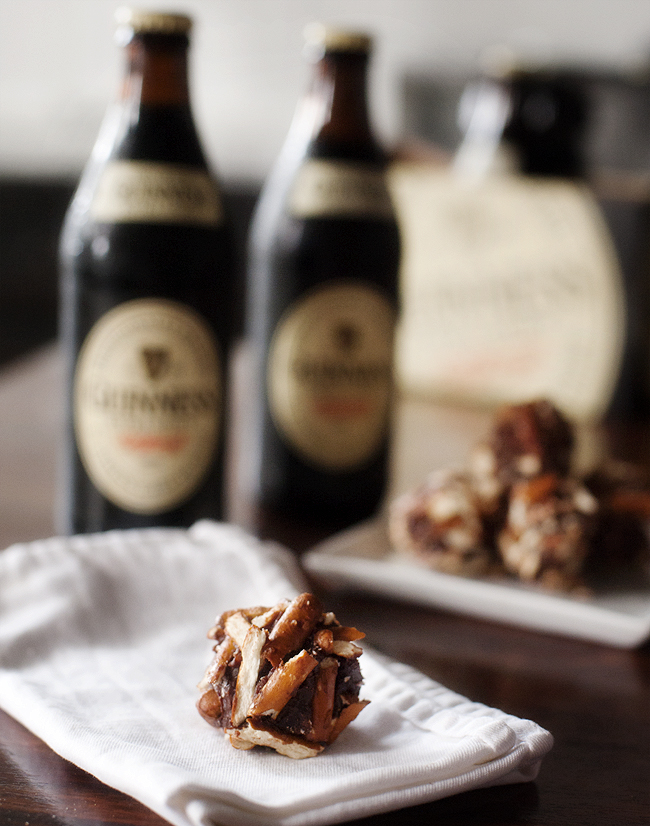 Guinness Pretzel Truffles
Recipe by Sprinkle Bakes
Yield: 16 truffles
Prep: 30 minutes
Total with chilling: 3 hrs 15 minutes
12 oz. bottle Guinness Extra Stout (divided)
8 oz. semisweet chocolate
1/2 cup softened unsalted butter, cut into pieces
3/4 cup finely pulverized pretzel rods
3/4 cup crushed pretzels for rolling truffles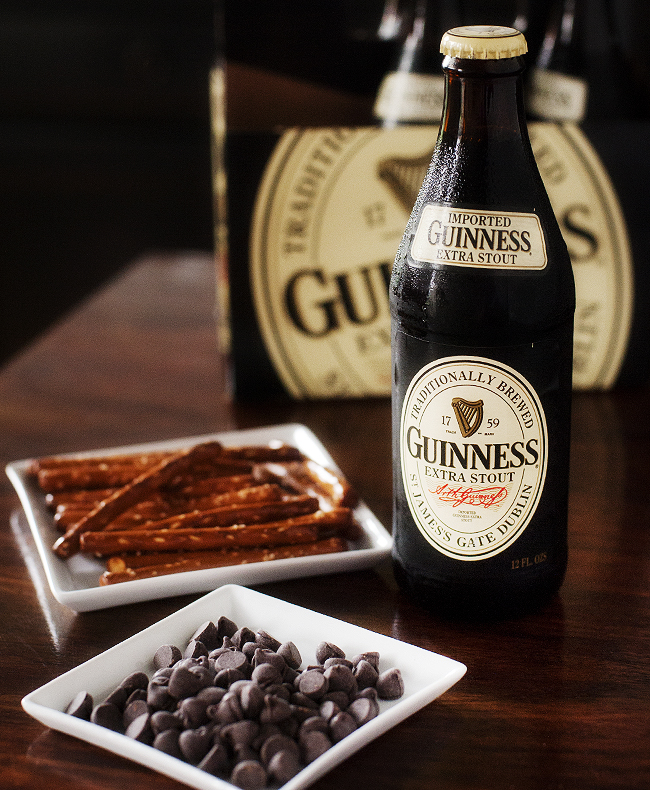 Place 1/4 cup plus 2 tbsp. Guinness Stout in a 2 cup saucepan.  Set aside.
Pour the remaining Guinness Stout in a separate small saucepan and bring to a simmer.  Cook until reduced to 1 tablespoon, about 15- 20 minutes.  Be sure to keep an eye on this because, once reduced considerably, it can burn easily.
Chop the chocolate into pieces and place in the saucepan with the Guinness Stout. Place the saucepan over medium- low heat and let stand until the chocolate starts to melt.  Stir with a wire whisk to blend together the chocolate pieces, but don't whisk vigorously – we're not trying to incorporate air.
When the chocolate is melted and smooth, begin to add butter 1 tbsp.  at a time. Whisk gently until butter is melted, and then add the 1 tbsp. Guinness Stout reduction.  Stir in the pulverized pretzels.
Pour the chocolate mixture into a bowl and chill in the refrigerator until firm (or overnight).
Line a cookie sheet with wax paper. Scoop out ganache out by the heaping tablespoon and quickly roll between your palms.
Once all the chocolate is used up, chill the truffles in an air-tight container in the fridge until ready to roll in crushed pretzels. These chocolates will keep for 7 days when stored properly in the refrigerator.  Roll truffles in crushed pretzels just before serving (so they'll be crunchy!).